The Year of Little Change
Despite the generally strong economic recovery in Asia, there was little change in freight rates in the Dry Bulk market segment. The year 1999 turned out to be much the same of 1998 where average freight rates are concerned, as the yearly average tripcharter rates for modern Capesizes fell to $8,500/day, which as approximately $1,100 lower than in 1998. Rates for modern Panamaxes increased to $7,500/day, up about $800 from the previous year. For modern Handymaxes, the average tripcharter rates remained basically unchanged at $6,800/day. The freight rates did, however, start the year at levels substantially lower than they ended. The main reason for the extremely weak start to the year was a considerable stock depletion in the steel industry during the first half. During the second half, however, R.S. Platou noted increasing activity in mineral trades and brisk grain activity.
Ship values entered the year at low levels, but began to appreciate during the first quarter. The firmer trend continued through most of the year. At the end of the year, prices for 10-year-old ships were, in general, 30 percent above their levels at the beginning of the year. In addition, due in part to firming freight markets, there was a slightly higher newbuilding price for bulk carriers. But looking at 10 year trends (see Figure 1), it is plain to see that the long-term valuation of 10-year-old tonnage, particularly in the Capesize segment, is approaching the bottom.
The dry bulk fleet (see Figure 2), increased only by 0.3 percent from 1998 to 1999. A slight reduction in combined carriers engaged in dry trades resulted in a 0.2 percent increase in the operating dry bulk fleet.
The active Handysize fleet increased a modest 0.4 percent, while the operating Panamax fleet expanded by about 1.8 percent. The Capesize fleet was reduced by 0.7 percent. Deliveries of bulk carriers totaled 13.5 million-dwt, while deletions of bulk vessels amounted to 9.4 million, and 0.9 million-dwt of combined carriers were scrapped. Thus, the fleet expanded by about 4.1 million dwt.
About 12 million dwt of bulk carriers are scheduled for delivery in 2000, and the extent of the scrapping program will depend largely by the current and future expectations as to freight rate levels.
However, it is important to remember that about 10 percent of the existing fleet is above the average scrapping age for bulk ships, and it would therefore seem likely to expect that the age element may have a more noticeable impact on scrapping attitudes in the coming years than before. Taking all likely scenarios into consideration, R.S.
Platou estimates a fleet increase by about two percent between 1999 and 2000.
Sea borne Shipment Trends Preliminary estimates indicate an approximate one percent increase in world sea borne trade in the dry bulk segment from 1998 to 1999. R.S. Platou noted shorter average distances in coal and steel products trade, and therefore the tonnage demand increased slightly less than the volumes. Among steel related products R.S. Platou suggest a drop of about one percent in iron ore shipments, while coking coal transports remained basically unchanged.
Imports of steel scrap into Asia increased, but into Europe (Turkey), it fell, and preliminary estimates suggest a moderate increase in shipments of finished/ semi-finished steel over the year, imports into the U.S. fell from 38 million tons to about 32 million tons in 1999, and imports into Western Europe fell approximately two million tons.
Conversely, steel imports into Asia rose significantly, more than compensating for these drops.
Grain exports increased by more than five percent in 1999 due to higher import requirements in the Middle East, Northern Africa and Asia. Among other dry bulk commodities, R.S. Platou recorded an increase of about three percent in sea borne trade of forestry products.
For the current year, R.S. Platou is expecting the total sea borne trade in dry bulk cargoes to increase in the region of three to four percent. There are no drastic trading pattern changes foreseen, so that tonnage demand ought to increase at approximately the same rate as volumes.
However, it is necessary to take into consideration the trend where minor bulk cargoes, such as forestry and steel products, will be transported in containership. If the trend continues, it will of course have a negative impact on the tonnage demand for Handysize bulk carriers.
By Bjorn Bodding, R.S. Platou's Economic Research a.s., as excerpted from The Platou Report 2000.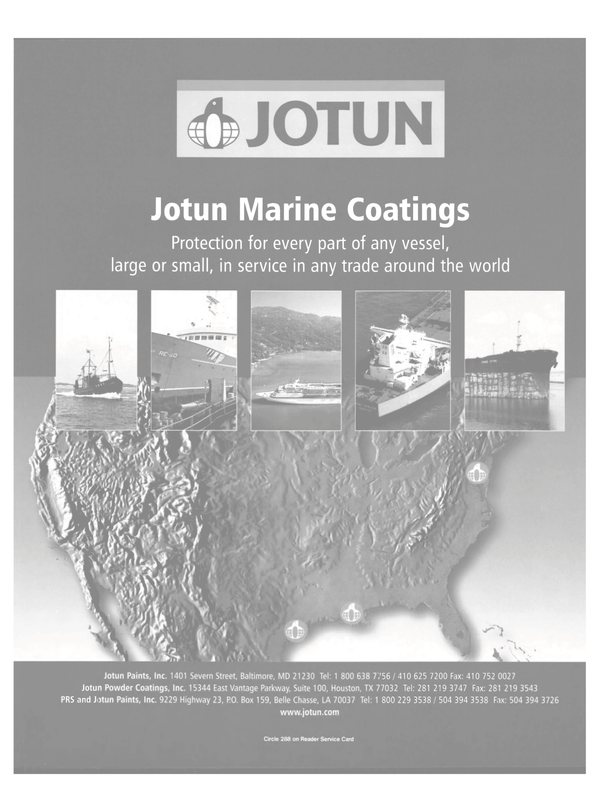 Read The Year of Little Change in Pdf, Flash or Html5 edition of June 15, 2000 Maritime Reporter
Other stories from June 15, 2000 issue
Content