Transforming a Transportation Company into A Successful e-Business
By Walter "Walt" Kross, managing director; Caroline Calkins, director, KPMG Consulting's Transportation Practice; Charles Gill, partner and national director, KPMG's Maritime Practice
The maritime industry is at an historic crossroad — and the direction that companies take can determine whether their future is filled with success or failure.
Consider this — maritime accounts for 96 percent of all transportation — driving much of the momentum of the world economy.
Meeting these global needs has meant that modern maritime has embraced such advances as containerization and intermodalism.
Now however, the industry is poised to accept the most dramatic change yet — digital networking and electronic commerce. While this new e-business (electronic business) model represents perhaps the greatest challenge yet faced by the industry, it also offers dramatic opportunities.
E-business presents substantial opportunities to transportation companies that have the foresight and willingness to capture the benefits by adopting new technology and modifying their business models. These benefits, however, will not come without sacrifice and substantial change. For transportation providers who do not wish — or who cannot afford — to jump on the Internet bandwagon, the development of e-business poses an enormous threat. These companies risk becoming undifferentiated, low-cost wholesalers, subordinated to transportation companies and intermediaries that own the electronic customer relationship.
Among the greatest opportunities presented by the e-commerce revolution is its astounding growth potential. The businessto- business sector (80 percent of e-commerce) is projected to reach $1.3 trillion by 2003 (Forrester Research). While some of this is new business, representing expansion of global trade enabled through the Internet, much of it will represent a channel shift from the way business is done today.
Not even one established carrier appears to be leapfrogging the competition — at least not yet. Most carriers have a patchwork of legacy systems and platforms, with little or no automated integration of data.
Most companies have difficulty overcoming the investment hurdle and the cultural change necessary to embrace e-business fully.
How do you embark on e-enabling your company, if you are just starting out down the path?
•Demonstrate support — Support for ebusiness needs to come from the top of the organization. It needs to be incorporated in the company's vision and play a role in how executives lead the company. They must demonstrate enthusiasm for the concept.
Creating incentives for e-enabling the company can help drive constructive behavior throughout the organization.
•Hire professionals - Build a team of people from in house or from the outside who bring a fresh perspective and in-depth knowledge of e-commerce. Many traditional businesses have failed to develop easy-to-use Web sites that enhance their business because they treat it as just another IT project.
•Dedicate resources — Building a new business is a full-time occupation. It can't be done part-time. Resources must be dedicated — and be held accountable - for the effort to succeed.
•Understand your competition — Analyze your sources of competition. It may come from your traditional competitors, but new business models and intermediaries may pose an even greater threat. You need to identify them and understand their business models to compete against them effectively.
•Start from ground zero — When designing your e-commerce solution, start from the perspective of an Internet startup, lacking the assets and infrastructure that you have. How would you conduct business differently without your asset base?
Then consider how you can leverage this model to enhance your business.
•Build a road map — Careful planning with aggressive milestones and regular monitoring of progress will help ensure a timely rollout. The plan should not stop with the first development of the Web site. It should continue on to a long-term vision of what value the site can provide to customers and to your company.
• Prioritize — The possibilities are nearly limitless for the functionality and services you can offer. Start with those that your customers need and desire most and that can be put in place most quickly and cost effectively.
Expand from there based on the value provided to customers, cost, and speed of implementation.
• Develop partnerships with your customers — customers can be your greatest sales tools if they believe in the product. Enlist their comments and get them involved through on-line chat sessions, beta sites, or up-front interviews to determine the design.
Why haven't more maritime businesses advanced beyond the basic level-passive, vendor-on-demand information made available on the Internet? In a study covering more than 250 e-business efforts, KPMG Consulting and Cisco Systems Inc. have identified some basic issues that cut across industry type as well as organizational size. They included the following: Companies lacked a strategy.
• Companies neglected to establish a comprehensive rollout schedule with benchmarks.
• Market pressures have pushed e-business initiatives to the side.
So before a company can successfully implement an e-business plan, it must first ask a key question — what is the business itself about?
Answering that means more than just examining the company's market. It involves exploring the business' current position, where it will be in the future and how it plans to get there, and how it relates to customers. It also means ensuring that top management, including the CEO, COO, and CFO, supports a review of the corporation's culture, with a willingness to make it over to a more customer-responsive model.
While the actual transformation process will be unique — reflecting the individual circumstances of each enterprise - there are sets of services and solutions that ease the process of end-to-end ebusiness transformations.
A successful approach leverages strategy, architecture and integration services to enable new ways of doing business with a company's core constituencies: customers, suppliers and employees.
Under this model, clients achieve their e-business vision and goals by developing a strategy that addresses key business elements and constituencies.
Each business element is evaluated for impact and contribution to the overall strategy, and is mapped to key strategic goals including: customer and partner intimacy, revenue growth and cost reduction, new products, services and markets. This vision-creating step lays the basic foundation for an e-enterprise.
The next stage consists of setting up Internet-powered architecture. This involves installing foundation technology, acquiring the requisite systems and enabling technologies, and merging them all together in networked applications.
The goal in this stage is to create an integrated, self-running "engine" that is transparent to clients. In our experience, this process is often accomplished more easily when it is implemented as a series of smaller e-projects.
This offers dual benefits: it gives employees at all levels more time to become familiar with the e-process, and it also enables internal and external financial professionals to more easily measure the capital expenditures and ROI (return on investment) associated with the implementation of an e-business program.
This matrix, however, is not limited to hardware and software development. A Web-centric corporate culture is also vital to the success of an e-business. Top management, which bought in to the process at its first stage, should also foster understanding and acceptance of the e-business model throughout the company.
Transportation companies, which ignore the trends toward e-business, risk becoming commodity wholesalers to new Internet intermediaries that can analyze tradeoffs among various carriers' services and prices, providing the optimum shipping solution to shippers on a shipment-by-shipment basis through a single site.
These intermediaries have begun to pop up in all industry sectors, but are particularly dangerous in industries like transportation, where there is a tendency for customers to view products and services as commodities. These intermediaries have developed new and powerful business models that can provide shippers with a comparison of delivery times, costs and carriers. While many of these sites currently cater to consumers making on-line purchases, the logical extension of this trend is business-tobusiness trade, and entrants are emerging in this space as well.
The Internet has also been instrumental in developing more complete backhaul networks. While much transportation business today is contractual, buying groups could form on the Internet, to consolidate volume and drive prices down for the users. Over time, they could command enough volume to damage carriers that are unwilling to play by the new rules. The best defense is maintaining a value-added relationship directly with your customers.
The Internet allows companies to extract valuable information about customer behavior and characteristics from one centralized source. Through it, companies can track each page of their customers' visits, how long they spend at each site, how they navigate around the site, what orders they cancel, and what orders they eventually book.
Companies can then use this data to identify attractive customers and markets, tailor new, higher-margin products, and reduce the costs of service and sales.
With this technology, transportation companies can understand and respond to their customers' behavior at a level never before possible. An e-business transformation is a never-ending process. It is a continuous evolution where the customer is the key. A wellorganized e-business is one that asks what its customers want — gives it to them — and then continues to ask what they want.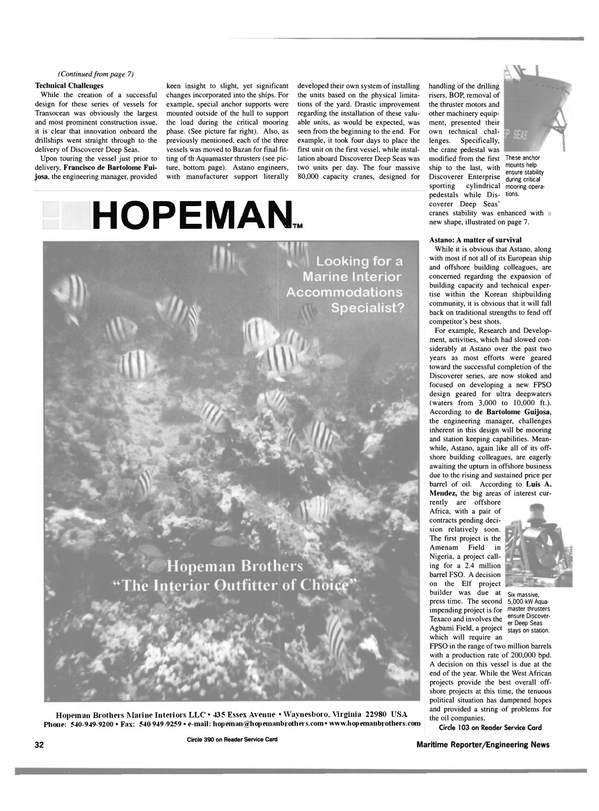 Read Transforming a Transportation Company into A Successful e-Business in Pdf, Flash or Html5 edition of June 15, 2000 Maritime Reporter
Other stories from June 15, 2000 issue
Content