Tradiant Melding The Best Of Tech And Transport
By Greg Trauthwein, editorial director
The creation of broad stroke, groundbreaking business deals are traditionally portrayed as being hatched on the golf course, at an exclusive social function or within the confines of a harried boardroom. The creation of Tradiant — which is a new e-commerce solution that promises to change the very foundation of the shipping business — is as unique as its lofty goals.
Co-founder Aaron Sasson and current president and CEO John Urban met at their daughters' PTA meeting.
While the field of e-commerce solutions serving the maritime industry is quickly becoming crowded with an equal mix of idealists and fortune seekers, Tradiant stands out with its co-mingling of technical expertise and in-depth industry knowledge. The latter is a fact not to be minimized, as the quick pace of technological access and expertise has lowered barriers of entry to a given business arena, allowing organization with scant or no real market insight as to a given industry's issues an immediate, if not long-lasting, base of business.
Given the rapid pace at which electronic transactions are making all international business more efficient and cost effective, it is little wonder that the business of transporting goods from one destination to another has garnered its fair share of "solution" providers. The maritime business, in particular, is ripe for change, as many of the processes and activities surrounding activities from the selection of carriers to the filling and filing of mountains of paperwork is in many cases stuck in a laborious, manual procedure ruled more by "business the way it's always been" rather than a reality (or efficiency) check.
Still, owners and operators or vessels are notorious for adhering to ways of the past, and while many claims of grandeur look good on paper (or computer screen, in this case), the true test of success will be told years from now. But if Tradiant president and CEO John Urban is to be believed, his company will be one of the majors left standing, as he explains Tradiant's system will take a 2.5 week process and whittle it down to an afternoon's work.
Tradiant, unlike similar competitors in the market, has created a system which is touted as an innovative e-commerce platform for shippers, carriers and freight forwarders designed to power all aspects of e-commerce for companies involved in the estimated $ 1 trillion market for transportation services worldwide. The company's e-commerce platform is known as Tradiant Trans-Commerce, and is designed as an ecommerce backbone to streamline disparate back-office functions, offering a robust set of public and private, business- to-business marketplaces to move freight across all modes of transportation. At the time of the company's meeting with Maritime Reporter, it had already contracted with 24 carriers for participation.
In a meeting with president and CEO Urban, he is quick to point out that Tradiant is not, by any definition, an auction site. "Auction models are devastating to a carrier," he said.
Urban, it should be noted, is intimately in tune with the needs of carriers, with more than two decades of experience in the global transportation industry, including extensive experience in Latin America and Asia. For 15 years he worked for American President Lines, now part of NOL.
While with APL, he built the company's Latin America group into a $150 million per year business. "At APL, we had 153 sales representatives, but only strong identifiable relationships with about 6.000 customers," said Urban, which is less than 10 percent of the 70,000 small and medium size importers and exporters that are available for business. Tradiant.
he contends, will give shippers a much wider and much more cost-effective access to their customers.
Deep Pockets While competitors — both directly and indirectly — in its business arena are inevitable given the ease of access with today's technological solutions, Tradiant brings to the table a feature not readily available to most — the backing of worldclass and extensive financing. Tradiant's investor group is led by Warburg, Pincus Venture Partners, a leading private equity firm. The investor network also includes Silicon Valley stalwarts Aaron and Ori Sasson, founders of the successful Scopus Technology, a company that was acquired by Siebel Systems for $480 million in 1998.
While strong financial backing is imperative to long-term success, the Sasson brothers bring with them cash and a proven technical expertise to help ensure Tradiant's solution is technically compatible with industry needs. Aaron Omid Sasson, chairman of the board, has more than 20 years of experience as a technology leader and has helped found four companies, including Tradiant. Before starting Tradiant, Sasson was co-founder of Scopus Technology and served as senior vice president of Field Operations. At Scopus, Sasson played a key role in its successful initial public offering and in driving revenues to more than $100 million in six years. He also led the company's successful merger with Seibel Systems, an industry leader in enterprise relationship software. Sasson was also a founder of Plato Software, which was later acquired by Genesys Labs. He has held executive-level and management positions at Opus Systems. Sun Microsystems, GenRad, and Motorola. He earned a Bachelor of Science degree in Electronics Engineering from the University of London.
Circle 55 on Reader Service Card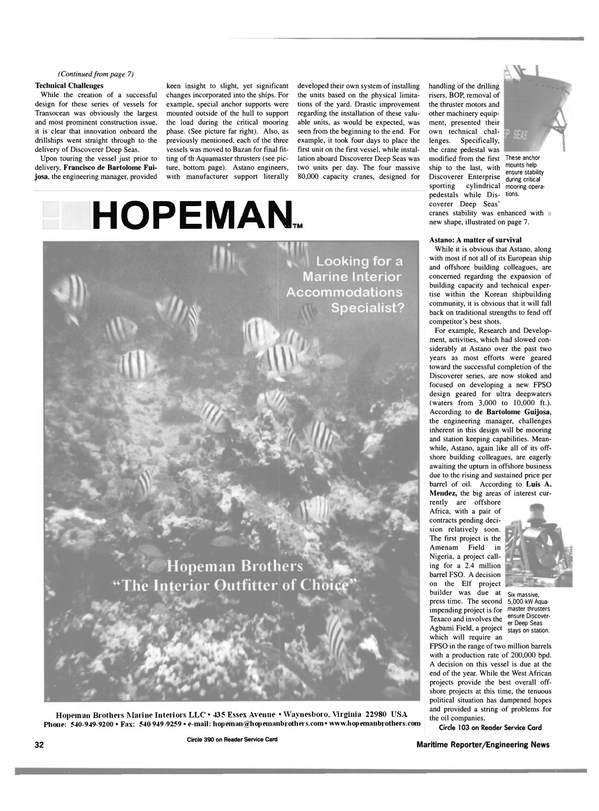 Read Tradiant Melding The Best Of Tech And Transport in Pdf, Flash or Html5 edition of June 15, 2000 Maritime Reporter
Other stories from June 15, 2000 issue
Content