Littoral Combat Ship: It's Down to 3
The multi-billion contract to build a new family of Navy ships took one giant step last month with the awarding of development contracts to three industry teams. The fight to win the contract to design and build the family of Littoral Combat Ships (LCS) is sure to be fierce, as the deal to build up to 60 of the vessels will help feed the corporate coffers of the successful team for decades to come.
LCS is indicative of the Navy's transformation from a deepwater fleet leftover from the Cold War threat of only one other credible super power, to the reality of today's multi-faceted threat environment: small, hard to find and diverse groups around the globe. The LCS is designed to be a multi-functional, multi-dimensional vessel, able to accomplish a diversity of missions equally well while operating in more dangerous shallow coastal waters.
While derided in some circles as "disposable," the LCS will represent some of the highest technology on the water, fully leveraging the modern military's move toward the network centric approach to battle. Simply put, rather than operating as an island or the cog in a small battle group, the LCS vessels will "plug into" the network of air, land, space and sea assets, helping to collect, process, analyze and disseminate information that will help to, ultimately, protect lives and military assets.
The battle to build the LCS family has attracted true international attention, as a quick scan of the three remaining teams surely bears out.
"The LCS teams selected represent the best available domestic and international expertise, and reflect strong efforts on the part of industry to provide innovative technologies and operational flexibility for the fleet customer," said John Young, assistant secretary of the Navy for Research, Development and Acquisition. "Our LCS acquisition strategy supports delivery of the first ship as early as fiscal 2007, within five years of program start." Each of the teams features a broad international mix of companies that have imported advanced technologies to the shores of the U.S., technologies which in the long-run which will surely impact the productivity and stature of U.S.
builders and suppliers in military, government and commercial marine markets, both domestically and abroad.
"This award is a major accomplishment in Austal USA's plans to become a major competitor in high speed applications for the US defense program," said Austal USA's CEO, Greg Metcalf.
Over the next seven months, the three teams will put the finishing touches on their designs, working toward a summer 2004 decision deadline to proceed to the next step: the awarding of final design and construction contracts. Following completion of the seven-month LCS preliminary design stage, the Navy will select two builders, one or both of whom will build the first two ships. The first vessel will commence construction in early 2005 and the other in early 2006.
Plans also call for the additional construction of three ships in 2008 and four in 2009.
The Players Genera] Dynamics - Bath Iron Works; Lockheed Martin Naval Electronics & Surveillance Systems Surface Systems; and Raytheon Co., Integrated Defense Systems, were each awarded a contract for the performance of flight LCS preliminary design. Each contractor and their teams received a contract to perform a seven-month preliminary design effort to refine its proposed LCS concept.
LCS will be a high-speed ship designed for fighting in littoral or coastal areas.
The eventual real LCS will feature an advanced hull form and a shallow draft and will be capable of quickly moving through the littoral at speeds of up to 40 to 50 knots. Obviously, much design work has already been invested in the project from all three teams, perhaps none more so than Raytheon's entrant, which is based in a currently operating Royal Norwegian navy ship.
"We're leveraging about $500 million that has already been invested in this ship technology (via the development of Norway's Skjold)," said Tim Spotts, Project Manager, LCS, Raytheon, "we feel this is a major advantage to our side.
It is a slick ship design ... a definite step outside the box." "We are privileged to offer our expertise within this impressive consortium that incorporates critical talents from a diversity of companies," said Tom Diamant, president of JJMA.
Raytheon's total ship system engineering, naval engineering and ship design competencies with Umoe Mandal's innovative advantages of advanced SES hull design and manufacturing processes, Goodrich's composite design and fabrication as well as the streamlined and agile benefits of teammate Atlantic Marine provides.
General Dynamics-Bath Iron Works' team concept is based on Austal's 126- m high-speed aluminum trimaran hullform.
a vessel that is yet to be built, but relies on Austal's expertise in the construction of large, high-speed aluminum vessels.
The Lockheed Martin Littoral Combat Ship (LCS) entrant is named Sea Blade, designed to be a fast, affordable, lowrisk approach designed to dominate the shallow waters surrounding an enemy's shores.
"The Lockheed Martin LCS team combines leadership in all aspects of ship construction, design and program management." said Carol Hulgus. vice president of programs for Lockheed Martin's Naval Electronics & Surveillance Systems.
Principal members on the Lockheed Martin team include naval architect Gibbs & Cox and mid-market ship builders Bollinger Shipyards and Marinette Marine.
Gibbs & Cox, Inc. is responsible for the overall seaframe design, including integration of the hull, mechanical and electrical systems Bollinger Shipyards and Marinette Marine will employ proven materials and construction techniques that have successfully delivered more than 190 ships on time and on budget in the last 10 years. These midsize shipyards are ideally suited and optimally sized for building LCS class ships. Combined, Bollinger Shipyards and Marinette Marine have built more than 135 ships for the Navy and Coast Guard.
Operating close to land, LCS is designed to enhance the capabilities of the Navy's larger multi-mission surface ships such as the planned next-generation destroyer and cruiser and today's fleet of Aegis warships. In addition to being smaller and faster than most vessels in today's fleet, the LCS will feature a mission module package, allowing commanders to tailor the ship to combat threats most often found in the littoral: naval mines, diesel submarines, and small fast surface craft.
Inherent operations, which each LCS will have, regardless of mission, include: • Each ship will be able to defend itself from attack: • Each ship will be able to conduct intelligence, surveillance and reconnaissance missions; Each ship will be able to support joint special operations forces; • Each ship will be able to provide joint mobility in the littoral; • Each ship will be able to interdict other ships, and defend the homeland.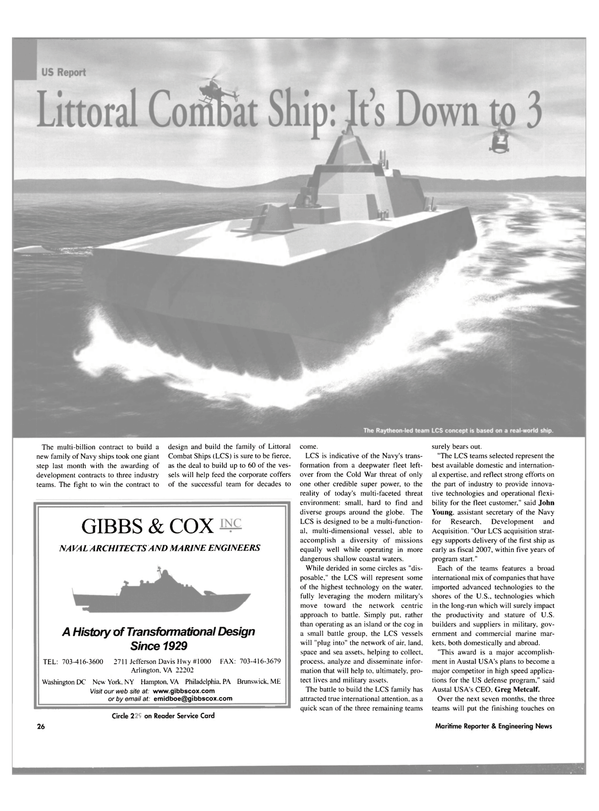 Read Littoral Combat Ship: It's Down to 3 in Pdf, Flash or Html5 edition of August 2003 Maritime Reporter
Other stories from August 2003 issue
Content