Wartsila: A Fountain of Ideas
A new concept for powering large passenger vessels, the combined diesel-electric and diesel-mechanical (CODED) system, is the latest outcome of a broader co-operation between leading lights in the Finnish maritime industries. CODED has been developed by Wartsila Corporation to address the needs of cruise ships of the future, and is an outcome of its joint endeavors with the technology arm of Kvaerner Masa- Yards to find new design and machinery solutions for the next generation of vessels. Formulated for a 25- knot breed of Panamax cruise ship of 90,000-gt, arranged to accommodate 2,500-passengers, the CODED propulsion configuration is of a hybrid nature, using two electric motor-installed pods and one mechanically-driven, feathering controllable pitch propeller.
The CODED machinery layout is claimed to offer the benefits normally associated with a 'conventional' diesel-electric power and propulsion plant, but at a lower cost. Compared with an all diesel-electric, twin pod solution, the new concept is said to promise better hydrodynamic performance, equally good maneuvering and significantly improved economics, with a seven-percent reduced power need at the propellers.
A key benefit attributed to the CODED system is the factor of flexibility, whereby installed prime mover capacity can be better matched to different needs in different situations. In addition, it permits the diesel engines to be run at constant speed and at more efficient loads, to the good of overall fuel consumption, while it affords the ship designer greater freedom in main engine location. At low and medium vessel speeds, the ship is propelled by the twin, steerable pods alone. At high speeds, the centerline, mechanically-driven propeller is also actuated. When not in use, the centerline propeller is feathered, whereby the pitch is changed to align the blades with the waterflow, allowing for significantly less resistance than that encountered with a windmilling propeller.
For operations in the higher speed range, it is proposed that steering is achieved by way of a Lips High Efficiency Rudder fitted behind the centerline propeller, with the pods then locked into position. After investigating various CODED machinery options for the envisioned Panamax cruise ship, Wartsila settled on a layout using a total of five 9L46 diesels in the gensets for the diesel-electric side to the system, feeding power to the electrical pods, plus two I2V46 models to drive the centerline mechanical propeller. Total plant output would be approximately 72.5-MW.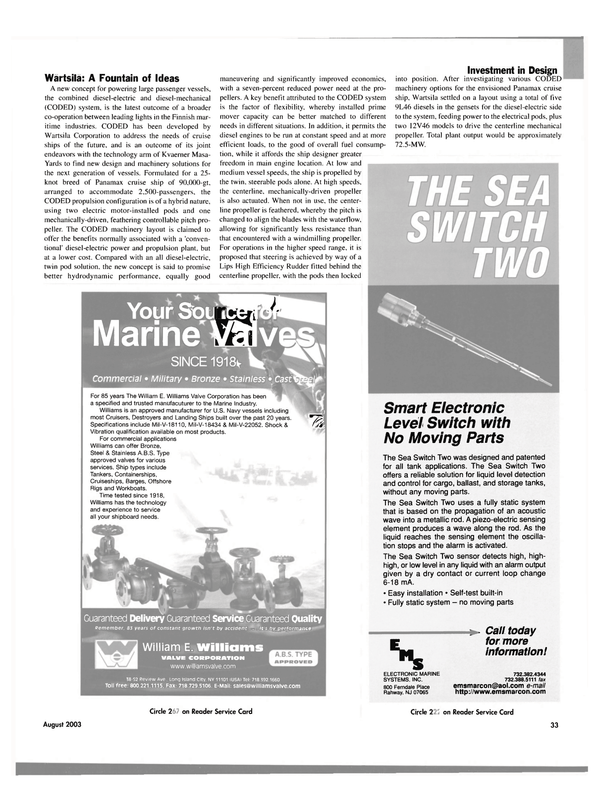 Read Wartsila: A Fountain of Ideas in Pdf, Flash or Html5 edition of August 2003 Maritime Reporter
Other stories from August 2003 issue
Content