A Billion to One Shot
By Alan Johnstone
TTS Sets its sites on China to Achieve its Financial Goals
TTS has set its sights on becoming a billion euro business and is focusing on China as a key growth driver. Through long-term joint ventures with state-owned Chinese concerns, TTS has established itself as the leading (and largest) Norwegian business in China. Ivar K. Hanson, the chief operating officer of marine, offshore and ports and logistics equipment supplier TTS Group, has adopted the diplomatic smile of an experienced politician.
He's batted away a question about the tense relations between the Norwegian and Chinese states (rocked by the decision to award the 2010 Nobel Peace Prize to democracy campaigner Liu Xiabo) and made light of the perceived problems associated with setting up foreign businesses in the world's most populous nation.
"We're very well established, very well positioned in China," he states, adding that the firm's joint ventures with Chinese partners make it "almost Chinese," helping to side-line such potentially incendiary issues.
"China is absolutely key to us and we're going to leverage our position there to help meet our ambitious company growth objectives," he stresses.

Uplifting Plans
Hanson's reference to "ambitious growth objectives" could be seen in some circles as an understatement.
TTS has publicly stated that it has aims to be a 'billion Euro company' by 2016, driven by organic growth in the offshore and port sector, acquisitions in the marine arena and increased service volume everywhere.
Revenues in 2012 were $414 million or Euro 317 million and profits sat at $78.2 million. The company said it was "content" with these results, given the unstable market conditions, but, with 2016 looming on the mid-term horizon, is gunning for much more. China, it would seem from a conversation with Hanson, will give it the required firepower.
"We were an early mover into China," he says, "securing our first contract in 1982. In 1998 we set up a joint venture with the state-owned China State Shipbuilding Corporation (CSSC), the nation's largest shipbuilder, creating TTS Hua Hai Ships Equipment Co. In 2005 this was followed by the establishment of TTS Bohai Machinery Co in Dalian, a JV with Dalian Shipbuilding Industry Corporation (DSIC). Hua Hai produces products such as hatch covers and winches, while Bohai produces cargo cranes, offshore cranes and, previously (before the sale of TTS Energy to Cameron in June 2012), drilling equipment.
"In total," he states, "we now have five operating companies, around 200 staff and revenues of just over $434 million in China. That makes us the biggest Norwegian company in the country, giving us a unique platform for further growth."
The joint ventures have worked so far, according to Hanson, because both 50/50 partners have something to offer one another. TTS has solid relationships with shipowners, an established brand and proven equipment technology, while CSSC and DSIC have the shipyards ("our main market," says Hanson) and a low cost production base that benefits a global business, like TTS, looking for economies of scale.
This combination has allowed the JVs to capture 60% of the hatch cover market in China, while the corresponding share of the cargo crane sector has jumped from 18% to 28% in the space of the last year. Hanson hopes that TTS' winch products, introduced to the market in 2011, will now be able to "piggyback" on the success achieved by the hatch covers and quickly establish a similar share.
The TTS COO goes as far as to say that China will now become "the most important and focused" market for the business, as, over the course of the next decade, it emerges as the largest producer of offshore equipment in the world. TTS facilities there will, he believes, allow the firm to take advantage of offshore and marine opportunities throughout the whole of the Far East, while opening up important after market revenue streams.
"We share profits 50/50 in the JVs," he notes, "but, outside of China, we have 100% of the service market for the portfolio. When you consider that TTS Hua Hai produces 1.5 shipsets a day, that's a lot of equipment that will require after market support."

Winning Back High Margin Business
Beyond China, servicing is another key to unlocking TTS' planned growth.
CEO Johannes D. Neteland has made it clear that he's unsatisfied with the circa 20% share of the after sales and service markets that TTS has in its core business areas. Profits for servicing are, he has stressed, higher than they are for new products, meaning that the company is effectively giving its competitors high margin business with every product that rolls off the production line.
Hansen says that this is set to change. TTS has now established one service hub in Bremerhaven to cater for the European market and will establish one more in Houston this year, followed by an Asian hub in Singapore and a Middle East base in Dubai. These will increase the firms capability to service its own, and competitor's, products "when and where" the customer needs it, in addition to operating as customer accounts (sales) centers, warehouses for spare parts, workshops and design facilities.
"It's a new worldwide service strategy," Hansen says. "It will give us a competitive edge while giving our customers the best possible profitability from their assets – getting vessels back in the water as quickly as possible."

Acquiring Ambitions
On the subject of speed, the firm will have to grow fast to meet its self-imposed 2016 objective. The marine segment is its "bread and butter" division – accounting for 82% of total turnover in 2012 – and is a key focus going forwards. However, as it already has a market leading position as a provider of hatch covers, cranes and a variety of RoRo equipment (including doors, car decks and ramps), the firm will be looking to acquisition to give it the extra market share – a policy facilitated in part by the aforementioned sale of the drilling business last year, which netted TTS a financial war-chest of $270 million.
"We'll be looking at firms that can offer us something on the technology front," Hansen reveals, adding that the firm has a rich history of acquisitions, with 25 companies purchased since 1998. Location wise, Europe seems to be the target for this activity, but, with a billion Euros in mind, it's easy to conclude that TTS will go anywhere that it sees the market opportunity. It's an approach that has been transformational for the equipment design, development and supply specialist, which now has over 1,100 staff in 13 countries around the world, situated across 25 business units.
In 2000 the firm had a presence in just one territory, Norway. Back then it didn't have to worry about who the Nobel Peace Prize went to, but that is surely a small price to pay for some great big leaps forward.

(As published in the May 2013 edition of Maritime Reporter & Engineering News - www.marinelink.com)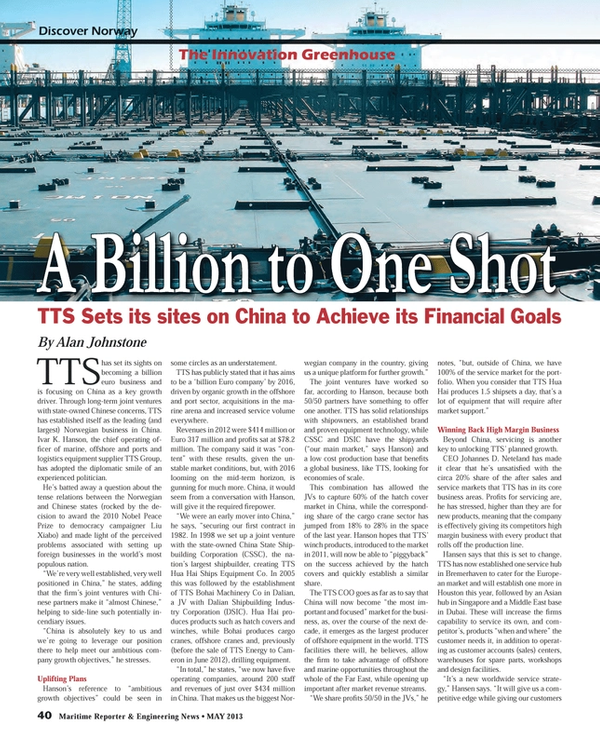 Read A Billion to One Shot in Pdf, Flash or Html5 edition of May 2013 Maritime Reporter
Other stories from May 2013 issue
Content