Bergen: A Unique Maritime Environment
By Alan Johnstone
The weather might be depressing, but the outlook for the city is anything but. Bergen's shipping industry and maritime related services sectors are going from strength to strength, bullishly rebutting the worst of the waves caused by the ongoing global financial crisis. The secret, locals argue, is a long-term industry view, the strength and diversity of the maritime cluster and the fact that Bergen blood is very much thicker than water. Maritime Reporter goes native to investigate.

Rain, mountains and fjords: The three things that spring most readily to mind when the name Bergen is mentioned. The city of around 270,000 people – Norway's capital in the 13th century – is a dramatic, beautiful and, yes, very wet place.
Its brightly colored buildings sit scattered between and up the sides of the seven mountains that encircle the metropolitan area. Its UNESCO World Heritage listed harbor area bustles with activity, from snap happy tourists to time poor traders, before everything melts out into the cold and crystal waters that slide serenely into the North Sea. Its people are proud, but friendly, its beer is expensive, but worth it, and its puddles are, well, everywhere.
Such are the impressions of Bergen. It's a striking and memorable place. But not always for the right reasons, argues Øystein Meland, the Managing Director of Bergen Shipowners' Association.
Meland appreciates that the obvious natural beauty may catch the imagination and the headlines, but he believes it's the industrial heritage, abundance of talent and on-going maritime opportunities that should really be making waves.

The quiet over-achiever
Meland's organization, along with seven other local partners, is leading the Maritime Bergen initiative, a campaign aiming to bring the strength of the regional industry to a global audience. Together the partners commissioned economic research outfit Menon in 2012 to map the maritime sector in the wider Bergen region. The results of this study, published in a special report this year, make captivating reading.
According to Menon's findings, the local maritime cluster employs a total of 20,184 people and produces a turnover of NOK 80 billion ($13.9 billion). In terms of 'wealth creation' for the region – a measure worked out by adding the operating profits of the companies to the wages of the individuals that they employ – the cluster generated NOK 27 billion ($4.7 billion) for the local area. Bergen is the largest port for handling oil cargo volumes in the entire Nordic region, and Norway's largest for cruise ship calls (with 338 scheduled for 2013) and domestic and international cargo.
In addition to this, Bergen easily outshines its "big brother" Oslo, more globally renowned as a shipping centre, in terms of its overall fleet. Bergen has 510 vessels sailing with a Norwegian flag (compared to 240 in Ålesund and "only" 180 in Oslo) and 530 registered in foreign territories (all above 100 gross tons).
All this and people still focus on the leaky clouds. It can be, Meland imparts, more than a little frustrating.
"We have good reason to confidently say that Bergen has the most complete, strongest and well-developed maritime cluster in Norway," he says, adding that the city region is awash with "genuinely world class companies" with "long traditions of innovation, customer focus and excellent fleet organisation and management."
On this last note he points to numerous examples to prove his, and his partners' case.
Keeping it in the family
For a comparatively small area, Bergen has an abundance of large, sector leading shipping concerns. The city has the world's largest fleet of chemical tankers – led by firms such as Odfjell, which controls a fleet of 100 specialized vessels – while it is arguably the 'home' of open hatch bulk carriers, as evidenced by Grieg Star's global market position and the 40 open-hatch vessels operated by Westfal-Larsen, which employs a workforce in excess of 1,100.
Such companies have prospered through exploiting niche markets, but also because, as Meland stresses, they have taken a long-term approach to business: "The shipping companies are the most important part of the cluster here in terms of their combined revenues ($6.6 billion 2011) and value creation ($1.7 billion, 2011). Their success is molded by what we call their 'industrial shipping' strength."
He explains: "They specialize in vessels customized for certain markets and manage to secure lengthy contracts and build close customer relationships. Everything is long-term. There's not the same asset play mentality as there is in other centres, such as Oslo. "This segment focus and willingness to invest in specialist, expensive tonnage for long-term strategic gain ensures that we can stay competitive internationally. We have made our niche."
Meland also points out that this long-termism is, in many ways, a product of the ownership of the main shipping players, which all fall under family control (high profile examples include the aforementioned Grieg, Odfjell and Westfal-Larsen, as well as Kristian Gerhard Jebsen Skipsrederi, or KGJS, which operates three divisions, including SBS Tankers, controlling 30 vessels, and KGJ Cement, the world's largest cement carrier fleet). Cynics could argue that this may not make for exciting stock developments, but it does provide stability in a financially unstable market. And that, Meland stresses, is the key to a sustainable shipping sector.

Support structure
The other key, locals would argue, is strength in depth. The main shipping companies are the cornerstones of the regional industry, but there's plenty more bricks in this particular wall. The maritime cluster – which employs 12% of all private sector workers in the region – is tremendously diverse. Growing shipping subsectors, such as offshore and seismic (with ambitious players including DOF, with a payroll of around 4,000, Atlantic Offshore, an emerging star in the Multi-role Rescue Vessel and PSV segments, and Dolphin Geophysical, now established as the fifth biggest global marine seismic player after just two full years in business), mix with major shipbuilders such as the Bergen Group, and engineering and equipment giants including Bergen Engines (a division of Rolls Royce), pump producer Frank Mohn and TTS. Alongside the heavy lifters, there's the white collar world of financial and legal services – where the Norwegian Hull Club leads the insurance sector, underwriting more than 9,000 vessels (and seeing a 19% growth in its portfolio in 2012) – and banking, with DnB choosing to site one of its seven global hubs in the city. Add the shipbroking services and rig and drilling businesses (where turnover has doubled since 2004) and Meland's claim of a 'complete, strong and well-developed maritime cluster' gathers further force.

Money Talks
If all this seems like unequivocal cheer-leading for the region then that's because it's difficult to argue against the facts. The Menon report makes a compelling case for a regional industry that, despite the global travails of recent times, is not just holding its own, but actually managing to record genuine growth.
Since 2004 the cluster's turnover has nearly doubled, climbing from $8.3 billion to $13.7 billion in 2011. Of this, the maritime services sector is the star performer (from $1.2 billion to $2.7 billion in the period), with shipowners seeing a revenue increase from $5.2 billion to $7.8 billion. Even shipyards, which have felt the full force of the crash, have enjoyed seeing their incomes rise from $678 million to $1.3 billion.
Total cluster employee numbers have also risen, although less markedly than revenues, from 17,334 in 2004 to 20,814 in 2011. It's difficult to pinpoint an over-riding reason for such eye-catching development, but, as Meland suggests, it may find its roots in the sector's long-term commitment to the cause.
Even now, while the markets continue to wax a little then wane a lot, the main players are investing, and investing heavily, in a brighter future. Grieg, for example, has earmarked $521.7 million for 10 newbuild open-hatch ships that are being delivered through to 2014. In addition, Odfjell (which is taking delivery of the world's largest chemical tanker in May), Nor Lines, Jo Tankers, Gearbulk, Viken and Wilson have 24 vessels ordered between them for delivery over the next two years. These are obviously not asset-play investments, but rather show the strength of the firms' long-term commitments to ride out the notoriously weak marketplace.
The Maritime Bergen partners are now working to rally the industry behind their standard and push for further global recognition of the city region as a true, world-class maritime hub.
A key driver for the collective is a branding exercise for the city, which is set to officially launch at the Nor-Shipping exhibition in June. Bergen will be unveiled as "The Industrial Shipping Capital" at the event, in recognition of the discussed long-term business strategies, commitment and specialized nature of the city's fleet and associated products.
Meland says that the push will not only help Bergen get the recognition it deserves, but also encourage even closer collaboration between the individual cluster players, leading to further innovations and combined strength, while helping with the recruitment of fresh talent and investment.
"We are passionate about this industry," he concludes. "We have a long and proud seafaring history here, and we believe we have a long and proud future ahead of us."
And no amount of rain can dampen that kind of enthusiasm.
Bergen in Numbers

Population:
268,800 (city),
395,100 (metropolitan area)

Employed in the maritime cluster:
20,814 (2011)

No. of ships (above 100 tons):
510 Norwegian flag,
530 foreign registers

Maritime cluster turnover:
NOK 80 billion ($13.9 billion)

Avg. salary for regional sector:
NOK 800,000 ($139,000)

Wealth creation per employee:
NOK 1.5 million ($261,000)

Annual increase in shipping companies' turnover since 2004:
5%

Proportion of Norwegian wet bulk shipments handled through Bergen:
57%

Number of cruise ship visits:
338
(Europes' 7th busiest
cruise port)


(As published in the May 2013 edition of Maritime Reporter & Engineering News - www.marinelink.com)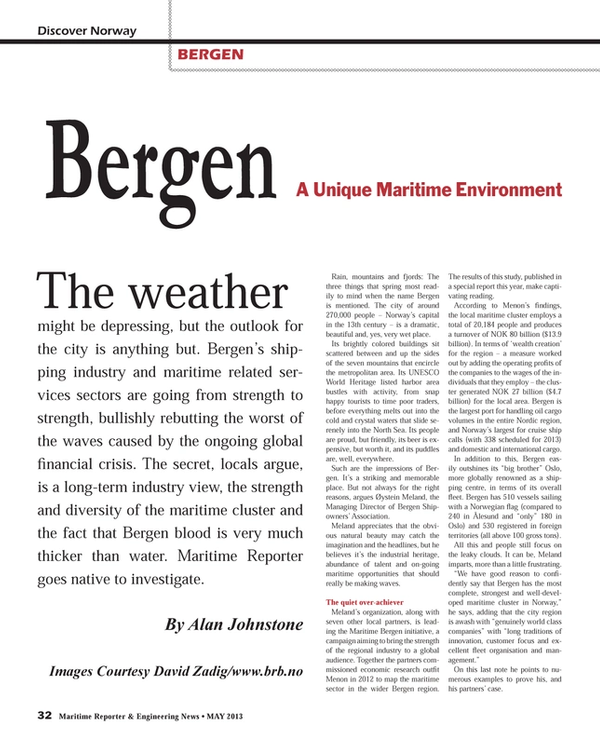 Read Bergen: A Unique Maritime Environment in Pdf, Flash or Html5 edition of May 2013 Maritime Reporter
Other stories from May 2013 issue
Content