Escort Tugs in San Francisco Bay
By Trevor Bozina
Providing Tugs For the Intricate Escort Regulations Of SF Bay
Responding to the oil spills of the Exxon Valdez in 1989 and the American Trader in 1990, California enacted the Lempert-Keene-Seastrand Oil Spill Prevention and Response Act (OPA 90). With this act came requirements for tankers to employ escort tugs whose construction produced the "best achievable technology."
Thus, an evaluation of tractor tug development and construction on the west coast led to tugs providing bollard pulls of +/-90 tons. San Francisco Marine Exchange (SFMX), a non-profit whose maritime history in San Francisco dates back to 1849, acts on behalf of California's Office of Oil Spill Prevention and Response (OSPR). They help to monitor the compliance of these OSPR regulations.
Escort tugs and tankers work closely with the SFMX to ensure each shipping company, and citizens of the local community a safe tanker transit throughout San Francisco Bay. Tankers are required to employ an escort under OSPR rules if transporting 5,000 long tons or more of oil in bulk. This requirement is one of the most important. It ensures a safety measure for each tanker during its entire bay evolution, unless secured at a berth or anchored. Within these rules an escort tug must be able to influence a tankers speed and direction if it encounters a steering or propulsion casualty. The goal is preventing the possibility of a grounding, a collision or any risk of spills that may result. In addition, the tug must be capable of stopping a tanker with a speed of 5 knots through the water.
Unique to San Francisco, tankers and tugs are matched based on the regions kip system. A kip is 1,000 lbs of braking force. Tugs are given a kip rating based on their static bollard pull and a third party analysis of the tugs design. The SFMX publishes a list of escort tugs and their kips, as well as a matrix of kip requirements. The Bay is divided into six zones; escorts are required in four of those six. The matrix shows the required kips for tankers of a given displacement transiting the four zones during a slack or following current. As displacement, following current, or a combination of the two changes so does the required kips.
A tug that can provide the best available technology and a high kip rating is a valuable safety asset to the petroleum industry. This is especially true in San Francisco where a tugs ability to perform during escort is measured by its kips. Baydelta Maritime's Delta Billie and Delta Cathryn provide this to its customers and the OSPR system.
The Delta Billie and Delta Cathryn, delivered in 2009, are identical 6800 hp azimuthing stern drive tractor tugs, with static bollard pulls of more than 90 tons. Dimensions of 100-ft. long by 40-ft. wide, deep forward skegs, and deep drafts combined with their bollard pulls give them certified kip ratings of 264 and 266. Of San Francisco's escort tugs the Delta Billie and Delta Cathryn provide the most kips, bollard pull and horsepower.
Delta Billie and Delta Cathryn were built around the local OSPR requirements. The goal: provide as many single tug escorts as possible, without compromising safety. Individually they provide enough kips to allow for one tug during escorts, a cost savings to operators. Baydelta has been in San Francisco since 1982 evolving its operations with changing times. Prior to the Delta Billie and Delta Cathryn it operated two other generations of escort tractors, starting in the 1990's and maintaining the best available technology since.
San Francisco offers a combination of conditions that many other west coast ports do not. Normal inbound escorts from sea to Martinez are roughly a six hour transit from the time a tug arrives on station outside the Golden Gate Bridge, in zone 1, to the tankers berth in zone 6. Just over 40 nm from the sea buoy. The escort will pass through three bridge spans, may encounter strong currents and winds, navigational channels providing draft considerations, as well as commercial and recreational traffic. There are regulated navigation areas with navigational controls for vessels 1600 GT or more and tug's with tows greater than 1600 GT. Once a tanker crosses through the Golden Gate Bridge after a pre-escort conference is held, a single course is rarely held for more than 3 nm. Ships are required to keep their escort within 1000 ft. ahead or aside, or within 500 ft. astern. Beyond this requirement, Pilots tether the tug astern during the entire trip. This offers the most immediate tug response, as the tug is able to provide immediate steering and braking assistance. The tugs can produce forces in excess of 100 tons in the direct and indirect modes.
Tankers and their escorts face environmental and navigational challenges in the bay on their way to any one of approximately 20 different berths able to handle petroleum. The OSPR regulations ensure safety and better facilitation of tanker movement. In a heavily regulated international industry, these requirements are in place for the protection of all ships, owners, charterers, and the San Francisco Bay community.
The most important goal is to make sure a tankers call into San Francisco is flawless. Baydelta embodies this and their numbers prove it; it completes 500 to 600 escorts annually with 90 percent of Baydelta's work being tanker related. For every escort there is at least one assist that the escort boat will provide, often being met by a second Baydelta tug for docking. Built to the OSPR specifications was one of two build requirements, the other being to provide excellent ship assist capabilities for tug and barge escorts, container ships, bulkers, military vessels, cruise ships, flat tows and more.
Every berth, Pilot, or tanker, on any given day will produce a dynamic list of considerations. Tugs and their operators must stand out in their ability to adjust to these factors.
OSPR has guidelines ensuring escort tugs in San Francisco are up to standards. For the Delta Billie and Delta Cathryn to be let loose on the bay, each boat completed a bollard pull test. This included members from the Department of Fish and Game, and AWO RCP auditors. Data analysis of the vessel designs by Glosten Associates, was also conducted. A three year AWO RCP audit is done and educational requirements are followed per OSPR. Four crewmen are required on board during escorts. Baydelta primarily operates with four crewmen at all times for safety and work hour compliance. Of the four onboard, OSPR requires three to be tanker escort qualified. For educational compliance an in house education and training program is in place that each employee undergoes. The tug crews review the program every year. As there are ever changing requirements for tankers, there exists the same for tugs. Baydelta was one of the first to participate in the US Coast Guard Voluntary Uninspected Towing Vessel Examination, in accordance with the proposed Sub Chapter M. Ensuring up to date compliance with all requirements today and those in the future.
As the dynamic environment escort tugs work in continues to change, demands of shippers, pilots, and citizens will change as well. It's important for the local escort industry to commit to adapting to these changes so tankers can feel comfortable every time they pass under the Golden Gate Bridge.

(As published in the May 2013 edition of Maritime Reporter & Engineering News - www.marinelink.com)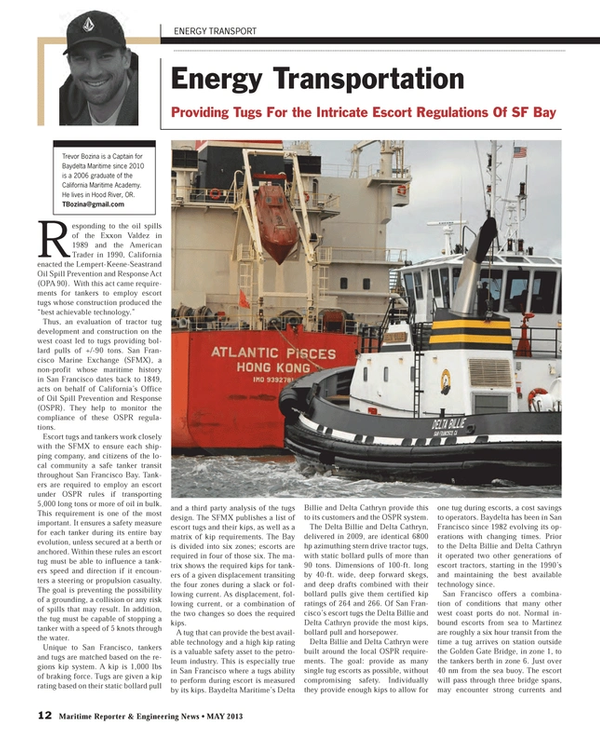 Read Escort Tugs in San Francisco Bay in Pdf, Flash or Html5 edition of May 2013 Maritime Reporter
Other stories from May 2013 issue
Content