LNG Tech on tap at Europort 2013
Maritime Reporter & Engineering News
Emissions regulations from 2015 onwards are driving shipowners to a crossroads on fuel selection. Ahead of Europort 2013, Rotterdam, Dutch interests are making significant waves in tangible investments in LNG as a fuel option.
While there is not consensus on the potential of liquefied natural gas (LNG) as a marine fuel, the concept is gaining traction rapidly as using LNG reduces nitrogen oxide (NOx) and carbon dioxide (CO2) emissions from ships, as well as allowing operators to meet restrictions set in Sulfur Emission Control Areas (SECAs) today, which tighten from 2015 onwards. With the clock ticking, the coming legislation and the potential for LNG fuel as a viable choice will be a key focus at Europort 2013 Rotterdam November 5-8, 2013. The LNG option offers an alternative to low-sulfur marine gas oil (MGO), which is already favored by some owners for use within Sulfur Emission Control Areas (SECAs). Its attractions offer even more promise beyond 2015, particularly if not enough distillate is available to meet market requirements and alternative scrubbing technologies to continue burning heavy fuel oil remain insufficiently mature. However, there are significant obstacles to overcome, including developing the necessary bunkering infrastructure to support LNG as an alternative to heavy fuel oil and distillates and completion of regulations on shipboard storage of LNG.
Encouraged by government backing and in line with the hub status of Dutch terminals along the Northern port range, companies based in the Netherlands are stepping up to promote LNG as a marine fuel, including the presentation of their progress at the Europort Advanced Technology Conferences.
For the Port of Rotterdam itself, LNG as a fuel has already been earmarked as a strategic growth opportunity. The Port, which predicts becoming a LNG bunkering hub by 2030, recently announced a new partnership with Port of Gothenburg looking to promote the fueling option. The aim of the memorandum of understanding is for the ports to work together to have LNG bunkering facilities in place in both locations by 2015. The deal is likely to be the first of a number of joint initiatives with other ports involving Port of Rotterdam, with a view to creating an end-to end-network of LNG bunker opportunities.
Maurits Prinssen, Project Manager at the Department of Port Planning & Development/ Shipping of Port of Rotterdam, said, "Commitment at the European level is needed for this and the partnership with the Port of Gothenburg will be a very important strategic alliance. We believe that Europort 2013 will offer the ideal networking opportunity for key industry players to exchange knowledge and experience as the industry faces a turning point on fuelling."
Port of Rotterdam is also working with the leading terminal operator ECT and has made land available for an LNG filling station between the Gate LNG import terminal and the Euromax container terminal. Shareholders in the Gate, Vopak, are understood to want to build a smaller outbound terminal on an adjacent site so that LNG imported to Gate can be supplied as fuel for ships, as well as for land-based uses. This concept involves developing a breakbulk LNG facility that will feed satellite LNG terminals in northern Europe and rely on a bunker barge that could deliver LNG to inland waterway, short sea and deepsea vessels calling at the port of Rotterdam.
One company leading the line in terms of firm commitments to LNG as a fuel has been Deen Shipping, which has been operating the inland waterway barge Argonon for almost a year. The first barge of its type in the world capable of running on both LNG and diesel, the 110m long, 6,060 dwt tanker has been designed to burn an 80/20 mix of LNG and diesel.
"The first 12 months of running this barge have been an extremely positive experience, and this has convinced us that LNG is the fuel of the future for inland shipping," said Gerard Deen, owner. "Operating the Argonon has demonstrated that LNG as a fuel is very clean, cost efficient and reliable compared with marine gas oil."
Argonon has two standard Caterpillar 3512 engines that use 20% diesel to ignite the gas mixture. These engines have been modified by Pon Power so that the combustion air is enriched with natural gas. Argonon also has two gas turbines to power the electrical system.
Deen Shipping recently joined forces with the Linde group to establish what will be the first LNG bunker station in the port of Rotterdam. Deen said: "We have found a suitable site and hope to be up and running in 2014. I want to convince others that LNG is the way to go for inland shipping and so it is only right that I put my money where my mouth is and invest in LNG fuel infrastructure."
Deen Shipping has four more barges in its fleet and is already working with engine manufacturers to evaluate retrofitting them with dual fuel engines using LNG and diesel.
Dutch experience is also at work in its shipbuilding sector where the Peters Shipyard in Kampen recently confirmed receipt of an order for two new LNG-powered tanker barges from Interstream Barging (see illustration middle, below), which will be chartered by Shell Shipping. The 110m long vessels will operate along the Rhine as far south as Switzerland, with the first due delivery to Shell in spring 2013.
Dr. Grahaeme Henderson, Shell Vice President, Shipping, said, "Shell sees real growth opportunities for LNG as a fuel in coastal and inland shipping in Europe. LNG can help shipping operators meet strict emissions standards, such as those that are due to apply on the Rhine."
The new LNG-propelled inland tankers will carry enough LNG as fuel to sail from Rotterdam to Basel and back without refuelling. Dubbed 'Greenstream' barges, they will feature four 400-horsepower SGI-16 CGM Scania engines from one of Europort's exhibitors Sandfirden Technics, driving HCM 434F generators.
Lex van der Loo, Sandfirden Technics' Managing Director, is also one of the members of the advisory board of Europort, and he believes that Europort 2013 will offer an ideal opportunity to those interested in developing LNG as a fuel to see how aspiration is being turned into reality. van der Loo said that LNG has the potential to make a "profound change" within the shipping industry, especially as long as the LNG fuel price remains as it is today.
"I believe that there is significant potential for gas-electric propulsion, particularly when it comes to inland vessels, ferries and feeders," he said. "While many topics will be addressed at Europort 2013, perhaps LNG as fuel is top of the agenda, given the timing and location of the event."


@ EUROPORT

Panel 1: LNG by Numbers
A recent Lloyds Register (LR) study, LNG-fueled deep sea shipping – the outlook for LNG bunker and LNG-fuelled newbuild demand up to 2025, uses a base case scenario envisaging 653 LNG-fueled newbuildings entering service worldwide with LNG bunker demand reaching 24 million tons in the period to 2026.

PANEL 2: Recent Moves
- 22 LNG-fueled vessels currently in operation have been classed by DNV. In addition DNV has 18 LNG-fueled newbuilding contracts and three conversions underway.
- Wärtsilä, has been contracted to supply ship design services and the power and propulsion system for a LNG powered Platform Supply Vessel (PSV) to be built at Hellesøy Verft for owner Siem Offshore and on-charter to TOTAL.
- The port of Hamburg has a feasibility study investigating new LNG bunkering infrastructure and considering run its harbor vessels on LNG.
- Marquand & Bahls, through its subsidiary Bomin, and Linde have established a JV to build LNG infrastructure in Europe and establish a supply chain.

(As published in the May 2013 edition of Maritime Reporter & Engineering News - www.marinelink.com)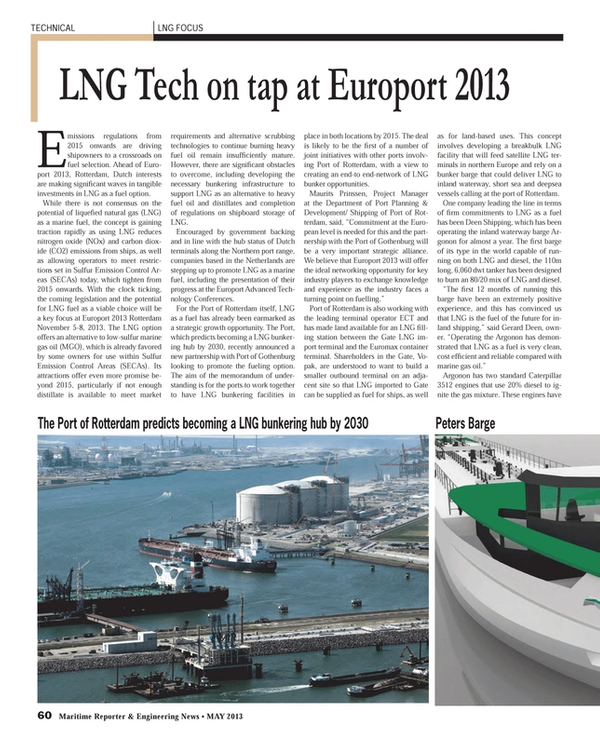 Read LNG Tech on tap at Europort 2013 in Pdf, Flash or Html5 edition of May 2013 Maritime Reporter
Other stories from May 2013 issue
Content