Unconventional Wisdom from Dolphin Geophysical CEO
By Alan Johnstone
Atle Jacobsen, the CEO of Dolphin Geophysical, is, in many ways, a bit of a paradox.
An experienced, no-nonsense, veteran of the marine seismic surveying industry, he is also disarmingly easy to "talk shop" with, engaging and has an obvious thirst for new ideas and technology. But the core contradiction lies in his approach to business.
This is a man that shows no qualms about ripping up the rulebooks and making brave decisions, but at the same time there is a steadfast caution that underpins the very essence of the Dolphin business model. It is bold, yet calculated – leaping in new directions, but ensuring that it has prepared the ground for a comfortable landing in advance.
It's an approach that is paying huge dividends, with revenues for 2012 (only the firm's second full year in business) standing at $221.3m (a 50% increase on the previous year), while profits hit $40.6m before tax. From out of nowhere Dolphin is now the fifth biggest player in the competitive marine seismic marketplace. Here's how:

Low assets, high potential
Jacobsen, formerly the CEO of seismic operator Wavefield Inseis (which he sold to CGG Veritas in 2008), saw the opportunity for a new seismic company in 2010, just when the sector was hitting a low point. Oil prices were around $70 a barrel, E&P spending was suffering as a result and seismic stock was, to put it mildly, unattractive.
"That's when I saw the potential," he says, from the HQ of Dolphin Group AS in Bergen, Norway. "The market was depressed, but there was, I believed, gathering evidence of an upturn. Myself and my partners knew the seismic business inside out and decided to take advantage with a new kind of company, founded on a financially cautious business model."
Jacobsen made the novel decision to invest in people instead of steel; recruiting experienced seismic minds, while chartering, rather than owning, a fleet of high-tech vessels. This asset-light model would, he believed, allow the company to remain limber enough to constantly adapt to the market, seeking fresh opportunities and optimising revenues, whatever the conditions.
"I wanted to be in the position where we could upscale and, if needed, downscale our fleet whenever necessary. The long-term charter agreements (between three and five years) allow us to do that. In addition, this gives us the luxury of being less capital intensive than many of our competitors, while we can also cherry-pick the very best high-end vessels for our seismic fleet. It's a win-win."
Cynics might argue that not owning the steel provides less long-term security, but, in a constantly fluctuating market, Jacobsen disagrees. "I don't see the disadvantage," he said. "We have been careful to forge very strong relationships with our charterers – for example with Sanco and GC Rieber (Dolphin is anticipating the delivery of the newbuilds Sanco Swift in Q2 2013 and Sanco Sword in 2014, while it ordered the refurbished "Geo Atlantic" and newbuild "Super Duke" from GC Rieber earlier this year) – where we understand and respect each others needs.
"We're reliable partners for one another and this gives us all the stability the business requires, while giving our customers the most cutting-edge, operationally excellent seismic fleet on the market."

Investing in the future
Although the vessel investments have been "cautious," the capital injected into the business has been sufficiently generous to fund ambitious expansion. Through a mixture of bank lending, bond activity and stock market equity moves (Dolphin is listed on the Oslo Stock Exchange), the firm raised $141m in 2012 to facilitate its growth, particularly in the Multi-Client and Processing fields.
The Processing division of the firm saw a startling evolution last year – with an onshore center opening in London, onboard processing rolling out across the entire fleet, around 40 new members of staff and the purchase of Open Geophysical in Houston, the developer of the OpenCPS seismic software product – while Multi-Client saw investment levels reach $63m.
Jacobsen sees this diversification away from pure survey data acquisition as a key building block for Dolphin's sustainable success.
"This kind of strategic investment provides value both for the business and for the levels of service we provide to our client portfolio (which now includes names of the order of Shell, Statoil, TGS, Oil India and ONGC). A growing 3D and 2D Multi-Client data library gives us long-term, proprietary, marketable assets, while processing allows us to get the optimum value out of this, keeping everything in-house, and gives our clients the services they need."
"It's this broad base," he said, "that allows myself and the rest of the executive management team to plan for long-term sustainability in what we know, from our own experience, is a very cyclical industry."

People first
Jacobsen, who has over 19 year's experience of the industry, is planning further growth for Dolphin this year (he's set his sights on revenues of $300m for 2013), but plans to stay true to the principles he founded the business on.
"I invested in people first and foremost, because over the years I've learnt that they're the greatest asset in this industry," Jacobsen opines. "Anyone can buy seismic equipment, or charter vessels, but you don't get anywhere unless you have the talent and the experience to read, understand and adapt to this industry."
He continues, "I've surrounded myself with the right people and that's the reason Dolphin has developed so rapidly. From the outside it might look like we've made some bold decisions, but thanks to the experience on the team, they've always been well-informed ones."
And there's nothing contradictory about that.


Atle Jacobsen
Home Bergen, Norway
Education MSc. in Nautical Engineering from NTH in Trondheim
Experience CEO of Wavefield Inesis, SVP of Marien Product Line at CGGVeritas, offshore experience with contractors including PGS and Stolt Offshore.
Best business achievement Gazelle Award 2008, Wavefield Inseis
Plans for the future Continuing to build Dolphin as a full service marine seismic operator, with a good mix of contract and Multi-Client activity, and the most high-end, operationally excellent fleet in the sector.
(As published in the May 2013 edition of Maritime Reporter & Engineering News - www.marinelink.com)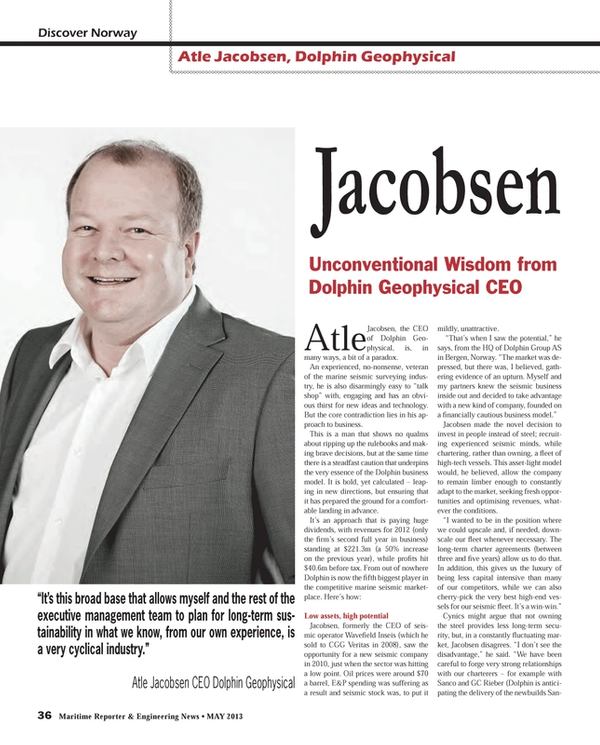 Read Unconventional Wisdom from Dolphin Geophysical CEO in Pdf, Flash or Html5 edition of May 2013 Maritime Reporter
Other stories from May 2013 issue
Content