Delta Line Combined Fleet Adds New Ports —Executives Named
Delta Steamship Lines, 1700 International Trade Mart, New Orleans, La. 70150, has completed acquisition of Prudential Lines, Inc.'s Latin American services and various vessels, marking the initiation of new Delta services to Latin America from both the U.S. Atlantic and Pacific Coasts.
The new combined fleet is comprised of four LASH/container vessels, 16 modern cargoliners and four combination passengercargo vessels of the Magdalena class.
Delta, an American-flag steamship line, has been serving the east coast of South America from the U.S. Gulf since the line was founded in 1919. From the Gulf, Delta also serves Central America, the Caribbean and the west coast of Africa.
To these long-established services, the following routes are now added: (a) from U.S. Atlantic Coast ports, Delta will serve ports in Venezuela, Colombia, Panama, Ecuador, Peru, Chile, the Caribbean and Central America; (b) from U.S. Pacific and Canadian coast ports, express passengercargoliner service is offered to Mexico, Panama, Caribbean Islands, Central America, east coast Colombia, Venezuela, Brazil, Uruguay, Argentina, Chile, Peru, Ecuador, and west coast Colombia.
Also from the Pacific Coast, express cargoliners serve Mexico, Guatemala, El Salvador, Nicaragua, Costa Rica, Panama, Colombia, Ecuador, Chile and Peru.
Capt. J.W. Clark, president of Delta Line, announced that Delta's West Coast operations will be headed by Albert B. Wenzell, who has been elected a senior vice president of Delta Steamship Lines, Inc., Pacific Division. Other West Coast personnel elected vice presidents of Delta are Messrs.
F.E. Waterhouse, J.A. Traina, and W.H. Reich. J.D. Bowe has been elected assistant secretarytreasurer.
All of Prudential's former West Coast office locations have been acquired by Delta.
Delta's Atlantic Division will be headed by Capt. Daniel P.
Kirby, senior vice president, assisted by H.D. Hunter, vice president, Atlantic Division. Delta's Atlantic Division staff will be substantially expanded by the addition of many experienced former Prudential staff members at New York, Philadelphia, and Miami, including L.A. Viada, also elected a vice president, Atlantic Division.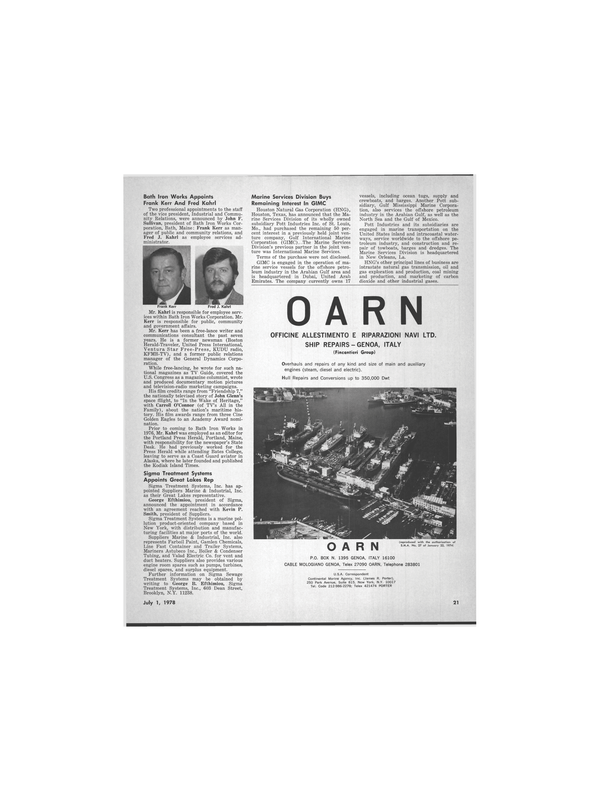 Read Delta Line Combined Fleet Adds New Ports —Executives Named in Pdf, Flash or Html5 edition of July 1978 Maritime Reporter
Other stories from July 1978 issue
Content