First Of Two Farrell Lines Containerships Christened At Bethlehem Sparrows Point Yard
The Austral Pioneer, the first of two containerships being constructed for Farrell Lines Incorporated, was christened on June 9, at Bethlehem Steel Corporation's Sparrows Point Yard, Baltimore, Md.
Mrs. Margaret McFarlane, wife of Duncan McFarlane, director of Thomas Borthwick & Sons, Ltd.
in Australia, was the sponsor for the 27,340-deadweight-ton vessel being constructed under a Maritime Administration subsidy at a price of approximately $78 million.
Mrs. Malcolm McArthur, also of Australia, was the matron of honor.
The keel for the Austral Pioneer was laid September 6 of last year, in the yard's 1,200-foot-long building basin where the christening was held. The keel for the second vessel was laid about two months later.
When delivered early next year, the Austral Pioneer will go into service on Farrell Lines' Australia-New Zealand run from Atlantic and Gulf Coast ports in the U.S. With a capacity of 1,708 twenty-foot equivalent containers, 768 of them r e f r i g e r a t e d , the ship's primary northbound cargo will be frozen meat.
The Austral Pioneer is 813 feet 3 inches overall with a length between perpendiculars of 769 feet, a depth of 53 feet and a breadth of 90 feet. Designated a C8-S-85d class containership, she is similar to Farrell's C8-S-85c class ships now in service.
The ship's turbines, rated at 26,000 normal and 28,500 maximum continuous shaft horsepower, will deliver a designed speed of 22.5 knots at maximum continuous power and at normal draft of 29 feet.
Six of the 12 holds on the Austral Pioneer are insulated, and these have coamings extending high enough over the hatches to allow the stowage of two layers of containers in these refrigerated cocoons. In addition, provision is made on deck for 60 "plug-in" refrigerated containers.
Containers may be carried on deck two-high on the cocoon tops and up to four-high just forward and aft of the deckhouse. Forward of the refrigerated holds, containers will be carried on deck no more than two-high to preserve the line of sight from the bridge, which is designed for 360° visibility.
Four of the holds have movable guide structures to allow the carriage of either 20-foot or 40-foot containers.
Unitized cargo may be carried on the second deck below the deckhouse with 62,630-cubic-feet stowage capacity for such cargo if containers are also stowed below deck aft. Cargo oil may be carried in three independent tanks with 16,800 cubic feet provided.
A 30-ton swinging boom forward of number 1 hold can handle cargo for that hold and a 70-ton heavy lift boom, aft of the deckhouse, services hold number 9.
In order to keep heeling to a minimum during cargo operations, an automatic heeling correcting system is provided. A sensing device actuates valves to move antiheel ballast water between the port and starboard wing tanks of holds 5B and 5C.
Cruising radius of the Austral Pioneer is 18,200 miles at 29-foot draft, and 16,500 miles at maximum load conditions of 33-foot 7/8-inch draft.
A 1,000-horsepower electrically driven bow thruster with a diameter of 6 feet 7 inches will assist in port maneuvering. Electricity is provided by a main 2,500-kilowatt ship's service turbogenerator and a 2,500-kilowatt ship's service generator. The latter normally will furnish the power for the bow thruster.
All accommodations are in deckhouse air-conditioned quarters and will provide for 12 passengers and a crew of 41. Passenger accommodations are on the cabin deck of the deckhouse, officers on the boat deck, and crew on the upper deck.
The dining areas for all three groups are on the main deck.
Other features include a flume stabilizer, a cargo refrigeration liquid overfeed system, no requirement for fixed ballast, and an engine room designed for a one-man watch.
Following the christening ceremony, there was a luncheon in honor of the sponsor.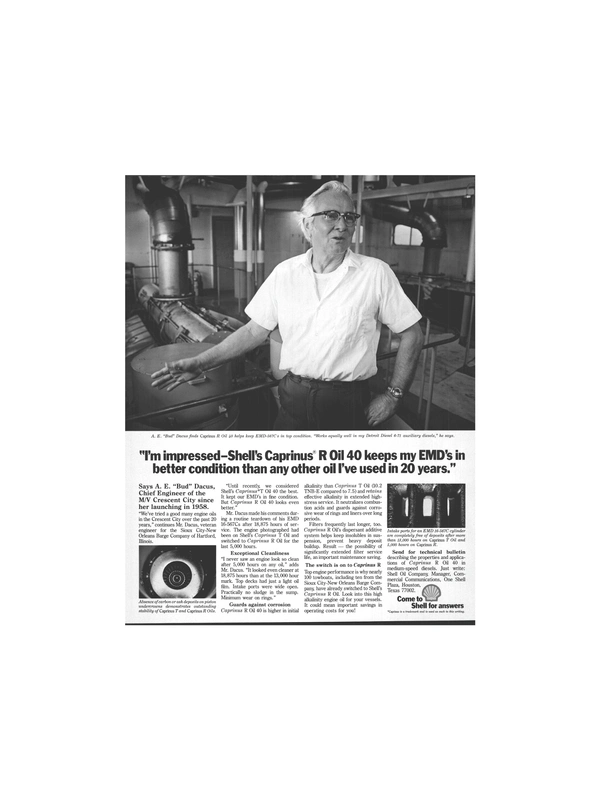 Read First Of Two Farrell Lines Containerships Christened At Bethlehem Sparrows Point Yard in Pdf, Flash or Html5 edition of July 1978 Maritime Reporter
Other stories from July 1978 issue
Content