St. Louis Ship Delivers The 'John M. Donnelly7 To Ingram Barge Company
In the shadow of the St. Louis Arch, Ingram Barge Company recently christened their new 9,000- bhp St. Louis Ship-built towboat, the M / V John M. Donnelly. The new vessel is named for John M.
Donnelly, president of Ingram Barge and a director of Ingram Industries. He is presently chairman of the board of directors of The American Waterways Operators, Inc.
The towboat was designed and built by the St. Louis Ship, Division of Pott Industries Inc., and features their exclusive Hydrodyne Hull. The Donnelly is the third St. Louis Ship towboat in the Ingram fleet.
Edward Renshaw, president of St. Louis Ship, served as master of ceremonies. After remarks by E. Bronson Ingram, president of Ingram Industries, and Mr. Donnelly, the benediction was offered by the Reverend Kenneth G. Phifer of New Orleans.
Mrs. Martha Donnelly, sponsor and wife of the towboat's namesake, broke the traditional bottle of champagne. Maids of honor were Allison and Fairleigh Donnelly, daughters of the Donnellys.
The John M. Donnelly hull measures 200 feet by 50 feet by 11 feet 6 inches with a normal operating draft of 8 feet 6 inches, and is designed to have an overall height of 38 feet 6 inches at its design draft. The all-welded steel hull is heavily framed longitudinally and transversely with the aft deck raised to provide additional strength to the stern. Bottom and bilge knuckle plating is % inch, tunnel plating is inch, side plating is 7/16 inch, headlog plating is 1 inch, transom plating is V-2 inch, and stern corner plating is % inch. A fender of %-inch bent steel plate, filled with concrete, is provided along each side, around the port and starboard stern corners and across the stern.
There are six fuel oil bunkers with a total capacity of 166,300 gallons, two wash water tanks having a total capacity of 20,600 gallons, two potable water tanks having a total capacity of 8,200 gallons, one 3,360-gallon bilge collecting tank, two lube oil storage tanks having a total capacity of 6,400 gallons, and one 3,430-gallon dirty oil holding tank all built into the hull.
Propulsion power is furnished by three General Motors EMD model GM16-645E7BA marine diesel engines, each developing 3,000 bhp at 900 rpm through a Falk model 30MRV48, vertical offset, reverse/reduction gear. The engines and gears are cooled with clear water circulated through a St. Louis Ship-designed skin cooling system. The engines are started from the engine room only, and are controlled by means of WABCO pneumatic control equipment as provided in the pilothouse and locally at each engine. Three fivebladed, stainless-steel, 109Vs-inchdiameter propellers each turn in a stainless-lined Kort nozzle.
In addition to the conventional e n g i n e room gaugeboards, the Donnelly is equipped with an Engine Monitor Inc. monitoring system, which features an alarm panel in the pilothouse and engineer's control booth. All primary and auxiliary systems are continuously monitored, and any abnormal temperature, pressure, or liquid level will manifest itself by both visual and audible alarms on these panels.
The propeller shafts are of A.I.S.I. 4140, high-strength, solid forged steel, and are fitted with Colmonoy sleeves in way of the stern tube and stern strut Johnson rubber bearings, and Johnson forward stern tube stuffing box.
Shaft half couplings are taper-fit, St. Louis Ship design.
A Fluid Power Designs hydraulic power package having two s e r v i c e constant-volume pumps provide the power to the hydraulic system for the three steering and six flanking rudders. Steering is accomplished by means of two sets of levers located in the pilothouse, which o p e r a t e the steering gear through a mechanical linkage equipped with a positive follow-up control. The position of the pilothouse control levers indicates the rudder positions.
Electric power is provided by two General Motors Detroit Diesel Allison 150-kw, 3-phase, 60- cycle, 460-volt ac diesel generator sets, each turning at 1,800 rpm.
A Central Electric Company deadfront switchboard, located in the soundproofed and air-conditioned engineer's control booth is wired for parallel operation of the generators.
The upper and lower engine rooms and auxiliary machinery space are well ventilated by a total of five supply and three exhaust fans to provide sufficient air changes to keep these areas comfortable.
All possible provision is made for the safety of operating personnel.
Handrails, grabrails, and safety lines are located wherever needed. Safety guards cover all d a n g e r o u s moving machinery.
Careful attention was given to lighting of all stairs and work areas. Remote manual shutdown is provided on the main deckhouse exterior for the propulsion engines. The fire pump is wired for both local and outside remote control. A Kidde Halon 1301 fixed fire-extinguishing system is provided for the machinery areas.
A Kidde CO- system with remote control is provided for the paint locker and gasoline locker. Escape hatches are provided for the aux-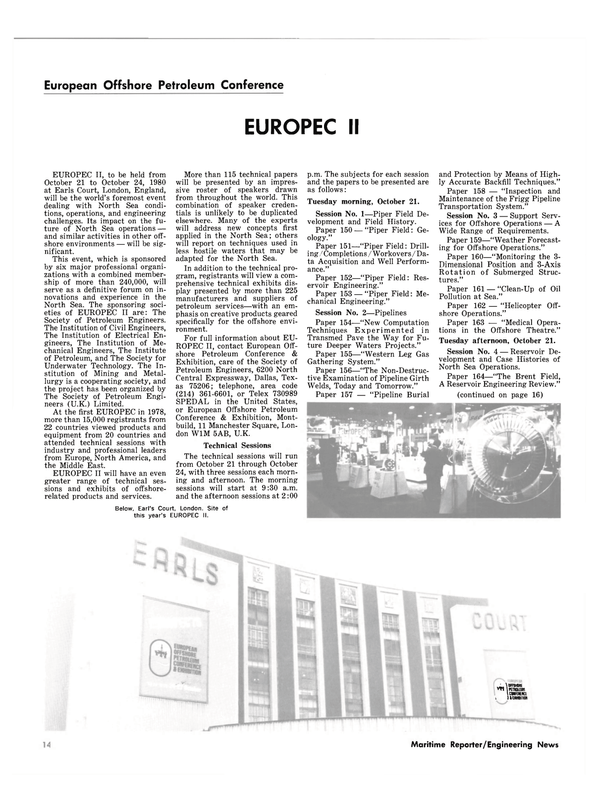 Read St. Louis Ship Delivers The 'John M. Donnelly7 To Ingram Barge Company in Pdf, Flash or Html5 edition of October 1980 Maritime Reporter
Other stories from October 1980 issue
Content