West German Yard To Build Split-Hull Oil Recovery Vessel
For the past three years the C. Luhring shipyard in Brake, West Germany, has been working on the development of an oil recovery vessel based on a split-hull design (see October 1, 1979 issue of MR/EN). The unique vessel is really a simple ship that is divided at its center line. At the stern, both hull sections are connected by a hinge.
In cooperation with Schiffko GmbH, engineering consultants in Hamburg, and with considerable sponsorship by the Federal Ministry of Research and Technology, numerous tests have been carried out, and plans have now been finalized for a seagoing vessel.
As the numerous prospective buyers who have shown interest to date are making their orders subject to a prototype demonstration, a smaller vessel will be constructed first that will serve as a model of the full-size ship.
This prototype will have a length of 34.50 meters, beam of 8.20 meters, depth of 3.50/4.20 meters, and draft of 2.50 meters (about 113 by 27 by 11.5/13.8 by 8.2 feet). The distance between the hull sections when open will be approximately 30 meters (98.5 feet) ; tank capacity will be about 200 cubic meters.
The design work on this vessel, which will be built in cooperation with the Federal Ministry of Research and Technology, is now under way.
The split-hull design was developed to offer prospective buyers a vessel that may be put into operation to fight large-scale oil pollution even under unfavorable sea conditions, and could be used as a tanker or similar vessel when not dealing with oil-spill disasters.
With the worldwide interest in vessels to fight oil pollution in mind, the shipyard has applied for patent protection for the new system in the major shipbuilding countries. Several patents already have been granted, while further applications are still pending.
Parallel to the development work, the Luhring yard has begun working out detailed technical documentation on auxiliary equipment, types of operation, and alternative designs that are part of the sponsorship project.
These include diver support ships, supply vessels, waste disposal ships, etc., that have been designed on the same general lines.
They involve using to full advantage the calm part of the sea's surface between the two hull sections which, owing to the nature of the design, is subject to only slight wave movement.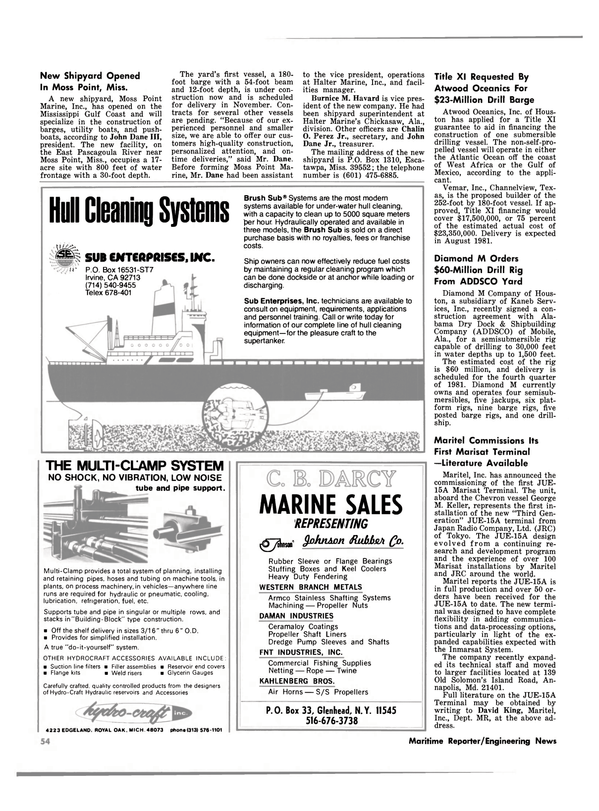 Read West German Yard To Build Split-Hull Oil Recovery Vessel in Pdf, Flash or Html5 edition of October 1980 Maritime Reporter
Other stories from October 1980 issue
Content