Alaskan-Built Drilling Rig Unveiled By VANguard Industries
The first oil-drilling rig constructed in Alaska by an Alaskan firm recently was unveiled by its owner and operator, VANguard Industries. The 175-foot-high rig was begun in November 1979 as a joint venture by VECO, Inc. of Anchorage, and three Alaskan native organizations—NANA Development Corporation, Kuukpik Corporation, and Kaktovik Inupiat Corporation. Together, these firms have formed VANguard Industries.
The rig has been leased for three years by the Sohio Petroleum Company for offshore and on-land drilling in the Prudhoe Bay region. A sister rig, scheduled for completion this year, also has been leased by Sohio. Both structures will be operated and maintained by VANguard employees housed in 60-man camps built by VECO in Kenai. The camps will accompany the rigs to Prudhoe Bay.
Previously, oil rigs were constructed outside of Alaska and transported there for drilling.
VANguard's management believes that may change as oil exploration increases within the state.
"This project indicates that Alaskan companies can be competitive with outside firms," VECO executive vice president of operations Rod Christ said. "Right now there are about 15 rigs functioning in Alaska. But compare our oil potential to Texas, where there are about 1,000 rigs, and you realize that there could be a big market here for building drilling rigs." If that market develops, in-state construction would create more jobs and keep more money within the state.
"Our rigs and the related equipment cost more than $30 million and took over 100,000 Alaskan man-hours to build," said Willie Hensley, chairman of the joint venture and president of NANA Development. "Multiplied by a larger market, that would mean a big economic boost for the state." About 170 employees took part in the construction project, Mr.
Christ said. Twelve of those workers were Alaskan natives who were trained in oil technology by VANguard at the Seward Skill Center. At the completion of their training, these men were brought to Anchorage as part of the crew that assembled the rigs. They will continue working for VANguard in Prudhoe Bay.
The two VANguard rigs have the capacity to drill more than 20,000 feet into the earth. However, they are extremely mobile.
Using a master skid and rollers, each of the structures can be moved forward or backward to begin new drilling in a few hours.
A modular design makes it possible to transport the main substructure and the derrick to a new location or pad in two loads.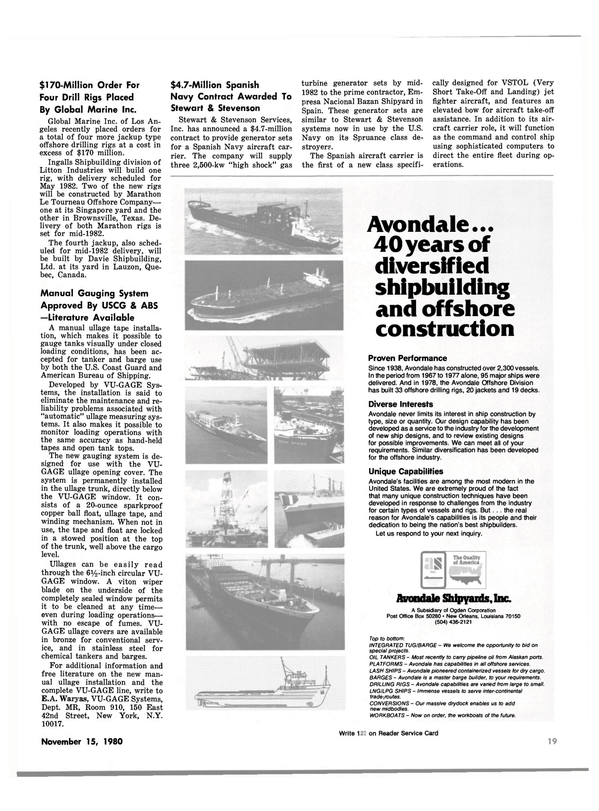 Read Alaskan-Built Drilling Rig Unveiled By VANguard Industries in Pdf, Flash or Html5 edition of November 15, 1980 Maritime Reporter
Other stories from November 15, 1980 issue
Content