Two Dredges For Private Industry Christened In New Orleans
Recent christening in New Orleans marked the completion of two new dredges for the growing private industry fleet. The cuttersuction drdege Bill James and the split-hull hopper dredge Atchafalaya are being place in service by Louisiana-based T.L. James & Company, Inc., and Gulf Coast Trailing Company.
Hundreds of guests and dignitaries jammed the Poydras Street Wharf on the city's riverfront to watch the vessels' sponsors, Mrs.
G.W. James and Mrs. G.W. James Jr., smash the magnums of champagne for the christenings. U.S.
Senator J. Bennett Johnston (D-La.) and Maj. Gen. E.R. Heiberg, III, director of civil works for the U.S. Army Corps of Engineers, were principal speakers at the event.
G.W. James Jr., president of T.L. James & Company and master of ceremonies for the occasion, introduced the speakers and assisted his mother and his wife in the christenings. The invocation was delivered by Reverend William C. Blakely, district superintendent of the United Methodist Church.
Mr. James said the Bill James is the ninth cutter-suction dredge built for T.L. James & Company, and that the Atchafalaya is the first split-hull hopper dredge commissioned by Gulf Coast Trailing Company, a Kenner, La., firm owned by T.L. James & Company, Hollandsche Aanneming Maatschappy of the Netherlands, and Dredging International of Belgium.
He noted that completion of the new dredges underscores private industry's expanding role in helping to maintain the increasing flow of waterborne commerce on our nation's inland and coastal waters.
The 265-foot-long Bill James is 54 feet wide, 15 feet deep, and displaces 4,364 long tons at its maximum draft of 11 feet 8 inches. Its dredging operations are powered by three in-line, 4,400-bhp Cooper-Bessemer LSV- 16 diesel-electric engines equipped with 3,000-kw generators.
The Bill James was designed by naval architect Carlos A. Monje of Metairie, La., and the hull and superstructure were built by Bergeron Industries of Braithwaite, La. The design is characterized by a 121-foot-long cutterhead ladder that extends from the bow, a pilothouse that rises 56 feet above the baseline, and a spud frame that towers almost 75 feet at the vessel's stern.
The ladder and the spud, gantry, and A frames were built by Williams-McWilliams Company of New Orleans, and the deckhouse, living quarters, and piping were fabricated by the Buster Hughes Company of Harvey, La. Gulf Electroquip of Houston furnished and installed the electrical equipment and controls, and mobile Pulley & Machine Works of Mobile, Ala., furnished the main pump, underwater pump-ladder and hull trunnions, spud keeper, and fore and aft hoists.
The 197-foot-long Atchafalaya is 40 feet 8 inches wide and 16 feet 4 inches deep, with a loaded draft of 14 feet and a light draft of 5 feet. Disposable materials is pumped into the 1,300-cubic-yardcapacity hopper through a long dragarm that can be extended to 65 feet below the vessel. The dredge can discharge its waste material at any location by opening the split hull or by pumping out.
The seagoing dredge has a service speed of 10 knots, and is powered by two 850-bhp Caterpillar D-398 diesel engines driving two Niigata 360-degree rotatable propellers.
Twin City Shipyard of St. Paul, Minn., designed the vessel's deckhouse and hull and built the hull.
Twin City subcontracted the deckhouse to Zigler Shipyard of Jennings, La., where it was fabricated and installed. The propulsion system was designed by Niigata of New York City; EMIEngine Monitor, Inc. of New Orleans was responsible for instrumentation, and SEADREC of Scotland designed the dredging system and furnished its components.
L.A. Hubert Jr., general manager of Gulf Coast Trailing, said the Atchafalaya is one of a new group of dredges developed by private industry to meet the growing needs for dredging of coastal channels and new port areas that will accommodate more and larger deepwater vessels. He said the company has contracted for a second seagoing, split-hull hopper dredge that is expected to be completed in 1981.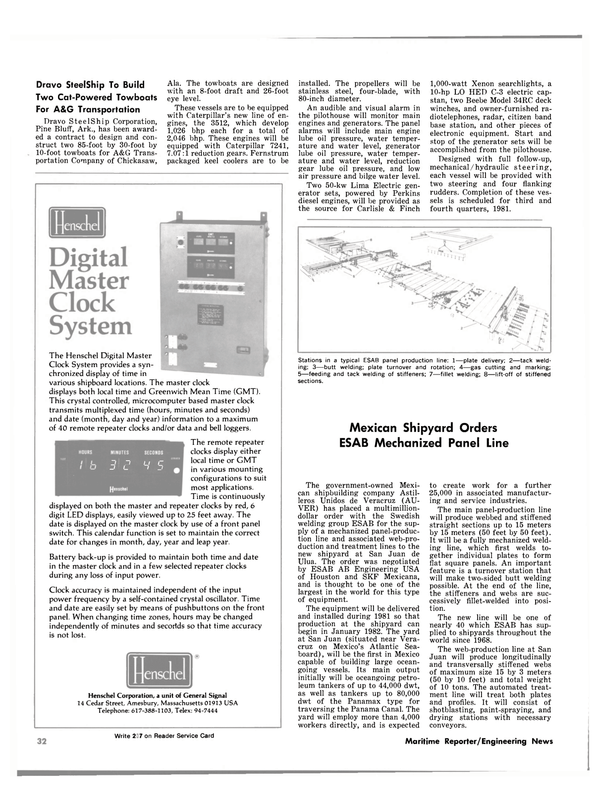 Read Two Dredges For Private Industry Christened In New Orleans in Pdf, Flash or Html5 edition of November 15, 1980 Maritime Reporter
Other stories from November 15, 1980 issue
Content