Navy's Fleet Oiler Design Described At Chesapeake SNAME
A paper titled "T-AO 'Commercial' Fleet Oiler" by Clayton W.
Davis, John F. Ince, and I. David Gessow, all of the Maritime Administration Office of Ship Construction, was presented to a meeting of the Chesapeake Section of The Society of Naval Architects and Marine Engineers recently. The T-AO design grew out of a U.S. Navy proposal to acquire a new class of fleet oilers designed to commercial standards.
The intent was to have these vessels certified by the U.S. Coast Guard, classed by ABS, and operated by the Military Sealift Command (MSC). The military capabilities of the U.S. Navy's AO- 177 class of fleet oilers with respect to underway replenishment equipment, cargo piping, communications, and limited self defense in the form of two Vulcan Phalanx Close-in Weapons Systems was to be included in addition to the commercial specifications and requirements.
In their presentation, Dr. Ince and Mr. Davis described the twopart design effort conducted by MarAd. It consisted of an initial feasibility phase that considered three-point designs and 14 tradeoff studies and a concept design phase that concentrated on the development of two of the ships along with four ancillary tradeoff studies.
The feasibility studies considered three basic capacities—120,- 000, 150,000, and 180,000 barrels of JP-5 and Diesel Fuel Marine (DFM), 18 knots sustained speed, an endurance of 10,000 nautical miles at 18 knots, underway replenishment capability, and accommodations for 132 personnel.
A single fixed-pitch propeller and twin medium-speed diesels were considered for propulsion except in one of the trade-offs where a controllable-pitch propeller was substituted.
The resulting designs, which were optimized around minimizing acquisition and operating costs, ranged in length from 590 to 680 feet, and had full-load displacements from 27,700 to 37,560 long tons. Costs remained in a narrow band bounded by $81.7 million on the lower end and $89.2 million on the upper.
The concept design phase considered only the 120,000- and 150,- 000-barrel capacity ships along with a change to a 20-knot sustained speed, and an endurance of 6,000 nautical miles at 20 knots.
The 120,000-barrel design continued with a single fixed-pitch propeller and one rudder, while the 150,000-barrel design switched to twin controllable-pitch propellers and twin rudders.
The 150,000 barrel configuration was presented by Dr. Ince as an example of the final designs. Its principal characteristics include: full-load displacement, 33,155 long tons; length between perpendiculars, 660 feet; beam, 88 feet; depth, 48 feet; draft, 34.4 feet.
Power is provided by two mediumspeed diesels totaling 27,080 bhp.
Sixteen tanks carrying a mixed cargo of 60 percent DFM and 40 percent JP-5, or alternatively 50 percent DFM and 50 percent JP-5, are provided, and a centralized cargo pump room is located midships.
Prepared discussions were provided by Don Stevens of NAVSEA, J. Sumner of MSC, James Robinson of the David Taylor Naval Ship R&D Center, and C. Sederstrom of MarAd.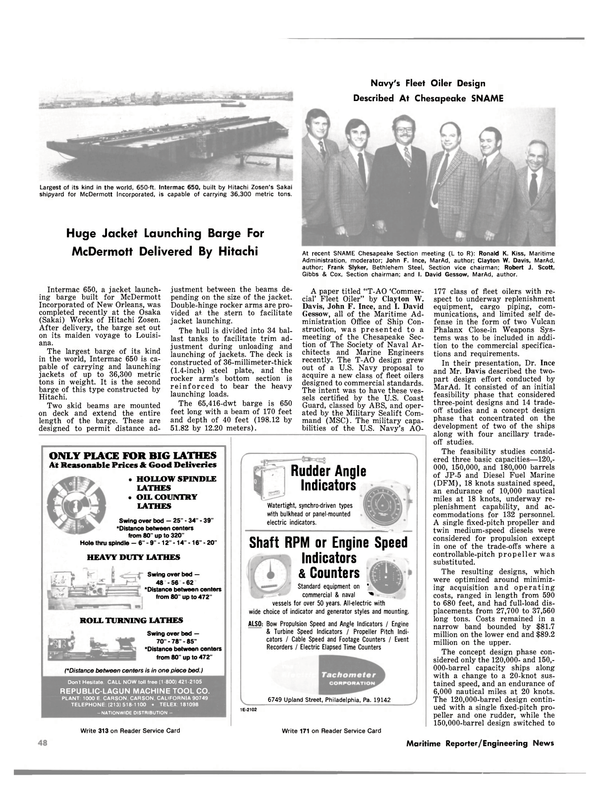 Read Navy's Fleet Oiler Design Described At Chesapeake SNAME in Pdf, Flash or Html5 edition of November 15, 1980 Maritime Reporter
Other stories from November 15, 1980 issue
Content