SNAME Chesapeake Section Hears Landing Craft And Steering Gear Papers
The final meeting of the 1980- 81 season was held by the Chesapeake Section, The Society of Naval Architects and Marine Engineers, at Quality Inn/Colony 7, Laurel, Md.
The technical session was devoted to two papers: "Design of a 35-Knot Planing-Tvpe Landing Craft," by Mark Griffin and Tom Sherman, members of Virginia Tech Student Section, SNAME, from the Department of Aerospace and Ocean Engineering, Virginia Polytechnic Institute and State University, Blacksburg, Va.; and "Steering Gear Requirements— Changes on the International and Domestic Scene," by Comdr. John C. Maxham, U.S.
Coast Guard.
Introduced by Allen H. Magnuson, Ph.D., Associate Professor, Department of Aerospace and Ocean Engineering, VPI, the students alternated in the presentation of their paper and the fielding of questions at the end of their talk.
Design of a high-speed landing craft with a large payload capability was discussed. Five modes of operation were addressed: namely, well deck, alongside ship, transit, surf and beach. Two initial hull shapes were compared by model tests: one with a modified cathedral hull and one with a catamaran hull with the latter configuration selected as the better of the two. Gas turbines, as prime movers operating through screw propellers and waterjet propulsion systems were described.
Structural analyses, designed to yield a midship section with adequate strength to withstand severe slamming loads, were outlined. Structural subsystems were included and a cost estimate provided to complete the design.
Commander Maxham in his paper on effective steering gear requirements pointed out that effective steering gear operation is vital to the safety of ships, personnel, and the marine environment.
Recent major casualties, involving steering gear failures, have resulted in the devotion of considerable effort directed toward improvement in national and international steering gear standards, particularly for tankers.
The Inter-Governmental Maritime Consultative Organization has been instrumental in the production of amendments to the 1974 SOLAS Convention affecting steering gear requirements. Basic Coast Guard and international requirements were presented and discussed for steering gear.
Changes, resulting from such agreements as Resolution A.325 (IX), the Tanker Safety and Pollution Prevention Conference and aforementioned amendments to SOLAR 74, were outlined and indicated as being ready for adoption during the 12th IMCO Assembly in November 1981. U.S.
and international requirements for steering gear were compared and a probable timetable for implementing the new requirements were presented.
Commander Henn, acting for Captain Brown of the Coast Guard, and Ralph Johnson, National Transportation Safety Board, gave prepared discussions of the paper followed by several discussions from the floor, including one by Gordon Sims, chairman of the MBE Group, IMCO.
Prior to the technical meeting, Dr. James Lisnyk, past chairman of the SNAME Chesapeake Section, placed in nomination the following names for the 1981-82 Chesapeake Section Executive Committee: chairman, Fred Slyker, Bethlehem Steel Corporation (Sparrows Point) ; vice chairman, Capt. Richard Gauthey, Naval Sea Systems Command ; secretarytreasurer, Alex Landsburg, Maritime Administration; Elected Member, Ralph Johnson, National Transportation Safety Board.
There being no nominations from the floor, the slate as presented was elected unanimously.
Outgoing chairman Robert Scott was presented with a Certificate for Outstanding Service by Frank Slyker, both of whom are to be commended for their joint efforts in organizing the SNAME Baltimore Subsection of the Chesapeake Section.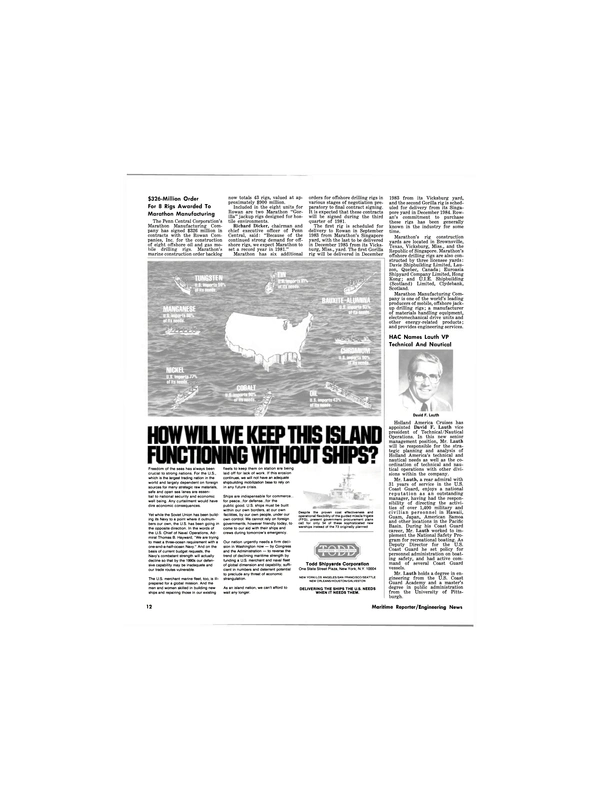 Read SNAME Chesapeake Section Hears Landing Craft And Steering Gear Papers in Pdf, Flash or Html5 edition of August 1981 Maritime Reporter
Other stories from August 1981 issue
Content