M/V Miss Sheila, M/V Cole Delivered By Mississippi Marine Towboat Corp.
John Nichols, president of Mississippi Marine Towboat Corporation, G r e e n v i l l e , Miss., announced the recent delivery of the M/V Miss S h e i l a (shown above) to Red Wing River Towing, Inc., Red Wing, Minn., and the M V Cole (shown below), to White River Fleeting, Inc., Greenville.
The Miss Sheila is a 70 foot, 1,350 shp pushboat, constructed in Mississippi Marine's stock boat construction program. Mississippi Marine attempts to maintain an ongoing stock boat program in order to offer quick delivery for customers who can not wait for long construction time. Mississippi Marine currently has an 85-foot by 30-foot by iO-foot, 6-inch, 1,800 shp, pushboat under construction in its stock boat construction program. This vessel is scheduled for completion in the fourth quarter of 1981.
The Miss Sheila is 70 feet in length with a molded beam of 26 feet. The vessel is equipped with heavy rub rails, port and starboard, increasing the overall beam to 27 feet. The Miss Sheila has a 10-foot hull depth and operates with a fully loaded design draft of 8 feet, 6 inches.
The vessel carries 17,400 gallons of fuel oil, and is equipped with fuel oil fill stations, port and starboard of the main cabin.
The vessel has a potable water capacity of 6,700 gallons and 600 gallon lube and slop oil tanks.
The vessel is arranged with a main cabin providing an enclosed steering room aft, separate generator compartment, upper engine room and forward quarters and galley area. The Texas deck provides sleeping accommodations for six in three separate staterooms, while the main deck has a single double stateroom. An enclosed stairway provides access from the main deck to the Texas cabin and up to a large raised wheelhouse. The wheelhouse provides 360-degree visibility and a 27-foot eye level.
The vessel is powered by Twin GM Detroit Diesel 12V-149s—providing a total of 1,350 shp—and is equipped with Twin Disc MG 540 (7-to-l) reduction gears. The vessel is equipped with 7-inch- diameter shafting which are fitted with S t u rm sleeves. The shafts turn a pair of 78-inchdiameter by 60-inch-pitch fourblade, s t a i n l e s s - s t e e l Coolidge propellers. The main engine controls are Mathers AD-14, air control.
Steering is provided by two heavy steering rudders and four flanking rudders. All rudders have 7-inch-diameter shafts and are heavily constructed.
Fernstrum grid coolers recessed in the sides of the hull provide main engine cooling. The radiator cooled generators are Twin GM 4-71, 1,200-rpm, 50-kw units which are installed in a separate room on the main deck level aft of the engine room.
The M/V Miss Sheila is designed for both harbor and short line towing service. She is equipped with two Nabrico, model 20-11-EH, electric/hydraulic winches. Winch controls are located on the main deck and in the wheelhouse. The hull has seven 36-inch Nabrico kevels, two Nabrico roller chocks, and four buttons. The 12-foot-high pushknees are equipped with heavy rubber bumpers. A hand winch boat davit has been installed on the aft deck for raising and lowering the vessel's launch.
Mississippi Marine's shipyard is currently very active. In addition to the stock 1,800-hp pushboat previously described, Mississippi Marine also has under construction a 143-foot offshore geophysical vessel for Tidewater Marine Service; two 2,400-hpclass p u s h b o a t s , and several smaller vessels. Mississippi Marine also offers repair service which includes two drydocks at its Greenville site.
Mississippi Marine delivered the M/V Cole, the first of three for the same owner, within 90 days after receipt of contract. It is a 56-foot by 20-foot by 7-foot, 6-inch workboat designed for fleeting service.
The M/V Cole is powered by two GM Detroit Diesel 16V-71 main engines coupled to a pair of Twin Disc MG-518 (4.5:1) reduction gears. The gears turn two 5V2-inch-diameter shafts. The Coolidge propellers are 50-inch by 46-inch, four-blade, stainless steel, especially designed with extra heavy edge thickness and increased blade area ratio. The main engine cooling is provided by Fernstrum grid coolers and engine controls are provided by Morse MD-24 cable controls.
The vessel is equipped with two steering rudders and four flanking rudders. The mechanical over hydraulic system is main engine driven. While the vessel is equipped with a pair of 12-kw, model #A2D 12000 Dieselec, aircooled generator sets, a separate 12-volt system also is provided permitting the M/V Cole to operate without the g e n e r a t o r s.
Navigation lights, searchlights, and other necessary lighting is dual 12 v dc and 120 v ac. The two power winches are Skipper Hydraulic, 25 ton, powered by the main engine d r i v e n hydraulic pumps and reservoir package which also allows for operation of the vessel without the use of the generator sets.
The M/V Cole's raised pilothouse provides a 25-foot eye level and 360-degree visibility. A catwalk and stairs provide good access to both empty barges as well as the vessel's main deck.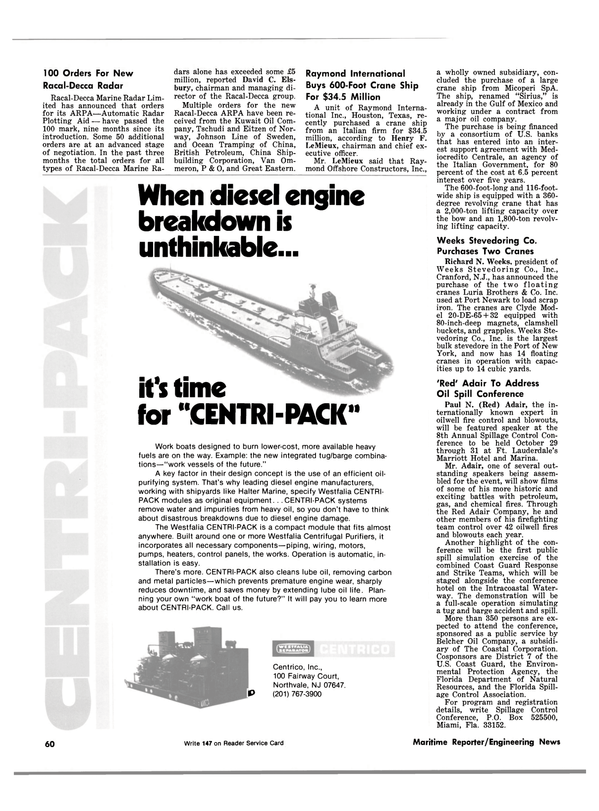 Read M/V Miss Sheila, M/V Cole Delivered By Mississippi Marine Towboat Corp. in Pdf, Flash or Html5 edition of September 1981 Maritime Reporter
Other stories from September 1981 issue
Content