Energy Freedom Christened At Bay Shipbuilding Corp.
The Energy Freedom coal barge was christened by officials of New England Electric System during ceremonies at Bay Shipbuilding Corp. in Sturgeon Bay, Wis.
The Energy Freedom is a deepnotch tug barge built by Bay Shipbuilding Corp. to carry domestic coal from ports along the Eastern Seaboard to New England Electric's generating stations in southern New England.
The barge will be owned and operated by Universal American Shipping Corporation of Greenwich, Conn.
"We chose the name Energy Freedom for this barge because it represents New England Electric's continuing goal to reduce dependence on foreign oil. Our corporate plan, NEESPLAN, is reducing our oil reliances from 79 percent in 1979 to less than 30 percent by the end of this l i k a M k M i year, and to less than 10 percent foreign oil in our mix by 1985.
The Energy Freedom will contribute to this goal and is a vital link in our plan for independence, "said Guy W. Nichols, chairman of New England Electric.
New England Electric has chartered the barge from Universal American Shipping Corporation to carry coal from the ports of Hampton Roads, Baltimore and Philadelphia to its Brayton Point Station in Somerset, Mass., and Salem Harbor Station in Salem, Mass.
"The barge will make its first coal delivery to our plants in New England in e a r l y September.
Every eight days thereafter, it will deliver 34,000 net tons of coal to our generating stations.
In its first year of service, the coal it will carry will displace five million barrels of oil which will save our customers an esti- mated $50 million on their electric bills," Mr. Nichols reported.
The Brayton Point generating station is currently undergoing a $180-million conversion from oil burning to coal burning. Two of the generating units at the plant already are burning coal and a third unit will be converted to coal burning by the end of 1981.
When fully converted, coal burning at the station will save 12 million barrels of oil per year and approximately $169 million for the customers of New England Electric's retail companies.
New E n g l a n d Electric also plans to convert three generating units from oil burning to coal burning at its Salem Harbor Station.
When the conversion is complete by 1985, it is expected to save $54 million in fuel costs for customers and three million barrels of oil per year.
Together, the two plants will burn 3.7 million tons of coal per year.
Mr. Nichols praised the cooperation of the builder of the barge, Bay Shipbuilding Corp., a s u b s i d i a r y of The Manitowoc Company, Inc., for the speed and the quality of their construction efforts. Bay S h i p b u i l d i n g designed, engineered and built the Energy Freedom in the record time of nine months from date of contract commitment. The Energy Freedom is the third of five ocean carriers recently contracted to be built by Bay Shipbuilding Corp. for various customers.
The barge has an overall length of 550 feet, beam of 78 feet, a total hold capacity of 1.5 million cubic feet, and a summer deadweight of 33,700 tons. The 7,200 brake horsepower tug Gulf Majesty will push the barge from a 60-foot stern notch at an estimated speed fully loaded of 10.4 knots.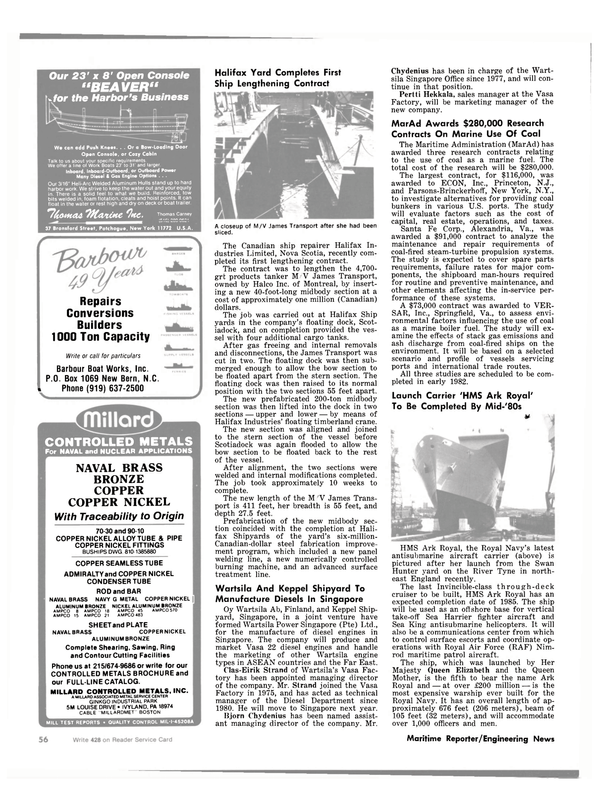 Read Energy Freedom Christened At Bay Shipbuilding Corp. in Pdf, Flash or Html5 edition of September 1981 Maritime Reporter
Other stories from September 1981 issue
Content