1988 NAPVO Annual Convention Washington, D.C., January 10-15
The 16th annual convention of the National Association of Passenger Vessel Owners (NAPVO) will be held in Washington, D.C., January 10-15. Over 200 NAPVO members from across the country are expected to attend.
The group's kick-off address will be given by Rear Adm. Clyde T.
Lusk, Chief of Staff, United States Coast Guard. Admiral Lusk, who is scheduled to speak on Monday, January 11, will provide his perspectives on the role of the small passenger vessel in the maritime industry.
He is also expected to discuss some of the possible future directions for the U.S. Coast Guard.
Also among the many convention highlights will be a luncheon address by Rep. Walter Jones (DNC), chairman of the Merchant Marine and Fisheries Committee, who will speak on Wednesday, January 13 at the Loew's L'Enfant Plaza, where the meeting will be held. Another plenary session will feature a panel of Coast Guard experts addressing T-boat regulations, bareboat charters and manning. This will be moderated by Rear Adm.
William Kime.
"This 1988 NAPVO Convention is yet another sign of our growth and increasing strength within the marine transportation industry," remarked Jim Cross, NAPVO president and owner/CEO of Island Queen Excursions, Riviera Beach, Fla. "The wide-range of workshops and plenary sessions reflects the enthusiasm and interest of our growing membership in dealing directly with the variety of issues affecting us today." One much-discussed topic during the 5-day event will surely be the issue of illegal "bareboat" charters.
"It's important for all those within maritime transportation to realize the impact that such illegal operations can have," noted Alan Bernstein, NAPVO vice president and general manager of BB Riverboats in Cincinnati. "Over half of our new membership has been in business for two years or less," Mr. Bernstein continued. "They often feel the pinch of such illegal operations first. We must all address the problem, however." Some 40 exhibitors will participate throughout the convention.
NAPVO is the nation's largest independent trade association for the owner/operators of dinner ships, sightseeing/excursion boats, car ferries, paddlewheelers and windjammers across the country. Over 300 separate members operate within 40 states, including some of the country's largest metropolitan areas. An estimated 30 million vacationers, business executives, conventioners, restaurant goers and others make use of NAPVO affiliated vessels throughout the year.
From 1986 to 1987, the membership of NAPVO has increased about 50 percent. Mr. Cross attributes part of this growth to the increased visibility of the passenger vessel industry to the public.
Some of the key benefits of NAPVO membership include qualification for discounted insurance programs, receipt of the Foghorn, a monthly report on U.S. Coast Guard and Congressional activities that relate to the passenger vessel industry, and an invitation to the annual NAPVO Convention.
As membership increases, so does NAPVO's impact on legislation that affects the passenger vessel industry.
For those interested in joining NAPVO, or learning more about their activities, contact: NAPVO National Headquarters, Eric Scharf, executive director, 1511 K Street, N.W., Suite 314, Washington, D.C. 20005; telephone: (202) 638-5310.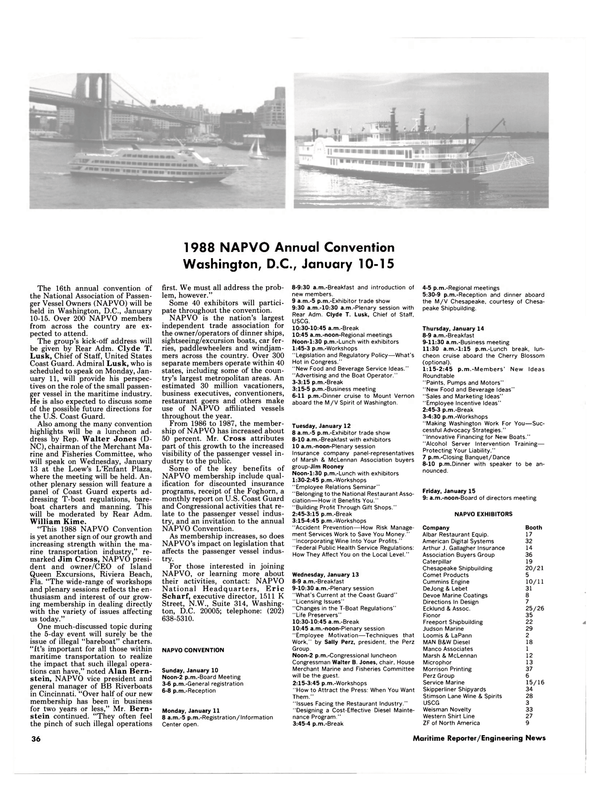 Read 1988 NAPVO Annual Convention Washington, D.C., January 10-15 in Pdf, Flash or Html5 edition of January 1988 Maritime Reporter
Other stories from January 1988 issue
Content