CRUISE SHIPPING 88
Miami Beach, Fla., February 23-25 Seatrade's fourth annual cruise shipping conference and exhibition, Cruise Shipping 88, will be held at the Fontainebleau Hilton in Miami, Fla., February 23-25.
Last year, Cruise Shipping 87 was also held at the Fontainebleau Hilton, drawing more than 30 marine industry-related exhibitors and over 300 attendees.
At this year's conference and exhibition, Seatrade officials expect even more attendees, and already more than 40 exhibitors have been registered for the event.
The principal theme of Cruise Shipping 88 will be the shape of the cruise industry as it moves into the 1990s. The conference will feature a number of expert speakers who will discuss how and where the next generation of cruise ships will be designed, built, financed and positioned in the marketplace, in order to broaden the appeal of the cruise product.
Delegate registration and collection of conference documentation will take place on Tuesday, February 23. Additionally, visitors will be able to view the Seatrade Cruise Exhibition after 3 p.m. A cocktail party reception will be held later that evening between 6 and 7:30 p.m.
During the next two days, Wednesday, February 24, and Thursday, February 25, industry experts and executives will discuss important issues facing the cruise industry.
A special visit to the Port of Miami has been scheduled for Friday, February 26.
For further information on attending, or exhibiting at the Seatrade Cruise Shipping 88 conference and exhibition, contact: Lenore Cox, Seatrade North America, Inc., Suite 1805, 40 Rector Street, New York, N.Y. 10006; telephone: (212) 393-1000/1004; telex: 233629 SEA UR; or fax: (212) 608-5874.
CONFERENCE PROGRAM Tuesday, February 23 Delegate registration and collection of conference documentation.
3 p.m.—Seatrade Cruise Exhibition opens.
6-7:30 p.m.-—Seatrade cocktail party reception.
Wednesday, February 24 Morning Session Introductory address: A. Kirk Lanterman, president, Holland America Line-Westours.
Inc. and chairman, Cruise Lines International Association.
"Towards the 1990s—Shipbuilding and Design," by Kai Levander, manager, research and development, WSrtsila Helsinki Shipyard.
Shipbuilders and naval architects around the world are coming up with a wide range of new design concepts for cruise vessels.
What will be the shape of ships to come?
Left, The Fontainebleau Hilton, Miami, Florida "Cruise Ships and Hotels," speaker to be announced.
What can the cruise industry learn from the hotelier in terms of operations and product development in such areas as conventions and incentives?
Session break: Open period for visit to Cruise Shipping exhibition.
Supply and Demand," by Dan White, transportation analyst. County Securities, Ltd.
As the newbuilding boom continues, it is necessary to take regular readings on the barometer measuring the forward supply of berths versus demand outlook.
"The Yard Perspective," by Jean-Francois Cristau, Barry Rogliano Salles Shipyards in Europe have benefited from the strong demand for cruise ships. Will the traditional cruise shipbuilders face competition from outside Europe, for example from Japan?
Panelist: Knut Kloster, Sr., president, Kloster Group.
Moderator: Christopher Hayman, Publisher, Seatrade.
Luncheon address: Carmen J. Lunetta, port director, Port of Miami.
Afternoon Session "Marketing Workshop" The afternoon session will take the form of a panel discussion on the strategies for the effective marketing of the cruise product.
Introduction: Robert H. Dickinson, senior vice president, sales and marketing, Carnival Cruise Lines.
"Packaging the Product." by Bruce Nierenberg, executive vice president, Premier Cruise Lines.
"The Medium and the Message." speaker to be announced.
"The Distribution System," by Jay Silberman, president and Debbie Adams, vice president, National Association of Cruise Only Agencies (NACOA).
"What the Passenger Actually Wants," by Jay L. Lewis, president and Dr. Dan Sarel, director, Market Scope, Inc.
Panelist: Jim Godsman, president, Cruise Lines International Association.
During the afternoon session there will be an open period to enable delegates to visit the Cruise Shipping exhibition.
Reception and Dinner hosted by the Port of Miami.
Thursday, February 25 Morning Session "Raising Equity—Public Offerings," by Peter Wexler, vice president, transportation group, Saloman Brothers Inc.
The initial public offering in the equity markets as a means of raising money for cruise lines.
"The Commercial Banks' Role," speaker to be announced from Citibank.
A banker's view of ship finance for the cruise ship market.
"Choosing a Register and a Crew," speaker to be announced.
The trend towards reflagging out of the traditional European ship registers continues in the cruise industry. Crewing is a vital issue for cruise lines, as a major factor in operating costs and because of its relevance to passenger relations.
"Insurance," speaker to be announced.
The special insurance needs of the cruise industry, and the role of the P&l clubs.
"Maximizing Onboard Revenues," speaker to be announced.
A host of new ideas are now available both to improve the range of facilities for passengers and to increase onboard revenues.
What are the likely directions of the future?
Marketing," by Stan Buchin, senior vice president and director, marketing management group, Temple, Barker & Sloane.
Afternoon Session "Destinations and Ports" Introduction: Andreas Potamianos, president, Epirotiki Lines SA and president, Union of Greek Passenger Shipowners.
"China and the Far East," by Michael Lewis, deputy managing director, the China Navigation Company Limited, Hong Kong.
The Far East is one of the growth areas for cruise, both as a destination and ultimately as a source of passengers.
"Europe's Cruise Market," by Alf P. Pollak, managing director, Seetours International GmbH A leading European tour operator gives his views on ship charters and the demand for cruise products in Europe.
Session Break: Open period for visit to Seatrade Cruise Shipping exhibition.
"The Caribbean Theatre," by Ferdie R. Martin, director, cruise division, Jamaica Tourist Board.
The Caribbean market continues to absorb an ever-increasing volume of cruise traffic. What trends are emerging in terms of homeporting, resort construction, etc.?
"The Air Connection," speaker to be announced.
The airline connection represents an increasingly important element in cruise marketing.
What is the airlines' view of the cruise industry?
Panelists: Howard A. Fine, president and chief executive officer, Costa Cruises. Ken Page, director, Passenger Shipping Association.
Evening Cocktail reception party hosted by the Portland Ship Repair Yard.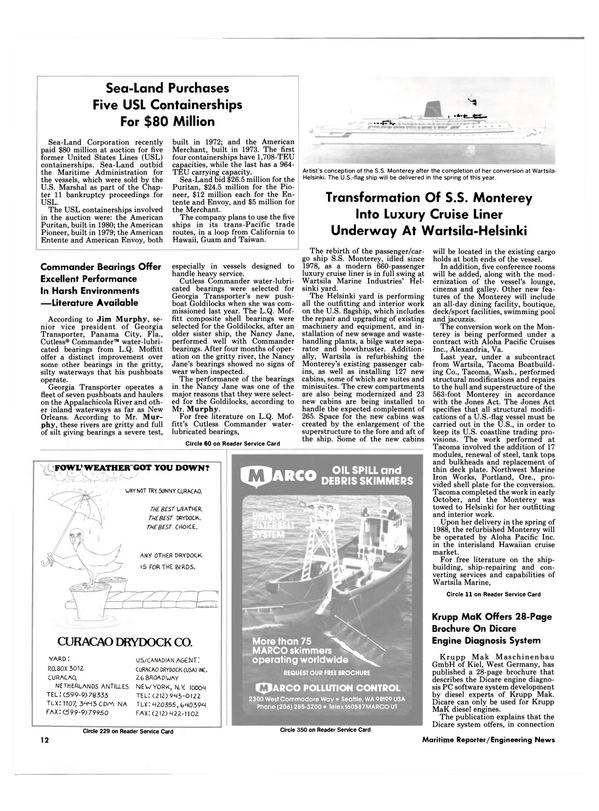 Read CRUISE SHIPPING 88 in Pdf, Flash or Html5 edition of January 1988 Maritime Reporter
Other stories from January 1988 issue
Content