A New England Shipyard Comes of Age
By Regina P. Ciardiello, managing editor
When MR/EN traveled up to the New England coast this past fall as part of a New England shipyard swing, we were expecting to meet the great one himself — Luther H. Blount — who could be informally known as the "father" of New England shipbuilding. Blount began his career so many years ago with the construction of a 77-ft. steel catamaran, was the first of many greater and more technologically innovative vessels that would later earn the designation as Blount crafted.
Over the years. Blount oversaw the daily operations of his yard, managing to get his hands dirty on the overall production process. Carefully designing every vessel to a tee with a pencil and sketch pad. Blount had the ability to create designs of some of the most formidable passenger vessels, some of which are still in operation today — with literal freehand. But times have changed, and so has technology, both on the design and construction side. While at the age of 86 Blount still bikes over to his shipyard during the week to supervise, the countless moments that he spent sketching and creating, have since given way to the age of innovative CAD/CAM marine engineering software.
According to Jake Stevens, senior vice president/V.P. of Production.
Blount-Barker Shipbuilding, the software utilized at the shipyard can literally take Luther's original designs and implement the most recent upgrades, while still maintaining their accuracy.
A New Business Breed While Blount-Barker Shipbuilding continues to hold its presence on the Narragansett Bay as a premier builder, traditionally of ferries and dinner vessels.
the company has joined the ranks of many other U.S. yards, thus entering the world of fast aluminum ferries, via a teaming with Australia's Crowther Multihulls. According to Stevens.
Crowther wanted the opportunity to gain relationship with a U.S. yard, since the demand for these "fast cats" has jumped significantly in the last couple of years.
Seeing their competitors gain a foothold in the world of fast aluminum catamarans, Blount-Barker jumped at the chance to brainstorm with Crowther, but first had to ensure that all their equipment and workers were up-to-date and ready to take on the task of creating an aluminum superstructure. Since the yard prides itself on its perfected detail and craftsmanship, Stevens worked with yard employees (both full-time and per diem) on upgrading their aluminum welding and fabrication technology.
While Crowther has its own group of designers, engineers and naval architects.
the welders and fabricators, and Blount-Barker. were the ones who ultimately will handle the task of creating this 40-knot fast cat — from start to finish.
At press time, the aluminum superstructure was set to be a New Year's 2003 present to its owner, Portsmouth, N.H.-based B.B.O.. LLC. The 124-ft.
(37.7-m) vessel, which will carry up to 45 passengers, is being fabricated with aluminum from Trans Star Marine in Fort Lauderdale. Fla. The vessel also holds the distinction as not only the first fast cat in the New England yard, but as the first U.S.-designed aluminum catamaran.
While Crowther is partnering with Blount-Barker, the company was responsible for the hull design. The overall vessel was conceptualized via a group of architects and Bristol Harbor Group in Bristol, R.I.
— a company that Blount-Barker had also tapped to work on its recently completed M/V Freedom, for the Delaware Port Authority, who purchased it in 2001, ultimately for use as a passenger ferry on the Delaware River in the vicinity of Camden and Philadelphia. Formerly known as M/V Essex, the vessel was originally built as a car ferry for operation on the Lake Champlain crossing from New York to Vermont. Ironically its hull was created by Blount in 1981. Incorporating Blount's original designs, Bristol Harbor Group transformed Luther's original sketches via the technology of computer generated lofting.
According to Stevens, the measurements from Luther's original designs were entered and lofted, then drawn via CAD to create, "a brand new vessel with a 21-year-old hull." In addition to its new superstructure, the vessel, which was launched on November 5, 2002. underwent further modifications, such as a conversion to double ended propulsion, enclosure of the main deck, addition of H VAC and marine engineering systems and provision of a partially enclosed upper deck viewing area.
The vessel's new distinction as a passenger/vehicle ferry enables it to now hold 600 persons - up from the original 149. As a result, the vessel was recently upgraded to current USCG Supchapter K requirements for this design.
At the time of MR/EN's visit, a selection of the 65 full-time yard employees were busy removing the latent vessel's equipment, virtually stripping it down so that it would be ready for the lift dock on November 1, 2002.
Still concentrating on its tradition of car/passenger ferries, Blount-Barker delivered a 101 -ft. (30.7- m) double-ended ferryboat, Sunrise to South Ferry, Shelter Island, L.I. on July 30, 2002 to service the half-mile crossing of partially protected inland waters between Shelter Island and the South Fork of Long Island.
Built for the Clark family, owners of the familyowned ferry company, which began in the late 18th Century, Sunrise replaces the Captain Ed Cartwright. a 65-ft. (19.8-rn) double ender built in 1931 at Staten Island, N.Y. (See related article on page 27). Measuring 101 x 39 x 11 ft. (30.7 x 11.8 x 3.3-m) ferryboat designed by Dejong & Lebet, Inc. was built to USCG Sub Chapter "T" Rules and Regulations for 150 passengers, and is a traditional car ferry with one open auto deck and enclosed aluminum side cabin with pilothouse. The vessel can carry a maximum of 50 cars or four semi-tractor trailers with a maximum load of 240.000 lbs., and is powered by a pair of Detroit Diesel Series 60 engines producing 400 hp at 1,800 rpm with standalone Twin Disc MG-516 gears. Sunrise is powered by two Detroit Diesel Series 60 engines producing 400 hp at 1,800-rpm with stand-alone Twin Disc MG-516 gears (4.5:1) for easy access to change Vulcan couplings and Detroit Diesel DDEC controls.
The vessel is also equipped with two Rolls Royce, ice class, right hand, 54 x 40-in. pitch, fourblade propellers.
A New Beginning?
The repair and refit market could provide yet another new beginning for Blount-Barker Shipbuilding, as Stevens said the yard has increased its repair work in the last year-and-a-half.
While repair work has potential, the yard must carefully schedule so not to interfere with the company's other ventures — Bay Queen Ferries and American Canadian Caribbean Line (ACCL) cruise vessels, which come into the yard every six months for routine maintenance and painting.
If repair does become a focus at Blount-Barker, the company's president and CEO, Jim Barker is quick to remind that new construction will not be pushed to the wayside. "Yes, we can do repair jobs in a quick and timely manner with a skilled workforce," Barker said. "But, new construction will be our main focus." Looking ahead, Barker sees the yard having the ability to accommodate small cruise ships, while continuing with its newfound interest in aluminum shipbuilding.
"For the next couple of years, we will stay with the 'fast cats,' going for the aluminum ferry market in all of our sheds." Barker said. "There's more of a demand for this market, simply because it is lighter, easier to fabricate and maintain."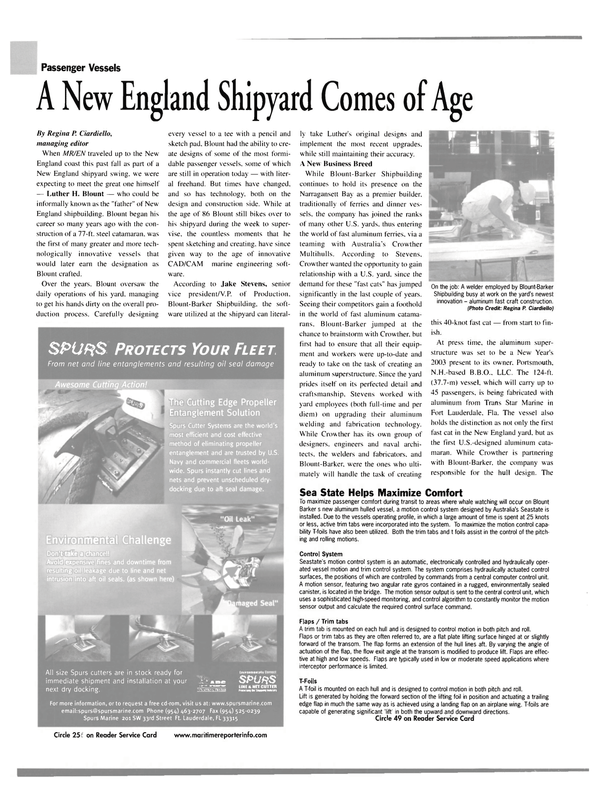 Read A New England Shipyard Comes of Age in Pdf, Flash or Html5 edition of January 2003 Maritime Reporter
Other stories from January 2003 issue
Content