MAN B&W Flexibility With Two Strokes
Long term service experience has confirmed the effectiveness of the inherent design measures embodied in MAN B&W Diesel MC/MC-C and ME/ME-C two-stroke engines for direct coupling to controllable pitch propellers (CPP) or de-clutchable propellers.
Ensuring operational flexibility and high safety margins, the CPP installations featuring MAN B&W two-stroke engines with bore sizes up to 70 cm, are customary for tankers deployed in offshore loading or where ice class is demanded. Such a propulsion plant often embraces a shaft generator, usually, a simple synchronous generator requiring a constant engine speed to deliver electrical power or a generator capable of delivering constant frequency power at varying engine speeds.
All sizes of MAN B&W two-stroke engines may also be specified for plants in which the propeller is de-clutchable.
In these installations, the engine can be operated for power generation at full speed with the propeller de-clutched at loads from 0 to 100% for prolonged periods. MC/MC-C and ME/ME-C engines applied in these plant configurations are designed for continuous operation in a flexible load range.
By far, the most complex assembly to analyze is the main bearing cap in the bedplate. An important step is evaluating the contact pressure between the bearing shell and the bearing saddle, this pressure distribution being calculated during assembly when the main bearing caps are tightened. Controlling the contact pressure distribution is crucial in avoiding fretting of the back of the bearing shell.
In other steps of the analysis, contact pressure distribution is superimposed with the variation in contact pressure distribution originating from the various running conditions. The full speed-idle load mode is naturally of special importance, as this running condition requires the most attention in avoiding bearing shell back fretting.
Crosshead bearings show a significantly different load pattern when operating in the full speed-idle load mode. At the full load condition (100 percent engine load and 100 percent engine speed) the bearing load mainly points downwards, thus creating high oil film pressures in the lower shell of the crosshead bearing.
Much effort is being directed towards achieving optimal conditions with respect to load-carrying capacity and oil film build-up in this highly loaded bearing.
In the full speed-idle load mode, however, the upper shell of the crosshead bearing participates in the load-carrying process.
Circle 1 9 3 on Reader Service Card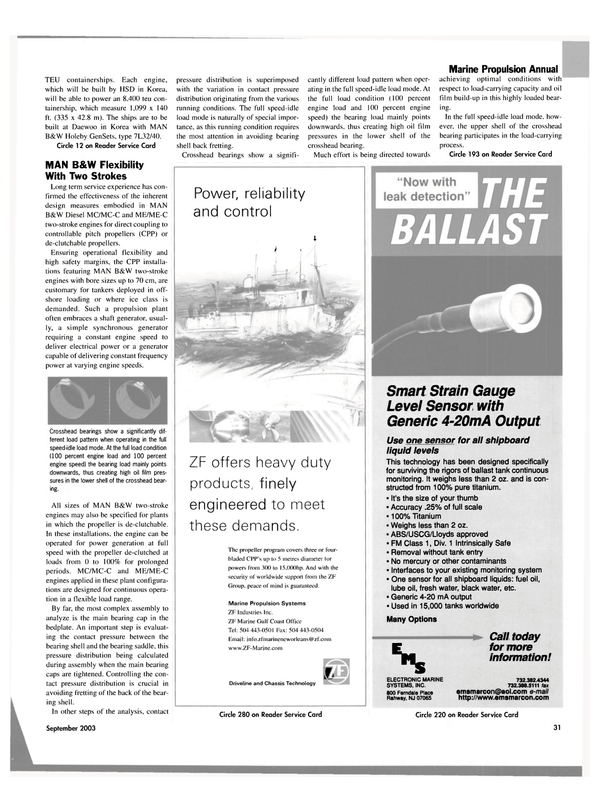 Read MAN B&W Flexibility With Two Strokes in Pdf, Flash or Html5 edition of September 2003 Maritime Reporter
Other stories from September 2003 issue
Content