Cat Power For Unique Boat
One of the most talked about crew/supply boats this year is a new 160 x 32-ft. (48.7 x 9.7-m) vessel designed by A. K. Suda, Inc. and built in Bayou La Batre, Ala. An innovative design, the vessel has no deep tonnage frames or tonnage openings and yet is certified by the Coast Guard as under 100 grt. Deep tonnage frames have long been used by boat designers as a way of excluding areas in the hull from inclusion in the 100 grt measurement — tonnage openings on the vessel's main deck are used in the same way.
The vessel has no watertight boundary between the engine room and the passenger seating forward and yet meets or exceeds USCG stability standards.
There is no need for a watertight bulkhead on the main deck to get from one personnel area to another. A lower lightship with the same deadweight gives lower displacement and hence higher stability and speed for the same power - it is that simple. The 100 GRT volumetric measurement is critical because vessels that do not meet this standard cannot be classified as either Subchapter T or Subchapter K vessels. "Passenger vessels that are not Subchapter T or Subchapter K are more expensive to build and to operate because of increased manning requirements and other factors," said Ajay Suda. naval architect. Suda is careful not to reveal exactly how he accomplished this design innovation, but he was very complimentary to the Coast Guard and to ABS. "Who gave this design a full review and in the end were satisfied that it met all of their criteria.
Most vessel designers know that tonnage frames have no structural value and simply get in the way," Suda added "To us they are an unacceptable compromise to good design." "We simply used the rules that the Coast Guard and the classification societies developed and with a creative approach, we were able to save considerable amounts of aluminum." Suda added. "I may have pushed the envelope slightly on various applicable rules of the U.S. Coast Guard, but the design provided an equal or greater level of safety and strength than required by ABS and Coast Guard rules," Suda said.
The absence of tonnage frames in the hull means that tanks do not have the unnecessary obstruction caused by these frames making cleaning easier. No tonnage frames also means that crew accommodations can be larger. With a more spacious hull, passenger seating can now be on two levels.... in the hull and on the main deck. A total of 81 passengers can be accommodated as well as 10 crewpersons in larger, more comfortable quarters. Four Caterpillar 3512 DITA engines generating 1.575 hp each power the vessel; ZF gears transfer this power to propellers.
Lift Boat Tech A.K. Suda also designed an innovative lift boat which is currently under construction.
a 133 x 100-ft. (40.5 x 30.4m) lift boat with an 11-ft. (3.3-m) deep hull.
The vessel is being built for C. S.
Liftboats in Erath. La. Once again, Suda was able to bring the vessel in at less than 100 GRT without tonnage frames.
The lift boat has 240-ft. (73.1-m) legs that can work in up to 180 ft. (54.8 m) of water. The deck area totals 8,300 sq. ft., about 50 percent of which can be used for variable loading. Loading for the cargo deck is 800 kips and the main deck loading is 400 psf. A pair of Caterpillar 3508B diesels, rated at 960 hp each, powers the vessel. Service power comes from three Caterpillar 3412 gensets, each rated at 175 kW. The vessel has accommodations for 42 persons in the hull of the vessel. Once again the absence of deep tonnage frames eliminates unnecessary weight.
Classified by ABS, the vessel mounts two cranes — the main being a Techcrane Model F200-100 that can lift 100 tons at 30 ft. — the auxiliary an EBI Model C30-60 with a capacity of 17 tons at 10 ft.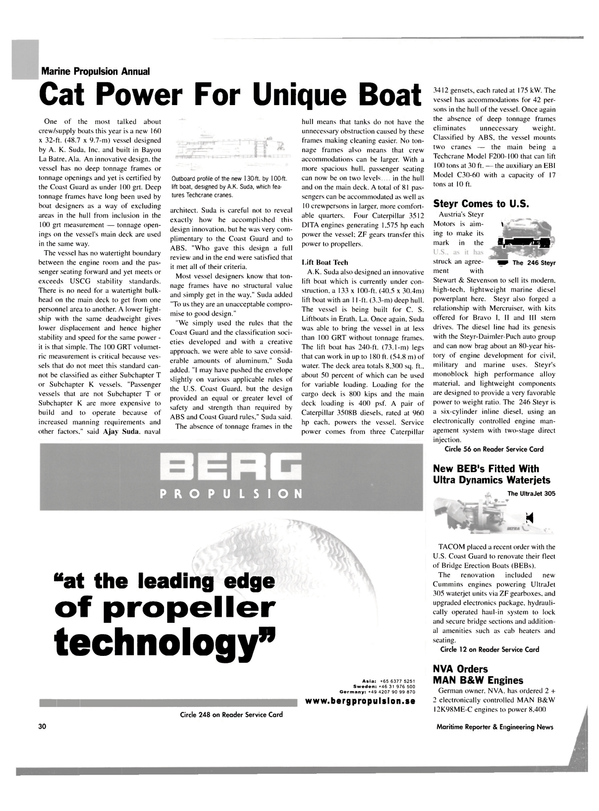 Read Cat Power For Unique Boat in Pdf, Flash or Html5 edition of September 2003 Maritime Reporter
Other stories from September 2003 issue
Content