Guido Perla: Colombian Born, American Made
Guido Perla has always had a love of the sea. Perla, who was born and raised in Barranquilla, Colombia, came to the U.S. in 1971 to pursue his dream of using the "tools" he was given to become a naval architect. His story is one that is marked by innovation, relationships and hard work. — By Regina P. Ciardiello, managing editor Guido Perla's philosophy on naval architecture and marine engineering — on life — is easily summed up: "I always follow what my father used to say," Perla said. "It is better to be wrong than to be average." Perla is not shy to admit that he's not always perfect, but that does not mean that he will not try and try again until he achieves perfection.
"You don't learn anything from sitting around and doing nothing," Perla quips. "You learn from making a move and taking risks. When we came into this world, we were given a brain, hands, eyes and a body - they are tools." he continues. "You can do anything you want with these tools - you can put them on a shelf and leave them there, or you can grab your 'tools' and try." While Perla admits that he strays from traditional, stock designs, there are some in the industry that are afraid to take these risks, or are maybe just content with traditional, conventional designs. While he's not advising that owners and operators should abandon tradition for experimentation, he's simply suggesting that some may benefit from as he puts it: "just wanting to stay on the continent rather than going across the ocean," or some may not. But.
according to Perla, "if you don't try you'll never learn how to make it (the vessel design) better." Not that Perla is trying to play the role of the preacher of technology to the marine industry: he's simply advising that you have to at least make an attempt.
"I'm not trying to insult anybody," Perla says. "But there are shipyards that have fully embraced technology and are doing great, some have even improved a lot in the last 10 years. Then there are others who have just not done anything." Perla does however acknowledge that technology as a whole is becoming more widely accepted in the marine industry in the last 10 years - even among those groups who were unofficially labeled as "traditional" and/or "cautious" companies. He does warn, however, "1 have also seen companies spend millions of dollars on technology and go bankrupt." "It's (technology) a tool, and if you don't utilize it the right way, it doesn't matter how much money you invest or how much you believe in the project - you need to make it work for you." he says.
Go West Young Man Born and raised in Baranquilla.
Colombia to Italian parents, Guido Perla had an interest in anything that had to do with boats and ships. On the water, at any free moment.
Perla formed his love for two modes of transportation — ships and planes — an early age. Perla, who often went sailing near his home on the Caribbean Sea, often dreamt of taking his love of vessels into a profession where he could create and design them.
U n f o r t u n a t e l y though. Perla's dreams were at first squelched when he realized that no institutions of higher learning in his native country offered courses of study in naval architecture or marine engineering — unless he joined the Colombian Navy. Rather than give up his civilian life, Perla decided to divert his interest towards mechanical engineering instead. During his course of study, Perla landed a job at a local Colombian shipyard. UNIAL S.A., and while there he found his niche — and luckily so did his boss at the shipyard.
According to Perla, the owner of the yard cut him a deal that would allow him to travel to the U.S. to live out his dream. But his were plans put on hold when the shipyard workers decided to strike. Luckily a rival area shipyard, Astilleros Magdalena, S.A., which was in need of a naval architect, knew of Perla's familiarity of the marine industry and made him a similar offer. At the urging of his boss. Perla left his native country bound for the U.S., to pursue a degree in naval architecture and marine engineering at the University of Michigan.
It was not smooth sailing for Perla however. At the end of his first term at Michigan, the shipyard that had backed him went broke — leaving him with no tuition money. Undaunted, he found that he was eligible for a scholarship that would cover his next term's tuition. But not before, as Perla says, "immigration got in the way." Since he was not an American citizen, the University deemed he was not eligible for the scholarship unless he had a sponsor.
Therefore, it came down to finding a sponsor or leaving the U.S. Ironically, he contacted the original shipyard, which by now had resolved its labor issues. His former boss offered Perla the same deal they had shaken on the year before on the condition that he would pay the yard back after he graduated.
It was also during his time at the University of Michigan that Perla not only found his niche in naval architecture, but found love as well with another student, Karen Olsen. who became his wife in 1973, after graduation.
Since Perla had fallen in love with both the U.S. and his wife, he had no intentions of returning to his homeland, so he began interviewing at various shipyards for positions as a marine engineer.
He landed his first job at the nowdefunct Jacksonville Shipyard. And in 1975. Perla headed west to a small town just north of Corpus Christi, Texas where he took a job designing OSVs and shrimp boats. While he was happy that he was doing what he had set out to do, Perla wanted more, so he and his wife traveled with their two small children, Bianca and Guido, Jr.. in 1977 to the Pacific Northwest to take advantage of what at that time the booming fishing industry. After several rounds of interviews, Perla received offers from most, but there were two that had the most impact. One was the position offered by Joseph Martinac, Sr., owner of JM Martinac Shipbuilding in Tacoma, Wash. — a yard that specialized in Tuna Seiners; the other from Peter Schmidt, the owner of MARCO Shipbuilding in Seattle, Wash. Perla chose to work for Martinac, as they were known for their innovative designs of Tuna Seiners.
"They (the Tuna Seiners) were sleek, good looking boats and 1 wanted to design them," Perla says. "So 1 went to work for Joe (Martinac)." After etching a name for himself at Martinac, Perla was tapped again by Schmidt of MARCO, who had just purchased Campbell Shipyard in San Diego, Calif. He wanted Perla to design a Tuna Seiner, but there was one catch, there was no tele-commuting involved, which meant Perla would once again have to pack up and move his family down the Pacific coast. Not wanting to forego a valuable opportunity, he proposed to work for Schmidt on a consulting basis. Schmidt however was not interested. "We don't hire consultants, Schmidt had told Perla. "We do everything in-house." Two weeks later, though, on December 28. 1979 to be exact (the day is also Perla's wedding anniversary), Schmidt called Perla with an offer that he couldn't refuse. "He (Schmidt) called me and said, 'Do you want to be in business?' Perla said. "And 1 said yes I would." Schmidt then told Perla to "name his price," which he did, thus beginning the evolution of Guido Perla & Associates, Inc. (CPA), with the agreement that Perla would design a 300 LT vessel simply named what its function was: "Tuna Seiner," for Schmidt for construction at Campbell Shipyard. "I owe the credit to the beginning of GPA to Peter Schmidt, the owner of MARCO who gave me my first job," Perla said.
"The day we signed the contract is the day that I consider the start of GPA." A Hand Shake That is how, Perla admits, most of his deals have been sealed since establishing his company in 1979. While GPA has weathered the ups and downs of the marine industry and has still always managed to come out on top.
There is not one specific project that Perla could say he gained the most satisfaction from, rather he has taken each project and treated it as an individual accomplishment, each with a different meaning for different reasons, most of which are the valuable relationships that he has established with clients. "I approach jobs not because of business, but through relationships," Perla says.
"Every project that we take at GPA I go for because I like the person, I like their philosophy and I like their approach and ideas.
I don't ever take a job because of the amount of money I'll make, or because it's a large high-profile project," Perla says. "I take jobs because the only thing you have left after every project is the relationship you have with your client — money comes in and out and is forgotten quickly." Perla shapes each project as a reflection of the person of whom he is working with, rather than just formulating a design on paper. Therefore, he tries to tailor each design based upon the specific person he's dealing with. The word "stock design" will more than likely never be uttered through the offices of GPA. "When 1 design a boat, it is like fitting a suit for this person," Perla says.
"I will do a certain boat a certain way because the look of the boat and the operation of the boat fits that person.
It's for the satisfaction of giving to that person that boat, just to know that you have put your feelings into it. That is the only thing I will take when I die," he continues. "I could talk for hours about every project that I have worked on, and each would have a different story." Perla admits though that the industry has changed over the years in terms of negotiating the deal. It used to be where he could have a conversation with his client about an idea for a project that would include just a handshake and parting words of confidence — specifics would be discussed later. But, Perla says that this practice is becoming more difficult to do with shorter schedules and rising taxes and insurance costs, which have given way to thick contracts. With operating costs already on the rise, Perla is finding that more of his dollars are being spent on legal fees. Aside from the financial burden, Perla finds it frustrating that this type of business is replacing the heart and soul of the deal.
"Sometimes I feel that this industry is being drowned by lawyers, that there is no dialogue anymore." he says "It's just two businessmen sitting together and working something out - two lawyers trying to stretch their paychecks as long as they can. That's the part I don't like, that we are being dominated by the legal business." But not all of his clients are being forced to turn this way - and still there are a few that have managed to leave the attorneys behind. "Fortunately, I have clients where we can still sit down at a table and work things out without the lawyers," Perla says.
Technology on the Rise Perla finds technology has simplified much of his work as a marine engineer and naval architect. The biggest change has been the use of computers," Perla says. "They have simplified quite a bit of work in the calculations of things such as stability and propulsion, which were customarily a very tedious process.
Before the advent of CAD/CAM technology most drawings were presented through 2-D images, which according to Perla was sometimes difficult to conceptualize on a 3-D object. "We used to use 2-D. but this was difficult, especially for someone like me who likes things to look in proportion and pleasing to the eye," he says. Just a year after the start of GPA, he was instrumental in introducing CAD/CAM to small shipyards.
He went on to develop NC (Numerical Control) tapes that would enable smalland medium-sized yards with the ability to burn steel. Customarily a practice that had been available exclusively to larger shipyards, Perla created a program that would produce NC tape via Auto CAD that was available to the smaller shipyards.
"In my opinion, the core to shipbuilding in America are small- and medium-sized yards," he says. "They keep the biggest amount of movement and production in the U.S." However, even with this new technology available, the yards did not have the expensive machines that were used to cut the steel. This didn't last however, as a deal was made with the steel manufacturers who would, using Perla's program, cut half the steel for the shipyards.
"The breakthrough was being able to go to the steel company and say, 'Can you cut this part and deliver it to the shipyard.' that was when things started," Perla says. "For me that was a big achievement - that I was able to contribute to this technology for the small shipyards." The first GPA-designed vessel created with this new computer lofting was F/V Starbound, a 240-ft. (73.1-m) Factory Trawler built for Aleutian Spray Fisheries by Dakota Creek Industries.
With many of these yards, such as Bender Shipbuilding & Repair. Nichols Bros., MARCO and Dakota Creek using Perla's technology, he has found that he has become a victim of his own success.
"Bender is one of my original clients," Perla says. "I must have done too good of a job, because now they do all of the steel cutting themselves. For many years I did the development of all the construction and engineering for them, even NC tapes, but now they have their own engineering staff." This was not always the case however.
When Perla started GPA in 1979 the marine industry was down, not an ideal year to start a business. The fishing industry was drying out and with the exception of defense work, most other areas of the marine industry were headed toward a downward spiral. Perla stepped in. "One of the reasons 1 started my company in 1979 was with the idea to provide design and detailed construction engineering to the shipyards," Perla says. "Now we are spending a lot more on the engineering than we used to say, 10 to 15 years ago. What I have found is that for every hour of engineering you spend you are saving a minimum of five times that on the production process; the engineering is the thinking." But with skilled engineers also comes the craftsmanship of the shipyard workers to ensure vessels are produced cheaper, faster and better - a team effort, which Perla notes can be broken down in one simple function - weeding out and laying down new roots. "Imagine you are going through a jungle, the engineers cut the trail, while the production people follow behind planting," he says.
"Neither one can do the job without the other." On the operations side, Perla has observed that many innovations that many companies were afraid to employ on their vessels are now becoming the norm, such as diesel electric and Z-drive propulsion, which are exemplified through two ground-breaking design attributed to GPA; the series of three PRT Class (Prevention and Response) 140-ft. (42.6-m) Z-drive, tugs, which were constructed by Dakota Creek for Crowley's Vessel Management Services - and Kilo Moana, a 185-ft. (56.3-m) SWATH oceanographic ship - owned by the Naval Sea Systems Command and operated by the University of Hawaii.
This vessel was designed by GPA in partnership with Lockheed Martin and built by Atlantic Marine with a fully integrated electric drive system.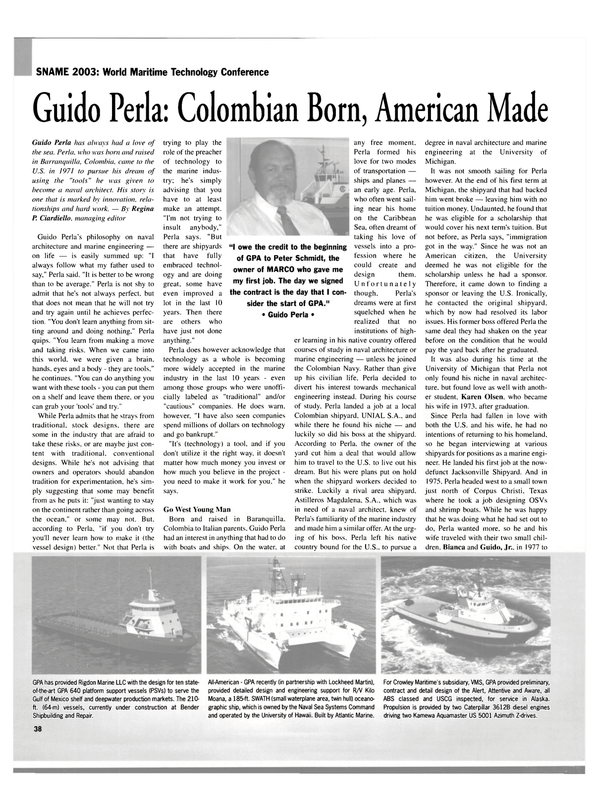 Read Guido Perla: Colombian Born, American Made in Pdf, Flash or Html5 edition of September 2003 Maritime Reporter
Other stories from September 2003 issue
Content