Dr. Shashi Kumar
By Greg Trauthwein, Editor
We had the privilege to pick the brain of Dr. Shashi Kumar (right) a Master Mariner, Fulbright Senior Specialist Fellow and Professor Emeritus of International Business and Logistics, for his take on a wide range of maritime matters near and far. A market boom starting in 2014? The long-term effects of Sequestration?
A 'cap' on the size of ships? He covers it all.

This maritime economy has been bad for a number of years. Put in perspective the downturn now vs. traditional downturns.

That's a very good question. When I look at it, what has happened is a clear demarcation in the economic fortunes of the traditional blue water fleet and the brown water fleet. There is tremendous growth taking place in the non-blue water segment in this country. However, the deep sea shipping sector is at a breaking point. If you look at the tonnage and the fleet that we control, those numbers have dropped. Any legislative changes in the food aid program and preference cargoes in future years will also impact the deep-sea fleet significantly.
Worldwide it is pretty easy to see what is going on. The U.S. market is the one that is a bit more complicated. I think globally the market will pick up quite smartly by 2014. In fact, they are already talking about the 2016 global shipping recession. The 2014 boom will undoubtedly lead to another round of overtonnaging, perhaps resulting in the 2016 downturn and the commencement of another Sisyphean recovery. So, assuming the global political leadership will make rational decisions, I am optimistic about global shipping markets.

Do you think that the industry ever learn to strike a balance?

I don't think so. If you look at the boom that began in 2003/2004, which was just after China got into the WTO, there was phenomenal growth with all major markets peaking concurrently. As you may recall at that time, some maritime economists were even debating whether a paradigm shift had happened in these shipping economic cycles. That particular boom did last longer than usual followed by reasonable market conditions until almost 2010. Unfortunately by the turn of the decade, the market had gone down precipitously, and that's when owners began to realize the true extent of the damage that they themselves caused at least in part. Will they ever learn … I doubt. Given the nature of the industry, there is always going to be some level of overbuilding which is to be expected. But going well beyond that in times of prosperity has become a true curse of the industry. So, all we can hope for is more rational thinking on the part of the CEOs and other leaders of the big shipping companies so that we see longer upward momentum followed by shorter troughs; it will be great if those troughs are compressed and flattened.

Where do you see opportunity today, pockets for growth?

I think the liner market is highly concentrated at this point with effective barriers to entry. This market is particularly dear to me—my Ph.D. was about the competition and the contestability in deep-sea liner markets. I'm not anticipating any major East/West growth. There's no way a new entrant can enter this market effectively today. More consolidations are only to be expected among the top tier carriers. There's going to be more growth in the North/South trade, for example the intra-Asia trade, and possibly also in the intra-America trade.

What about the dry bulk trade?

The dry bulk trade will continue to be driven by China. Their infrastructure investments and promotion of internal consumption will drive up dry bulk movements into China. To some extent, the Chinese trade policy reflects the market reality—that of China gradually becoming less of a solely export-driven economy.

And the tanker market?

The place where I think there are a lot of unknowns right now is the tanker market, especially with the possibility of U.S. oil exports; this is a surprise for which no one was prepared. It is still somewhat of a mystery as to how this will play out.

Obviously this [change in the U.S. energy profile] will be a driver for change; are you starting to see any changes?

Yes, there are changes some of which were set in motion even before the likely emergence of U.S. energy exports. As we know, the dynamics of the traditional "three arterial" petroleum routes have changed drastically. New crude oil routes are being created to serve the Chinese market, and enhancing the tonne-miles which is what the shipowners want. India has built huge refineries and has become a key player in distributing products which once again has created demand for huge volumes of crude oil transported over long distances. If and when the U.S. is ready to export LNG, Asian countries will become major buyers and I believe there is already pressure being exerted on the Panama Canal Authority to keep their future rates reasonable.

In the U.S., where do you see areas of opportunity?

As I remarked earlier, the brown water sector will continue its tremendous growth. But looking at the U.S.-flag deep-sea fleet, we are lagging far behind international growth trends. As an island nation, we need efficient shipping services and the U.S. companies should play an active role in this rather than become bystanders. Regretfully, shipping has lost its charm for many traditional players; it does not get the attention that it deserves. To some extent, it is of our own making as the efficiency in safe shipping movements and their predictability have made these deep-sea movements as unremarkable as a daily commute from the suburbs.

What can be done to raise its profile?

Shipping as a brand has suffered. Many years ago, after a series of major tanker disasters, there was a coordinated effort by key players in the European tanker market to undertake a major public education initiative. I thought they did a great campaign educating the average citizen about the role of oil tankers, their safety enhancements, and what they did to facilitate our life-style and the national economy at a relatively insignificant distribution cost. It was a very good initiative and succeeded in redefining the brand. I've not seen anything like that in this country. Perhaps the industry leaders and the trade associations here should undertake such an initiative and promulgate a different image about the industry, instead of being the butt of all the jokes when a cruise ship loses power or runs aground.

U.S. government Sequestration: What have been the effects to date?

As a trained economist, I view Sequestration as a supply shifter. If it is a short run phenomenon, perhaps some shipowners may ignore it but prolonged cutbacks may take away the owners' incentive to stay as part of the MSP fleet and will have serious implications from the national security perspective.

The Jones Act is a political hot potato. What is its status?

I certainly believe that a country such as ours needs the Jones Act. We need it for economic reasons as well as for "insurance" reasons and for providing critical logistical support. This is an island nation that needs maritime presence and capability, and that is exactly what the Jones Act has provided.

Where are we in terms of making shipping more environmentally friendly.

There is a debate going on right now as to whether the investment in green ships such as the planned Triple E Maersk ships makes economic sense. I personally think we're way beyond that point, and these initiatives are here to stay. There is significant pressure on the shipping industry, and they are genuinely concerned about environmental regulations especially in Europe. In general, the shipowners are serious about this and handling this proactively and becoming more socially responsible. I commend them for that.

Ship owners feel over-regulated, from the international, national and regional level. Will we ever get to a point where it will be more unified.

It is a wonderful question. My view is shipping is a very international industry, and we should not have unique rules for each region, each state, each country, etc. It just doesn't make any sense. When shipowners invest in new tonnage, they want the flexibility to take their ships and go where the market is. To be frank, I think the International Maritime Organization does a fantastic job; it's one of the most efficient UN agencies.

Is there anything else on the legislative horizon?

It would be interesting if the question would be asked: "What is the biggest size ship you should build?" I personally feel that there should be some sort of finite limit on ship sizes and believe me, it is coming from a market economist!
Let's look at the Maersk 18,000 TEU containerships. Can you build something bigger than that; yes you can. But does it make any sense? Take the case of the big bulk carriers the Brazilian's built; what is the point? The goal was to bring down the unit cost, but as we discovered in 2012, their unit costs went up. I hope they don't go with their original plan to build 40 or so of those VALEMAX dry bulk carriers. It seems like commercial dreams are overpowering rational thinking. Historically, looking back at the 1970s (known as the golden era of oil tanker), there was a plan to build million dwt crude oil tankers which thankfully did not materialize. The biggest ship they ever built was the Jahre Viking, which had a capacity of 574,000 dwt. That ship was so big that not one charterer could fill it by themselves; it always took two or three charterers, which was a problem in itself. The ship was eventually scrapped few years ago. But there is a clear realization in the tanker market today that you are better off to go with VLCCs rather than ULCCs. I hope something like this will happen in the container industry as well as the dry bulk sector. I would rather see the 18,000 TEU ship or the odd Valemax as a rare exception rather than the rule.

So then what are the drivers for building the mammoth ships?

I believe the expectation is that the current manufacturing and consumption patterns will continue forever, but we know that's not going to be the case. We are already seeing a decline in Chinese manufacturing of consumer goods bound for U.S. There is increasing interest in 'near sourcing' and signing contracts with manufacturers located closer to us in Latin and Central America. So, the big question is will the market support these huge ships in the long run.

The views expressed in this article are the his own and not those of the U.S. Merchant Marine Academy, the Maritime Administration, the Department of Transportation or the United States government.

(As published in the June 2013 edition of Maritime Reporter & Engineering News - www.marinelink.com)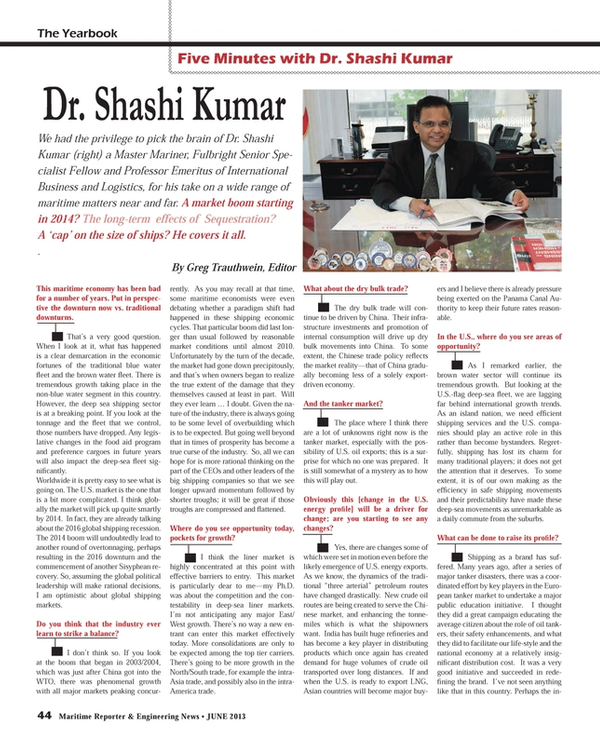 Read Dr. Shashi Kumar in Pdf, Flash or Html5 edition of June 2013 Maritime Reporter
Other stories from June 2013 issue
Content