Business is Brisk at Posidonia in Athens
Posted by Irina Tabakina
In early June, the shipping community met in Athens, Greece for Posidonia 2014. While the focus in Athens tends to be skewed more toward the night life and after hour parties, Maritime Reporter was able to dig out some relevant product and service news from the exhibition center.
Wilhelmsen Ship Service (www.wilhelmsen.com/shipsservice) introduced its fuel oil treatment range and integrated welding safety products and services at Posidonia. Engineered to maintain vessel performance and engine efficiency even when slow-steaming or burning low sulfur fuel, WSS's Fuel Oil Treatment products have been developed in response to these recent significant operational changes.
"Fuel quality is a major problem and it is becoming more complex," said Jonas Östlund, Product Marketing Manager from Marine Chemicals division. "Our Unitor FuelPower range applies the most advanced technologies to make certain that residual fuels can be used with confidence. For ships sailing in the Emission Control Areas, Unitor DieselPower has been developed specifically for distillate fuels, resulting in fewer problems and lower costs in operation."
WSS also showcased its new series of welding packages at the exhibition. Combining the latest Unitor welding equipment with professional support from product specialists and onboard welding safety inspections, WSS' enhanced welding solutions are perfectly in tune with the current challenges customers face while maintaining their vessels.
Always the innovator, Damen Shipyards Group unveiled a new mobile ballast water treatment (BWT) unit in Athens. The new in-house technology bolsters Damen's Ballast Water Center of Excellence, which advises fleet managers on total BWT solutions for retrofits and newbuilds worldwide.
Developed in-house, the fully containerized, mobile Damen InvaSave BWT unit provides ship owners with an alternative to retrofitting fixed BWT systems. Damen says it has also developed the world's first mobile treatment vessel to operate in ports and support ship deballasting operations. The first of these customized Damen barges, fitted with Damen InvaSave units, is now under construction for service in the Dutch ports of Eemshaven and Delfzijl. An important (financial) partners in this project is the 'Waddenfonds,' the organization focusing on the preservation of the 'Waddensea,' which is listed as a protected UNESCO world heritage site.
As well as avoiding retrofit investments, Damen said the mobile solution means ballast water only needs treating at the point of discharge, in contrast to fixed onboard BWT installations that also need to treat ballast water at intake. Damen can deliver the system as a separate mobile container, which can be put on board or moved around the port on a truck. Each Damen InvaSave container unit is designed to handle 300 cu. m./hr., but it is designed to be easy to scale up by using multiple container units. The system has been tested in the challenging waters of the Wadden Sea and the IJsselmeer in the Netherlands and is currently being certified by the Dutch Flag State.
In addition to its own mobile BWT system, Damen can also advise on type-approved BWT systems for onboard retrofitting, as well as retrofit engineering and installation. Damen Shiprepair & Conversion has 16 repair and conversion yard facilities, with 40 dry docks worldwide.
Oman Drydock Company (ODC) claims it made a "giant leap" forward in its campaign to become one of the leading shipyards in the world for LNG repairs after it was awarded the Gaztransport & Technigaz (GTT) license at Posidonia.
ODC chairman Dr. Abdulmalik Al Hinai was joined by GTT CEO Phillippe Berterottiere at the ODC stand to make the announcement.
ODC is one of the newest and biggest shipyards in the world and is based in Duqm, Oman's planned new ports and logistics mega city. Following a soft opening in 2011 the $1.5bn shipyard, which is 1.3m sq. m. in size, has drydocked more than 230 vessels.
Wärtsilä debuted a new Aframax tanker design offering that meets current and forthcoming emissions legislation. The new design emphasizes energy efficiency to provide lower operating costs and enhanced environmental performance. It features an optimized hull form to minimize resistance, and an optimized propulsion train with energy saving devices (ESDs) for greater efficiency.
Fuel savings have been the primary focus during the development of this design, and significant testing of the hull lines by both CFD and tank testing have successfully produced a highly competitive design.
Wärtsilä explains that it offers the Aframax design in three, fit-for-purpose versions; the Basic configuration using conventional HFO fuel, Environmental with the exhaust emissions cleaned using a scrubber and selective catalyst reduction (SCR), and the Green version based on dual-fuel engines using LNG. The design can also be adapted for Ice Class notation.
Danelec Marine showcased its new-generation VDR at Posidnoia on the SRH Marine Electronics stand, as the Danelec DM100 is the first VDR designed specifically to meet the new IMO Standard.
The Danelec DM100 features a fresh approach to simplifying shipboard service for marine electronics. The company's SWAP (SoftWare Advanced Protection) hardware platform provides for all system programming and configuration data to be stored on a hot-swappable memory card. If the VDR unit fails, the service technician can remove the memory card from the faulty unit and plug it into a new unit, which is immediately ready for duty.
The old unit can be taken ashore for repair at a Danelec-certified repair facility, and the ship sails on schedule without a costly port detention.
Evoqua Water Technologies presented technical information about its type-approved SeaCURE Ballast Water Management System and applicability to newbuilds and retrofits at Posidonia.
The SeaCURE system uses a patented process that first injects biocide into ballast seawater before it reaches the large surface filter intakes to reduce the growth of marine organisms that can clog the filters.
Next, Chloropac concentric tubular electrodes (CTE) generate sodium hypochlorite from the natural salinity in sea water which eliminates the need to purchase biocides and store or replenish them onboard. The SeaCURE system also features low energy requirements and low maintenance costs due to the self-cleaning feature of the CTE technology. Proprietary control logic monitors the biocide dose level necessary to provide the required efficacy depending on ballast water conditions. Chloropac electrodes have been proven in more than 2,500 installations worldwide over the past 40 years.
The efficacy of the SeaCURE Ballast Water Management System is in accordance with International Maritime Organization (IMO) Convention D-2 regulations and exceeds the G8 and G9 Guidelines for Approval of Ballast Water Management Systems. In February 2014, the Federal Maritime and Hydrographic Agency of Germany (Bundesamt für Seeschifffahrt und Hydrographie- BSH) granted type approval for the SeaCURE system which concludes the international approval process that began with the basic approval and then final approval granted by the IMO in 2012.
BMT SMART showcased its performance monitoring portfolio at Posidonia 2014. The SMART suite of services works by collecting vessel performance data and presenting key information to the crew via the ship's computer displays.
Real-time performance data is automatically relayed ashore where it is stored on secure servers, and merged with weather readings; while a web platform enables easy management and analysis.
A ship's energy consumption depends on a number of different parameters and identifying optimal vessel performance requires knowhow and the use of smart data.

Other notable news from Posidonia included:
• PPG launched SIGMAGLIDE 1290, a 100% silicone binder fouling release system that it said uses dynamic surface regeneration technology to eliminate slime problems and increase fuel savings compared to existing fouling release products. "Over the last two decades we have received many spontaneous confirmations from customers of fuel savings in values ranging between 3–13% delivered by our SIGMAGLIDE fouling release products," said Sijmen Visser, PPG's Global Marketing Manager Marine.
• Globecomm Maritime showcased the latest additions to its range of connectivity management solutions including Nimbus, a scalable platform solution for managing and simplifying ship and shore-based communications, enabling users to choose the applications and levels of user control that suit them best. Key Nimbus functionality includes acceleration, compression and caching for improved web browsing, a built-in email server enabling use of any email client and embedded PayPal for prepay crew access.
• Marlink highlighted improvements to its VSAT service plans and how the all new WaveCall Plus services can support the transport market to improve operations and crew welfare through better IP connectivity at Posidonia 2014. WaveCall Plus services are based on an extensive global VSAT coverage and come fully integrated with unlimited MSS back-up to provide a truly global connectivity service. Included in all WaveCall Plus packages, the XChange communications management platform from Airbus Defence and Space provides centralized VoIP, data and Internet access, and handles automatic fallback switching from MSS. XChange also supports Internet Cafés on board and enables the unique Bring Your Own Device solution, where crew can use their own smart phones and tablets on board for full privacy and convenience.
• Greek shipowner W Marine Inc. ordered a series of post-Panamax bulk carriers based on the Green Dolphin 84S design. The design was developed by the Shanghai Merchant Ship Design & Research Institute (SDARI) with support from DNV GL. The Green Dolphin 84S is the third design in the Green Dolphin series of bulk carriers designed by SDARI, with assistance from DNV GL in the development process. The shallow draft design is able to lift larger cargo lots on a shallower draft which, combined with a fuel efficient design, makes it more efficient in a highly competitive market, DNV GL said.
(As published in the July 2014 edition of Maritime Reporter & Engineering News - http://magazines.marinelink.com/Magazines/MaritimeReporter)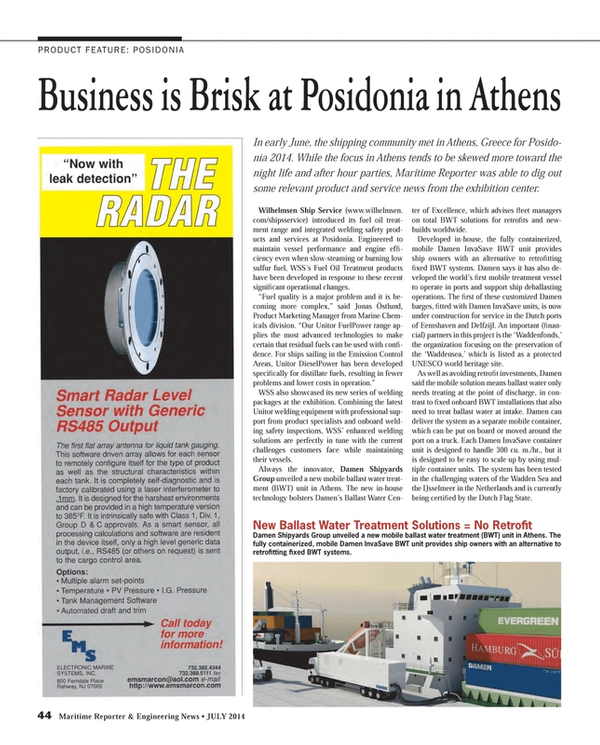 Read Business is Brisk at Posidonia in Athens in Pdf, Flash or Html5 edition of July 2014 Maritime Reporter
Other stories from July 2014 issue
Content