Interview: Roberto Cazzulo Talks Class Trends
By Greg Trauthwein, Editor
As Roberto P. Cazzulo, RINA, steps down as the Chairman of the IACS Council, Maritime Reporter caught up with him to discuss the current state and future direction of global class.

Given your experience, aside from the creation of IACS, what has been the most important change to the way in which "class" has conducted its business in the past 20 years?

In my view, it is the Quality System Certification Scheme (QSCS) adopted by IACS in 1991. Quality is a pillar for IACS. The scheme adopted by IACS is based on ISO standards but substantially modified to take into account the specific job carried out by classification societies. Developing and putting in place a substantial scheme such as QSCS has not been a small undertaking.
The scheme has been 25 years in the making and it continues to be dynamic, evolving and serving the industry well. The scheme includes the verification that classification societies actually apply the set of technical and procedural requirements that represent the result of IACS' activities since its foundation, in 1968. Without the QSCS initial and periodic audits there would be no feedback about the effective implementation of these requirements.
The changes in 2011 made the QSCS available also to classification societies which are not members of IACS, assessed by independent certification bodies.
Consolidation within the classification society world has brought together great strengths, but also centered power and influence in fewer organizations. From the IACS perspective, what are the positives for the maritime industry? What are some potential drawbacks? Do you see the potential and / or need for future consolidation?

The consolidation of two classification societies founding members of IACS, DNV GL, has not changed our way of working. It has not created a monopoly or lack of competition among classification societies, which remains very high, as well as cooperation between classification societies within IACS, which remains very high too.
Just think about the amount of work and time (more than 10 years) required for developing the common structural rules for oil tankers and bulk carriers, intended to comply with the IMO Goal-Based Standards. From IACS perspective, it is important that classification societies keep their capability to invest in research and rule development, and consolidate these efforts, in a collaborative way, whenever there is an identified need and priority to develop rules, regulations and standards applicable by the whole industry.
All of class is obviously global in scope, and just as obviously there are perpetual global "tensions" that could conceivably impact the important role that class does on a daily basis. Looking at the global geo-political picture today, where do you see "hotspots" or areas of concern for your members?

Class is global in scope. It has to think global, about international rules and regulations applied to ships trading worldwide, and to act local, in any port or yard around the world. Classification societies had to expand their international network, establishing regional offices, technical and operational centers, with exclusive personnel, worldwide. The center of gravity today is in the Far East, due to shipbuilding in Japan, South Korea, China, Vietnam, Indonesia, as well as shipping mainly to and from China. The role of class is to maintain its own standards regardless of the country in which we operate. It is a challenge. From this point of view, there are less areas of concerns today than when the market was really very good but perhaps too dynamic. Let's think about shipbuilding when new ship demand was very high, raising questions about quality of shipbuilding in some parts of the world for newly established shipyards. Nowadays the market is mature and all stakeholders pay a lot of attention to the quality of shipbuilding, facilitating our job.

The role of classification societies has evolved. In your estimation, what has been the biggest evolution of class in the past five years? What is next?

Classification societies are continuously evolving. The job is never the same even if you apparently do the same job for more than 30 years, like myself. Classification societies have evolved to become global providers of testing, inspection and certification services. However, classification (for ships, offshore platforms and supply vessels, fishing vessels, pleasure craft and other marine units) remains a very peculiar business, quite special with respect to other industries. It has to verify compliance with rules and regulations during plan approval, surveillance during construction, periodic and occasional surveys, as well as a lot of efforts for continually developing these rules, based more and more on first principles, goals and functional requirements. This will help class, industry and regulators to assess safety, environmental, cost and benefit implications, during rule development, in a more systematic and transparent way.

What is the biggest development for so-called IACS quality classification societies in the past year? Are there any game changers looking large in the center porthole?

As said before, classification is a very serious and important job, requiring competence and experience over the whole ship life cycle. Some other players may wish to enter the classification business and some other classification societies may wish to join IACS. This is allowed, of course, but it is important that it is based on quality performance. The level of quality of the fleet classed should be monitored by key performance indicators, for instance based on Port State Control detentions and deficiencies and other internal monitoring schemes, in order to keep charterers and insurers confident on class.

As technology onboard ships quickly catches up with shoreside capabilities specifically the use of communication and software technologies to help maintain, monitor and even control shipboard systems – how is this evolution impacting the work and role of class?

Ships are a concentrate of technology and integrated systems. Most of these systems are nowadays run by computers. This has changed the man-machine interface quite dramatically. You can touch on a screen to operate any piece of equipment on board. Through the use of modern communication and software technologies, one could have real time monitoring of what is happening on board also ashore. For instance, more and more ships are equipped with real time monitoring systems which could measure ship energy efficiency and transmit this information ashore. Another important development is the so called e-window. It is a way to transmit certificates, forms, reports when ships arrive in ports to various authorities, without any need to take care about formal aspects, such as different forms required by different authorities in different ports. Information trustworthiness is important. Classification societies already allow access to ship information, certificates and survey outcomes to many interested stakeholders. Software technologies and internet communication will definitely impact on the work of class such as all the other stakeholders. Class may of course benefit from the e-window exchange of information too. For instance, planned maintenance and repair data, electronic logbooks, incident and failure data, ship energy efficiency and emission monitoring data etc.

Looking at technology in the whole, what technology over the past decade has made the job of class easier / more efficient / more effective, and why?

Information technology. Class survey reports, certificates, rules, instructions, procedures are available in any part of the world by simple access via internet to each classification society's live databases. This makes our job easier, for instance when planning class surveys, looking at previous survey reports and gathering information relating to plan approval and survey activities. E-learning has benefited from information technology too. The work within IACS has dramatically changed. Every day hundreds of e-mail messages are exchanged among various working groups. It was very different just twenty years ago, when most decisions were taken at meetings or by correspondence.

What technology has made the job of class more difficult, and why?

Information technology. The amount of information accessible via internet and vis-a-vis all interested parties is huge. This creates a sort of information inflation and the most important information due to this noise might be overlooked. It is a problem for anybody today. It is very delicate for all people running ships or looking at ships, such as class. For instance, surveyors are required to look at hundreds and hundreds of thickness measurements. They may miss hot spots, which often come out from experience rather than thousands of gaugings.

We understand that ship technology does not evolve in a vacuum, and the recent history of the container shipping sector with economic factors driving real and significant technological change (ie. slow and ultra slow steaming and all of the accompanying changes to ship and machinery) serves as an example. But looking ahead, what do you consider to be the most significant technological changes in our industry being discussed / adopted today that will have the most dramatic impact on shipping in the next decade?

Environmental regulations, such as NOx Tier III, SOx 0.1% in ECA and 0.5% global and GHG EEDI phase 3 that are foreseen in the incoming years (2015-2020-2025), are requiring deep changes in ship design and use of innovative technologies.
Probably slow or extra slow steaming has been the easiest solution in the short term, fitting a depressed market, but in the long term it cannot be the answer. In the future the market may again require full speed steaming and what will happen to ships now built with minimum propulsion power? The power installed may perhaps be even lower than that required for maneuvering in heavy weather conditions, which is a serious safety issue. We need to look ahead, project ourselves to the future, look at innovative designs and technologies, such as alternative means of propulsion, alternative fuels, multi-hull platforms, other means for transferring cargo on board e.g. by transshipment, etc.
However, technologies do not evolve in a vacuum and ships cannot be seen in isolation. The use of LNG as alternative fuel is an example of where shipping has to be part of a larger chain of changes.

LNG as fuel continues to pick up support. Looking at the looming emission and fuel regulations to and through 2020, please comment on how you see "LNG as Fuel" evolving in the coming six years?

LNG could become a viable alternative in particular for short sea, coastal shipping and inland navigation. There are many projects coming out and IACS is actively participating to the development of the IMO IGF Code. The promise is to cut NOx, SOx and PM emissions, as give a certain percentage of reduction to GHG emissions too. Bi-fuel engines may provide the necessary flexibility to switch from traditional fuel to LNG when navigating in ECA or coastal waters. However, LNG requires a lot of technology and infrastructure facilities ashore. Not all countries are nowadays prepared to accept LNG fuelled ships and this put questions in the short term evolution of LNG to become the ship fuel of the future. It is an industry sustainability issue rather than ships alone issue.

The lines of demarcation between 'Class' and the regulatory community that they help serve, are becoming blurred. Classification Societies now routinely perform many tasks heretofore the exclusive domain of the flag state and the Coast Guard. As this practice widens, how do you maintain your objectivity and more importantly, who is checking now to make sure the job is being done correctly? Are there checks and balances still in place? If so, how?

Classification societies can carry out work delegated by flag States that falls within their field of expertise. But such a delegation of activities is not a delegation of responsibilities. Classification societies are subject each year to a number of audits for their own work, regularly scrutinized for tasks carried out on behalf of flag States, first of all by the flag Administrations themselves then by port States, for the European Recognized Organizations (that in fact are all IACS Members plus currently one, RINAVE, which although not an IACS member has been subsumed by BV which is) by the European Maritime Safety Agency and in the U.S. by the Coast Guard. The USCG plays a very important role both as port and flag State to assess the quality performance of classification societies. A representative of the US Coast Guard, John Hannon, is presently chairman of the IACS Quality Advisory Committee. In this role, he has the opportunity to observe audits carried out on the QSCS applied by all IACS Members and possible applicants. The Advisory Committee uses feedback from these audits and other information gathered from flag Administrations, port States and industry, to recommend IACS adopt measures for continual improvement of the QSCS requirements.

Are there roles that Class should not take on?

Class should not take on responsibilities from other interested parties and they do not wish to do it. For instance, class does not wish to replace shipowners' responsibilities for operation and maintenance of ships. Nor does class intend to replace shipbuilders' and manufacturers' responsibilities for ship design and construction. Class has an independent role to play, on behalf of insurers, charterers, flag and port States, to assess ship compliance with given rules and regulations. This does not prevent class and even invites class to follow the whole ship life cycle, including technical advice during the development of rules and regulations, design review and plan approval, surveillance during construction, type approval and testing, periodic and occasional surveys, and any studies or assessments that may be conducted for these purposes. The use of new technologies, development of new designs, improvement of ship energy efficiency and attention to the environment, towards zero-emissions, requires deep involvement by all parties and their best competences put at disposal of the shipping industry.
It is what classification societies and IACS aim to do.

(As published in the July 2014 edition of Maritime Reporter & Engineering News - http://magazines.marinelink.com/Magazines/MaritimeReporter)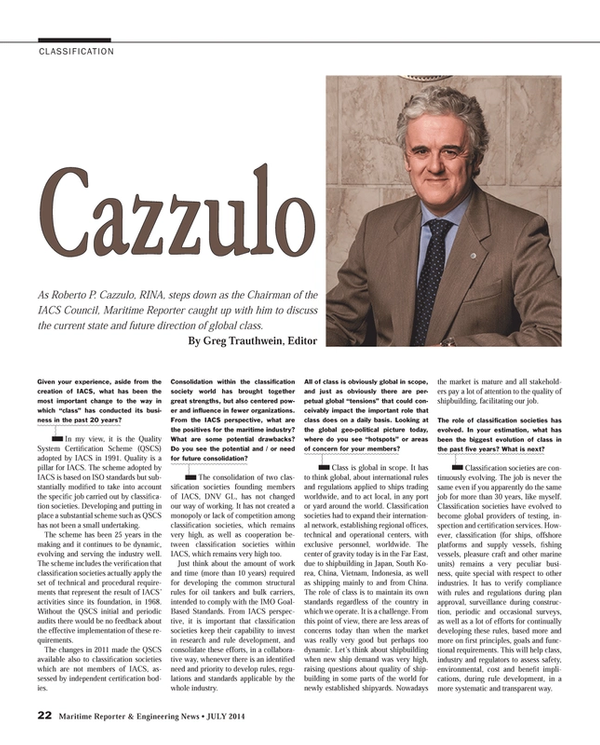 Read Interview: Roberto Cazzulo Talks Class Trends in Pdf, Flash or Html5 edition of July 2014 Maritime Reporter
Other stories from July 2014 issue
Content