FLNG Prelude: A New Dawn in the Age of Maritime & Energy
By Patricia Keefe
Longer than four football fields, as big as six Nimitz-class aircraft carriers and almost as tall as the Taipei 101 skyscraper, Royal Dutch Shell PLC is hoping that its record-setting, game-changing floating liquid natural gas (FLNG) facility will serve as a prelude to a killing in the offshore LNG market.
It's not alone. Many industry observers believe FLNG will do for gas offshore what fracking has done for shale or natural gas trapped in the ground on shore.
"This is revolutionary technology …[that]… has the potential to change the way we produce natural gas," said Neil Gilmour, Vice President of Development-Integrated Gas, Shell International. While LNG has been around since the early 60s, Shell's concept will take it a step further by taking the gas out of the pipes and moving the LNG processing out to sea.
Aptly named Prelude, at 488 meters long, 74 meters wide, and clocking in at 600,000 tonnes when fully ballasted, the FLNG facility, which is under construction at the Samsung Heavy Industries shipyard in South Korea, will be the largest object ever floated on the ocean. Designed to last 50 years, withstand level 5 cyclone winds and liquefy gas to minus 162 degrees Celsius, the estimated $13 billion "shipzilla" will enable Shell to produce, liquefy, store, and offload natural gas from a single vessel. The cost-saving and environmental implications are almost as staggering as the facility itself.
It is scheduled to go into service in 2017, spending the next 25 years tapping the Prelude and Concerto gas fields in the Caswell sub-basin of the northern Browse Basin, about 200 kilometers off the coast of Broome, Western Australia. Once in place, it is expected to produce 3.6 MMt/a of LNG, 0.4 MMt/a of LPG and 1.3 MMt/a of gas condensate annually, enough gas to fuel Hong Kong for a year. Once it drains those fields, it will head to dry dock for repairs and updates before moving on, likely to the Concerto, Crux and Libra fields.
The basic idea driving this mix of new and old technologies is simple: Some if by land, way more – way cheaper – if by sea.
If successful, Shell's FLNG is expected to have a significant impact on reducing the cost, environmental impact and political risk associated with standard offshore gas exploration. This would be hugely timely for both Shell, which produced more gas than oil for the first time in 2012, and for the burgeoning demand for gas worldwide.
Hence, FLNG pre-launch is being lionized as a game-changer. Some observers scoff at the idea of using a hugely expensive facility to extract gas from small fields. But one of the beauties of FLNG facilities is that they are mobile and can flit from gas field to gas field, servicing one or many wells at the same time, while pipelines to onshore processing plants are essential tied to one field. Once its targeted field is sucked dry – the expensive pipeline has no further use. The plant can still receive LNG for processing, of course, but at that point it's coming in on tankers from various distances and the facility will have to be able to accommodate those ships and the necessary offloading process.
There are a number of factors driving LNG demand right now, including :
• Climate change, which has energy producers and customers alike seeking to reduce their carbon footprints in order to meet emissions standards. (Natural gas is the cleanest-burning fuel available.)
• Growing middle classes in India and China, two of the largest and increasingly energy-hungry markets in the world.
• Japan's desire to minimize its reliance on nuclear energy.
• Market factors: Natural gas is expected to be almost four times cheaper than oil through 2040, according to the US. Energy Information Administration's "Annual Energy Outlook 2013."
Knowing where the gas is, and getting to it, however, are two different things. There are many so called "stranded" deep water gas reserves that have been considered either too small in terms of likely productivity or too far out, to tap into in an economical manner. According to Gilmour, there are a lot of such undeveloped gas reserves out in the deep blue, of which he estimates that so far, several hundred trillion cubic feet have been found.
Currently, extracting gas from offshore gas fields requires expensive pipeline systems and cost-overrun- prone onshore processing plants. Increasingly, development onshore is not being seen as an economical option.
"There is always so much talk about these big LNG [shore] projects around the world, but only a small fraction of them will get built," said Matthias Bichsel, Royal Dutch Shell's director of projects and technology, in an interview with Reuters.
Instead, if Prelude is successful, FLNG plants will get the nod instead. Among the numerous factors driving LNG processing offshore, include:
• Geopolitical instability – FLNG plants can shield producers from a lack of shore-based infrastructure, civil unrest and terrorist activity.
• Reduced environmental impact on fragile coast lines and reef ecosystems by avoiding the need for dredging, jetties and the laying of pipelines. FLNG plants would also reduce the risk of interfering with aquatic life and migration patterns.
• Significant savings by eliminating the need for purchasing land and its attendant permitting processes and infrastructure requirements, and installing pipelines, compression platforms, jetties and onshore infrastructure, as well as from the resulting increased efficiency, and lower production, transportation and delivery costs.
• "Immunity" to onshore cost inflations that can leave FLNG platforms as much as 30% cheaper, according to Shell. This despite estimates by a McKinsey & Co. in its "Extending the LNG boom: Improving Australian LNG productivity and competitiveness" report, that says LNG projects in Australia were now 20% to 30% more expensive than competitors in emerging regions such as North America and East Africa.
Factors such as geographical proximity, slowing oil production rates, technological advancement, abundant supply and unprecedented demand growth in Asia point towards a locus of FLNG development in Australian waters, according to Murray Dormer, an analyst with Douglas-Westwood.
"Shell FLNG can help develop resources earlier and faster, and extends our exploration reach," enthused Gilmour in remarks last year. "It can be a cheaper, and development risk-reduced way to monetize single gas fields, a cluster of smaller fields or a large field with multiple facilities, as the FLNG facility can be redeployed at the end of field life to another gas field."
For those reasons, Douglas-Westwood expects the market for construction of FLNG vessels to increase from $3.7B in the period 2007-2013 to $64.4B over 2014-2020, according to its report, "World FLNG Forecast."
Which is why Shell and its competitors are willing to bear the huge upfront costs of building FLNG plants. Shell, for ex., has over1.6 million man hours invested in the front end engineering and design phases of the project. After first announcing the concept in 2009, after a decade of research and many design steps, the completed Prelude Hull took its maiden voyage Nov. 30, 2013, to another part of the shipyard, where more components will be installed.
If You Build It They will Follow
As its name implies, the Prelude won't be alone for long. Nor will it remain the world's largest floating offshore facility. There are at least three other similar projects following in its wake. One of these, from Exxon, and others in the planning stages at Shell, will pump up the size equation even more.
Bruce Steenson, Shell's general manager of integrated gas programs and innovation, has been widely quoted as confirming that Shell is working on an even larger design. "That next one will be off the rails," he told Reuters.
Competitors include:
• Exxon Mobil may beat Shell to it. Exxon in partnership with BHP Billiton is looking to install what would be the world's largest FLNG - a 495 meters (1,624 feet) long facility - in its Scarborough gas field off the Australian coast. Design specs call for it to produce an estimated 6 million to 7 million mt/year of LNG from five trains, and to hold 10 storage tanks with a capacity of 380,000 cubic meters.
• Malaysia's PETRONAS plans to launch an FLNG plant in 2015, and has already announced plans for a second FLNG plant. It's PFLNG 1 is expected to be the first such facility in operation, beating Prelude by two years. It will be 365 meters long, about 60 meters wide, weigh approximately 125,000t when fully loaded and is expected to produce 1.5 million tonnes of LNG per year.
• GDF Suez of France and Santos, which are looking to put an FLNG plant in the the Bonaparte project off northern Australia.


No Pain, No Gain
Before Shell can hope to reap FLNG's many anticipated advantages, it must first surmount some very big challenges, not the least of which is force-fitting an entire LNG processing plant onto what some have likened as a "barge" in the middle of the ocean.
Shell had to find a way to adapt its shore-based technology for a much smaller, floating platform. This was solved in part by stacking components on deck vertically to save space.
A related solution kills two birds with one stone. Shell plans to eliminate the need for some components on deck by extending eight 1-metre-diameter pipes to a depth of 150 meters, in order to pump frigid seawater up to help cool the gas – 50 million liters (50,000 cubic meters an hour.
Safety is a huge big concern on multiple fronts, and Shell executives have stressed that Prelude's design centered on minimizing risk. Its environmental approval requires it to have a oil spill contingency plan for a potential uncontained spill that would last 11 weeks, as well as a monitoring plan in the event of a spill, to determine the impact on ecosystems. The design addresses other risks.
First, gas is explosive. Shell will deal with this in part by using inert (non-flammable) gases in its processes, by separating each of the modules a set distance apart to limit chain reactions in the event of an incident, and by putting the accommodations on the opposite end of the ship away from the turret where gas is brought in.
Once the processing plant moves offshore, "sloshing," which creates a force that can significantly damage the walls of the storage tanks, becomes a major concern. Since the tanks aren't always full, and the ship is always moving up and down in the water, sloshing can be a constant concern. Shell is addressing this via a special membrane LNG tank designed to help predict, and help endure, the force of sloshing.
Movement also comes into play when trying to transfer the liquefied gas into an LNG carrier tank. To aid offloading there are three 6,700hp thrusters, which can adjust the position of the FLNG in relation to the carrier.
Shell also had to marinise process equipment such as absorption columns and the main cryogenic heat exchangers to ensure their operation under marine conditions, and ability to accommodate movement in the structure.
And there's the fact that Prelude will be sitting out in the middle of nowhere in cyclone alley central. Shell has no intentions of untethering the facility every time a bad wind blows and towing it to shore. Instead, a number of factors are supposed to ensure that Prelude sits tight in savage seas. First there is its sheer size and weight. But more important, Gilmour claims Prelude's mooring system can stay on station even in the face of a category 5 hurricane.
Four groups of mooring lines will be attached to the world's largest (93 meters) mooring turret on one end, anchoring the facility, via connections to suction pile anchors, to the ocean floor on the other. The swiveling turret turns slowly with the wind, reducing the impact of water and weather conditions. The links in the record-setting mooring chains are said to be large enough to stand inside of .
Meanwhile, the offloading of LNG onto an LNG carrier required the design of a special loading arm system with swivel joints and quick connect/disconnect flanges, capable of offloading both LNG and LPG.

How It Works
The Prelude plant will include 7 wells, four flow lines approximately 4 km in length, umbilicals and flexible risers, as well as the FLNG facility. The management of subsea wells and manifolds is carried out via the umbilicals, which are connected to a control rom. The plant itself is comprised of liquefaction units, production storage (with capacity of 436,000 cubic meters of LNG, plus LPG condensate) and loading facilities, utility systems, control room, maintenance facilities and accommodation.
It will sit on top of the gas field where a series of wells will feed gas and condensate from the reservoirs via four flexible risers into the facility that will draw gas up into the turret for processing. Next, the LNG has to be separated from a mix that included condensate, LPG, water and CO2. After which the LNG will be liquefied, using Shell's Dual Mixed Refrigerant (DMR) process, which uses steam-driven refrigerant compressors and ultra-cold seawater to chill the gas to –162°C, shrinking the volume by 600 times. Stored in tanks in the hull with an overall capacity of over 430 million liters (114 million US gal), it will be transferred by special loading cryogenic arms to tankers moored next to the facility.
A key feature of Shell's FLNG design will be its flexibility. It will be able to process a wide range of gas compositions, accommodate a wide range of sub-sea configurations, offer multiple solutions for hydrate management, export LPG as well as LNG, and will use a dual-mixed refrigerant liquefaction cycle.
The FLNG facility to be used for Prelude is generic in design, following Shell's "design one, build many" approach, meaning that the facility can be easily replicated for other projects, and more importantly, customized for different gas field conditions and contents.
Although Shell like to say it has innovated using tried and true techn0ology, in fact, the FLNG concept remains untested. Certainly the market can look to the FSOP sector to get an idea of the process, but for the most part, Shell's competitors and partners will be watching closely to see how closely Prelude hews to budget and hype. If all goes to plan, however, the FLNG market is set to explode.

(As published in the July 2014 edition of Maritime Reporter & Engineering News - http://magazines.marinelink.com/Magazines/MaritimeReporter)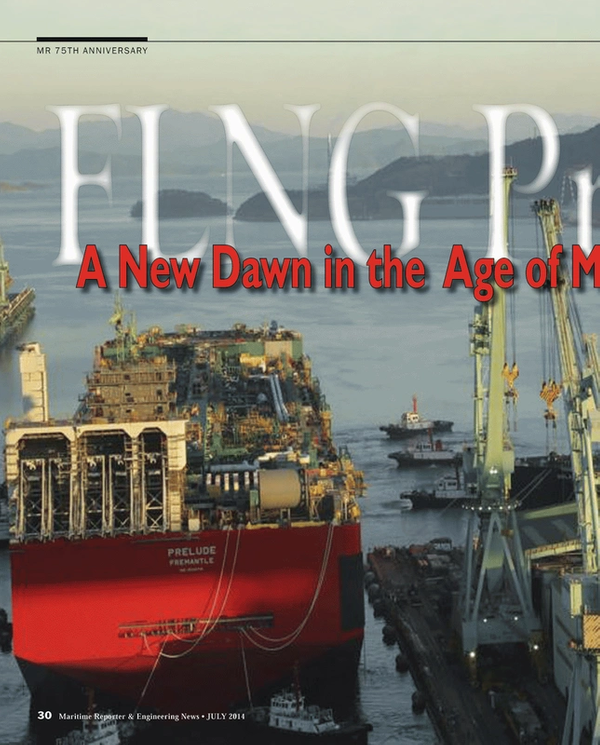 Read FLNG Prelude: A New Dawn in the Age of Maritime & Energy in Pdf, Flash or Html5 edition of July 2014 Maritime Reporter
Other stories from July 2014 issue
Content