Private Equity Drives New Ship Buys
By Greg Trauthwein
Ship Registries are an excellent bellwether of industry health and trends, and when Maritime Reporter & Engineering News sought answers to some topical questions, it went to two of the top organizations in the world, speicifically Theo Xenakoudis, Worldwide Business Operations Officer, International Registries, Inc. & Christian Mollitor, Vice-President, Liberian Registry/LISCR, LLC.

Give a brief description of the market you serve.

TX Greek shipowners have historically been very supportive of the RMI flag. Today Greek shipowners represent nearly 25 million gross tons of the RMI fleet. They are the largest group of owners in the Registry, followed by U.S. and German owners. According to a recent paper published by the Greek Shipping Cooperation Committee, the RMI Registry gained approximately half of the vessels purchased by Greek owners and more than 40% of the gross tonnage added to the Greek fleet in 2013. That same paper shows that 16% of Greek owned vessels fly the RMI flag and the RMI flag is the fastest growing in the market. Greek shipowners invested around $13 billion in 2013, and already $5 billion in Q1 2014 for newbuilding tonnage according to a report by The TOC.

CM The Liberian Registry is one of the world's largest and most active shipping registers, serving quality ships engaged in international trade. Liberia recently surpassed all-time tonnage records and the registry continues to grow. The fleet now stands at approximately 4,000 ships, aggregating 136m gt and more than 207m dwt.

What has been the trend or market condition that has most affected business in the past year?

CM Owners are ordering ships again, and there is a great deal of private equity funding entering the market, in the U.S. and elsewhere, which is filling the shortfall created by a reduction in traditional bank finance for shipping. Liberia has the second-highest share based on market capitalization of shipping companies listed on the U.S. stock exchange, behind only the U.S. We expect that the use of private equity capital will continue to fund newbuilding and secondhand ship purchases throughout 2015 and 2016.

TX Our business is to register ships, while at the same time ensuring that vessels under the RMI flag are in compliance with national and international rules and requirements. If you look at RMI registrations within the last five years, it is clear that more than 60% of the vessels registered were newbuildings. A report published in the fall of 2013 which was based on the Korean Shipyards' orderbook showed that the RMI flag was the second largest flag represented. It is anticipated that the average age of the fleet will continue to stay below ten years of age based on the known orderbook.
One area that really began to change as early as 2012 was the activity of private equity funds and their investment into shipping. This has resulted in a number of acquisitions that entered the RMI fleet. This trend has continued into 2014.

Considering the legislative and financial considerations, what do you consider to be the biggest challenge to your business in the coming few years?

TX One of the major challenges that all flag State administrations face today is the proliferation of regulation. Flag States must employ people with the knowledge, experience and capacity to ensure that their flagged vessels operate in accordance with international rules and regulations. Furthermore, Flag States must be adequately and effectively represented at the International Maritime Organization (IMO), where all international conventions and regulations are introduced. The RMI has a strong IMO delegation including a permanent representative. The delegation liaises with industry stakeholders and receives appropriate feedback from owners, operators and other Marshall Islands Quality Council (MIQC) members and its advisory groups. Another major challenge is providing support and assistance to owners and operators that have suffered due to market conditions. Balancing commercial responsibility with regulation is absolutely essential to ensure proper maintenance and safe operation of ships, despite a decrease in vessel earnings. Having surpassed 100 million gross tons earlier this year, one of the challenges we face is managing our fleet growth while maintaining the same level of quality, reputation and service.

CM In shipping, as in other industries, innovative companies can turn challenge into opportunity. An example of that can be seen in the Liberian Registry's response to continual pressure exerted on German shipowners by their national association (VDR) to register 30 percent of their fleets under an EU flag. Most German owners prefer the Liberian flag, and a large percentage of the Liberian fleet is linked to German owners. So, as part of its commitment to supporting its clients in all circumstances, YCF Maritime, the parent organization of LISCR, LLC, has created a Luxembourg-resident sister organization - EuroFlag Services S.à.r.L - to carry out ship registration and management services for shipowners seeking to register vessels under the Luxembourg flag.

This option allows owners the status of having an EU flag, while still retaining LISCR's service, expertise and technical know-how.
How has your organization invested recently?

TX As mentioned above, one of our recent challenges is managing fleet growth while maintaining the same level of quality, reputation and service. While the RMI Registry's robust network of offices, the largest among any registry, allow for service 24 hours a day, seven days a week, we are always keenly aware of enhancing and leveraging technology so we are able to maintain, and if possible, improve service overall. The RMI Registry first decentralized its registration services, and since has decentralized all aspects including regulatory affairs, technical, marine safety and seafarer's identification to worldwide offices. This was done through an electronic platform and database that keeps all of the offices interconnected. Since we live in an age of constant technological change, it is imperative that we review and monitor the technology we utilize and make updates as quickly as possible to ensure all worldwide offices are able to operate in a timely fashion, and where possible, provide clients with better access to information. One of the most recent initiatives is to further decentralize the production of Officer Certificates (OCs) and Seafarer Identification and Record Books (SIRBs). While all offices are able to accept documentation and issue a Certificate of Receipt of Application (CRA), only the Reston, Piraeus, Hong Kong, Ft. Lauderdale and Mumbai offices are able to issue OCs and SIRBs. It is anticipated that the London office, in the fall of this year, will also be able to issue OCs and SIRBs.
CM: Recent investments to enhance our services and expertise can be seen in a number of recent initiatives:
• Harmonized Audit Program. Liberia is the only flag state that provides shipowners with the option of harmonized audits, combining vessel certification for the ISM and ISPS Codes and the annual safety inspection into a single visit, with important cost and time savings for owners and operators. It eliminates the need for engaging three different auditors.
• Detention Prevention Program. This is to screen advance notice of ship arrivals as part of a detention prevention plan. The objective is to maintain and strengthen the already excellent safety record of the Liberian flag, and to further reduce detention rates, especially in Australia, China, the EU and the U.S.
• Maritime Labor Convention 2006 Compliance. Ninety-seven percent of qualifying Liberian-flag ships had achieved successful Maritime Labor Convention 2006 compliance just weeks after the convention entered into force. The Liberian-flag fleet is the second largest in the world and includes 3,173 ships to which MLC 2006 applies. Liberia was the first flag state to ratify MLC 2006, and one of the first to adopt in-house measures to anticipate implementation of the convention.
• Maritime Labour Complaint Resolution Form. This is for seafarers prior to the entry into force of MLC 2006. Liberia is committed to ensuring that seafarers who serve on Liberian-flag ships have decent working and living conditions, a safe and secure workplace and fair employment. Seafarers are encouraged to use the ship's onboard complaint procedures to resolve complaints at the earliest possible opportunity in accordance with MLC 2006. However, in the event that a complaint is unable to be resolved on board, Liberia has provided the online Maritime Labor Complaint Resolution Form (accessible from the homepage of the registry's website at www.liscr.com) to help seafarers resolve all genuine and valid complaints.
• The Liberian Registry App. A mobile application to enable owners, managers and operators to communicate and interact with the registry. The FlagState App builds on Liberia's commitment to provide innovative technology and services to owners and managers worldwide. From an iPhone, iPad or an android device, users can read up-to-the-minute news and developments; access a comprehensive Global Maritime Events Calendar and, with the click of a button, add events to their calendar and share upcoming events; verify the authenticity of certificates and documents for Liberian-flagged ships; search Liberia's global network of inspectors and ISM/ISPS/MLC auditors; validate seafarer credentials; submit an MLC Complaint Resolution Form; track the daily vessel positions on an interactive world map of all Liberian-flagged ships; browse photos of Liberia's quality fleet; and access the registry's Facebook, Twitter and LinkedIn profiles. Available for download in both the Google Play (http://bit.ly/NQnwgV) and Apple's iTunes App Stores (http://bit.ly/1q0gKnS).

(As published in the July 2014 edition of Maritime Reporter & Engineering News - http://magazines.marinelink.com/Magazines/MaritimeReporter)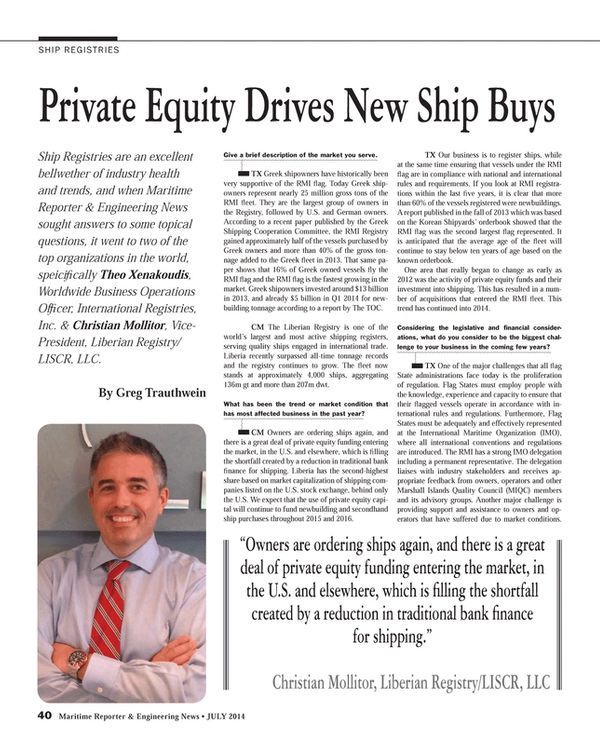 Read Private Equity Drives New Ship Buys in Pdf, Flash or Html5 edition of July 2014 Maritime Reporter
Other stories from July 2014 issue
Content