OUTSTANDING OFFSHORE/SHALLOW-DRAFT VESSELS OF 1983
A portfolio of the most important offshore and shallow draft vessels constructed during 1983 . . .
selected because of unusual and superior characteristics of design, purpose or performance.
ACTINIA Hitachi Zosen The semi-submersible offshore drilling rig Actinia was delivered in 1983 to Actinia Shipping Corporation by the Ariake yard of Hitachi Zosen. The rig is Hitachi's SS-4000 type, based on an original design of Friede and Goldman of New Orleans. The unit is 270 feet long, 200 feet wide, 116 feet high, and has a variable deck load of 3,200 metric tons.
The Actinia is capable of operating in water up to 1,500 feet deep and of drilling to a maximum depth of 25,000 feet. It is designed to withstand waves up to 100 feet high and winds of up to 100 knots.
An 8-point mooring system keeps the rig in position during drilling; four thrusters provide back-up during adverse weather conditions.
The rig complies fully with the rules and regulations for operation in the U.K. sector of the North Sea.
AIR RIDE EXPRESS Atlantic & Gulf Boat Building Built under subcontract from Air Ride Marine, Inc. of Miami by Atlantic & Gulf Boat Building, Inc. of Port Everglades, Fla., the 65-foot crew/supply boat Air Ride Express entered service in mid- 1983. The new vessel, which is owned by South Florida Offshore Services, Ltd. and operated out of Mobile to the offshore oil industry by Gulf Crew Transport of Pensacola, Fla., is a surface effect ship (SES) built to the proprietary Air Ride design that features a shallow pressurized air chamber under the hull.
Unlike other SES craft, the Air Ride Express has a rigid interconnected structure and requires no flexible seals. Above the waterline it looks similar to a conventional boat. The Air Ride design, which was developed by Air Ride Marine president Donald E. Burg, allows surface effect technology to be utilized at lower construction and maintenance costs.
During sea trials the new vessel, which has a dry weight of 60,000 pounds, operated at 30 knots with a payload of 25,000 pounds including fuel. With a payload of 35,000 pounds, the boat ran at 27 knots. It has operated in following and cross seas up to 10 feet and in head seas of 5 feet at speeds in the 25-knot range with good passenger comfort. It has a capacity for 32 passengers and a two-man crew in air conditioned or heated accommodations.
The cargo deck aft has an area of more than 400 square feet.
Key Power, Inc. of Miami supplied the engines, which include two GM Detroit Diesel 12V71TI diesels for main propulsion and a GM Detroit Diesel 6V53T engine to power the blower system. The main engines turn 34- by 44-inch Columbian propellers through Twin Disc 514 reduction gears having a ratio of 2.5:1. Fuel consumption is about 50 gallons per hour, giving the boat a normal operating range of 750 miles.
The Air Ride Express is the culmination of a three-year research and development effort conducted by Air Ride Marine. The Miami company is currently working on the detailed design for a 50-knot, shallow-draft patrol boat; a 110- foot crew/supply vessel, and a 120- passenger ferry.
BLANCHE V Iowa Marine Shipyard Iowa Marine Shipyard of Keokuk, Iowa, has delivered the towboat Blanche V to Gibbons Marine of Beardstown, 111. She is an IM-60 Class vessel with an overall length of 60 feet, beam of 24 feet, depth of 8 feet and draft of 6 feet. Propulsion is by twin Cummins KTA- 1150-M diesel engines with a total output of 940 bhp at 1,800 rpm.
These drive 64- by 50-inch Kahlenberg stainless steel propellers through Twin Disc MG-518 reduction gears with a 6:1 ratio.
Generators are 30-kw Lima-Mac driven by John Deere 4219 diesels.
Iowa Marine president Tom Edwards says, "One of the things we have always attempted to do is provide equipment that is easily serviceable, and this John Deere engine is an old-line, widely used engine. Parts and service are available in just about every town where there is a John Deere dealer." Steering is an Iowa Marine design, mechanical over hydraulic, full follow-up with each main engine driving a hydraulic gear pump.
There are two steering and four flanking rudders, which give the vessel exceptional handling capabilities.
The pilot house is equipped with a Regency MT-5500, all channel VHF radio, a Raytheon 400 hailerintercom, two Carlisle & Finch incandescent searchlights, and full instrumentation and alarm systems.
Twin Nabrico 20-ton winches are enclosed in the forward deck locker for protection and to provide an unobstructed deck area. A raised deck is fitted to facilitate access to empty barges.
The vessel is equipped with a 12-volt automatic Jabsco bilge pump that discharges to stuffing box drains directly overboard, a Humphrey sanitary system, and a Dayton air compressor. The hull is constructed of %-inch steel plate, with 3A-inch rounded corners and Vfe-inch plate over the stern sections.
The bilge system is designed to allow any compartment on the vessel to be pumped, and allows for discharge overboard, to the slop tank, or to the stern ballast tanks. By utilizing the sea cock, the engine room and the entire exterior of the boat can be washed down.
CHAMPION EXPRESS Leevac Shipyards The offshore supply vessel Champion Express was delivered by Leevac Shipyards of Jennings, La., to Offshore Express, Inc. of Houston. This is the first of two sister vessels ordered from Leevac by the owner, the second being the Diamond Express.
The Champion Express has an overall length of 165 feet, beam of 38 feet, and depth of 13 feet. She is powered by twin GM Detroit Diesel 16V149 engines providing a total of 1,350 bhp at 1,800 rpm.
The engines drive two 74-inch, 4- bladed, Avondale stainless steel propellers through Twin Disc MG 540 reduction gears having a ratio of 6:1.
Two 230-bhp, 8V71 Detroit Diesel engines power the 99-kw General Electric generators. The vessel is equipped with a 200-hp Jastram bow thruster providing a thrust of 4,000 pounds. The steering system is by SSI.
The vessel's capacities include 44,000 gallons of fuel oil, 12,000 gallons of potable water, 132,000 gallons of ballast water, 3,000 cubic feet of dry mud, and 1,500 barrels of liquid mud. The cargo deck area measures 96 by 28 feet. Accommodations are provided for 17 persons.
ARTHUR FOSS Tacoma Boat Building The tractor tug Arthur Foss, final vessel in a series of four built by Tacoma Boat Building Company of Tacoma, Wash., for Foss Launch & Tug Company of Seattle, was commissioned during 1983.
Like the three sister vessels, the 3,900-bhp Arthur Foss features a cycloidal propulsion system that enables it to produce thrust in any direction without changing its heading.
The new boat can move sideways, turn a full circle in very limited space, and come to a complete stop in approximately its own length. The capabilities allow the tug to assist ships and tows in a minimum of time and with maximum safety.
The Arthur Foss has an overall length of 106 feet, beam of 38 feet, and draft of 17 feet 4 inches. Propulsion is provided by twin GM Electro-Motive Division 16-645-E6 diesel engines, each rated 1,950 bhp at 900 rpm. The two Voith- Schneider, vertically oriented cycloidal propellers have a blade orbit diameter of 3,200 mm (126 inches); each of the five blades is 2,006 mm (79 inches) long. The Voith-Schneider units were chosen after an in-depth, 2Vfe year study by Foss. The conceptual design for the tractor tugs was by the Foss design committee; The Glosten Associates of Seattle was the naval architect.
The tug's capacities include 50,550 gallons of fuel oil, 4,500 gallons of lube and hydraulic oil, and 5,400 gallons of fresh water. A crew of six operates the vessel.
EL AUDAZ Bender Shipbuilding Bender Shipbuilding and Repair of Mobile, Ala., has delivered the 225-foot El Audaz, the yard's fourth big tuna purse seiner in a fourboat order for Mexico. Immediately following her outfitting the El Audaz cast off with her sister ship Centauro Del Norte for fishing in the Pacific.
Main propulsion is provided by a medium-speed, Electro-Motive Diesel 20-645-E7 engine producing 3,600 bhp at 900 rpm. Power is transmitted to a 4-bladed, highly skewed Rice propeller through a Falk reduction gear. Main engine controls were supplied by Mathers.
Auxiliary power is provided by three Caterpillar D3408 diesels, each producing 285 kw at 1,800 rpm. The main hydraulic power source is also a Cat D3408, which develops 500 bhp at 2,100 rpm Steering gear is hydraulic, a Wagner LAZ-16-35 furnished by W.E.
Hough.
Four 100-hp Vilter compressors power the ammonia refrigeration system. The bow thruster is a Michigan/Jastram BU60 with a 49-inch propeller, powered by a Detroit 12V71 diesel engine with an output of 400 bhp at 2,100 rpm.
The main hydraulic systems were furnished by Marco. They include the WS 454 Super Seiner II seine winch, 3020 cork line winches, WO 332 brailing winch, and B56A power block. Miscellaneous Gearmatic winches are provided for vanging, topping, choking, and strapping.
Incorporated into the hydraulic system is a Slattery Alaska Marine deck crane on the forward deck and a Morris Whaley ring stripper. Navigation aids include a Sperry 8T autopilot and a Mark 37 gyrocompass.
Electronics, furnished by Honor Marine of San Diego and installed by Sassman Electronics of Mobile, include two Furuno FR1011 radars, Whelen strobe light, Furuno FE8130F echosounder, Taiyo ADF, Furuno VHF/ADF, Navidyne ESZP-3000 satellite navigation, Hull 2320A radiotelephone, Morrow SSB radio, Hull 922R/5 radio, Raytheon VHF radiotelephone system, Honor Marine public address system, Furuno FAX143 facsimile recorder, Bear Cat 300 scanning receiver, Sea Temp seawater temperature monitor, and Telcor windspeed indicator. A Krupp-Atlas sonar model 950 was also included in the electronics package.
Other equipment includes Crane Deming pumps, Buffalo Forge fans, Red Fox sewage treatment system, Westphalia (Centrico) centrifuges, Quincy air compressors, Argur alarm systems, Ansul engine room Halon fire suppression system, Cutler Hammer controllers, Waukesha stern bearings and seals, Hose McCann navigation light systems, International Paint coating systems, Engelhard Chloropacs, Everpure chlorinators, and Micros fresh water distillers.
The Bender-built tuna seiners have steel hulls and pilot houses of aluminum, reinforced for helicopter landings. Each boat is capable of carrying 1,200 tons of fish, 85,000/200,000 gallons of fuel, and 8,500 gallons of fresh water at a speed of 16 knots.
AMIR EXPRESS Master Boat Builders Saudi Tug Services, a joint venture company of McAllister Towing and Transportation and Olayan Financing Company, has taken delivery of four offshore supply vessels built by Master Boat Builders, Inc. of Bayou LaBatre, Ala.
The four new vessels—Amir Express, Khalifah Express, Malik Express, and Sultan Express—are on long-term charter to ARAMCO.
Each has an overall length of 110 feet, molded beam of 26 feet, and molded depth of 10 feet 6 inches.
Main propulsion power is supplied by twin GM Detroit Diesel 16V71 engines, each with an output of 455 bhp at 1,800 rpm, driving through Twin Disc MG 518 reduction gears having a ratio of 5:1.
Two 50-kw, 208/120-volt, 4-wire 60-cycle generators are driven by Detroit Diesel 4-71 engines at 1,200 rpm.
Each vessel is equipped with 60- inch-diameter, 4-bladed bronze propellers, Cutlass rubber stern tube bearings, and dual Electrol hydraulic steering system. Engine controls are by KoBelt Pneumatic Controls.
Deck machinery includes a Nau- tike 220 hydraulic pedestal crane and an electric, single-drum Mc- Elroy anchor-handling winch.
Electronic gear includes Furuno 701 radar, Hull 922 20-channel SSB radio, Datamarine Digital 3000 fathometer, Texas Instrument 9900 Loran C, and two Sailor 144 MAC VHF radios. Coatings were supplied by Devoe Coatings.
FRANK CANDIES Champion Swiftships Champion Swiftships, Inc. of Pass Christian, Miss., in the spring of 1983 delivered the first of a twotug order, the 3,900-bhp Frank Candies, to Otto Candies, Inc. of Des Allemandes, La. The sister vessel, the Ben Candies, followed a few months later.
The Frank Candies has an overall length of 117 feet, beam of 34 feet, and depth of 17 feet. The tug's main propulsion plant comprises two GM Electro-Motive Diesel 16-645-E6 engines, each rated 1,950 bhp at 900 rpm, driving two 117- by 86.1-inch Coolidge propellers through two Reintjes model 2650 reduction gears having a ratio of 5:1.
Electronic equipment includes two Furuno FR711 radars, a Raytheon Ray 350 loudhailer, a Furuno LC70 Loran C, a Panasonic RF4900 shortwave receiver, two Apelco Clipper 82 VHF radios, a Hull 255 SSB radio, an Okeanos RS5000 satellite navigation unit, and a Datamarine 2650 depth sounder.
Other equipment includes a single- wildcat windlass by Markey, a TDSD32 Markey towing winch, and a Halon fixed fire-fighting system.
Coatings were supplied by Ameron.
GLOMAR ROBERT F. BAUER and WESTERN PACESETTER IV Far East Levingston Far East Levingston Shipbuilding, Ltd. of Singapore in 1983 delivered a semi-submersible offshore drilling rig and a drillship.
The drilling rig Western Pacesetter IV, said to be one of the largest exploration rigs in the world, was delivered to Western Oceanic Inc.
of Houston. This semi is 260 feet long, 203 feet wide, and 116 feet deep. Twin ship-shaped pontoons support six caissons and the rectangular deck. The self-propelled rig has single-level machinery houses, two-level living quarters with helideck, and a substructure for the derrick.
This Friede and Goldman Pacesetter/ North Sea Class rig is built to American Bureau of Shipping classification. It is designed to operate in water depths from 150 to 2,000 feet, and has accommodations for 90 persons.
The drillship Glomar Robert F.
Bauer was delivered to Global Marine Drilling Company of Houston.
Built to Global's design and American Bureau classification, the ship is 445 feet long, 35 feet wide, and 35 feet deep, with a deadweight of about 7,100 tons. Full-load design draft is 24.5 feet. The Bauer is de- signed to operate in water depths of up to 2,000 feet. Accommodations are provided for 97 persons; facilities include a six-bed hospital.
GRAND REPUBLIC Offshore Shipbuilding The Bridgeport & Port Jefferson Steamboat Company of Port Jefferson, N.Y., highlighted the celebration of its 100th anniversary in 1983 with the introduction of its new passenger/auto ferry Grand Republic. The 16-knot, 280-foot vessel was built by Offshore Shipbuilding of Palatka, Fla.
The new Grand Republic is built to the latest requirements of the American Bureau of Shipping and the U.S. Coast Guard. No wood or other flammable materials were used in the construction of the vessel, which is fitted with a Halon automatic fire-fighting system and a Wormald sprinkler installation for maximum safety.
McAllister vice president of engineering Donald C. Hankin designed the vessel, and working drawings were provided by Bold Craft Engineering of Jacksonville, Fla. In addition to carrying 1,000 passengers, 85 automobiles, and/or a combination of trucks and recreational vehicles, the Grand Republic is fitted out with a large cocktail area and bar as well as full restaurant facilities.
The two main engines for the twin-screw vessel are the latest model Caterpillar 3516TA diesels, fitted with 5:1 Reintjes reduction gears delivering 1,500 bhp to each shaft. Propellers are Columbian Bronze 82-inch-diameter, 4-bladed stainless steel. Ship's service and emergency generators are also powered by Caterpillar diesels.
The Grand Republic is fitted with a Schottel bow thruster with a 48-inch-diameter propeller, pow- ered by a 400-bhp Cat diesel through a Twin Disc reduction gear. AH of the Caterpillar equipment, the Tug Mate machinery monitoring system, and the air controls with Reintjes and WABCO components were supplied by H.O.
Penn Machinery Company.
Steering equipment consists of an SSI 4-station, electro-hydraulic system. The SKF OK shaft couplings were supplied by Bird- Johnson; shaft bearings were manufactured by Johnson Rubber and Cooper Bearing. Radars and VHF radio are by Raytheon, and the fathometer is from Datamarine.
IKALUK/MISCAROO Nippon Kokan K.K./ Vancouver Shipyards Beaudrill Ltd., a subsidiary of Gulf Canada Resources Inc. of Calgary, Alberta, took delivery at mid-1983 of the Ikaluk, first of two 14,900-bhp Arctic Class 4 icebreaking anchor-handling/supply vessels for operations in the Canadian Arctic. She was built at the Tsurumi Shipyard of Nippon Kokan K.K. in Yokahama to a design by Robert Allan Ltd. of Vancouver, B.C. The sister ship, Miscaroo, was delivered about three months later by Vancouver Shipyards Company Ltd. of North Vancouver, B.C. Both vessels will constitute a vital part of Gulf Canada's drilling operations in the Beaufort Sea.
The new vessels are among the most powerful of their type in the world, and are said to be the first commercial vessels constructed to the Canadian Coast Guard's high Arctic Class 4 Regulations. Designed to operate in conditions of minus 50 C, they will break level ice up to 1.2 meters (almost 4 feet) thick at a continuous speed of about 3 knots.
The propulsion plant consists of a geared diesel/C-P propeller combination.
The four main engines are Wartsila Vasa 8R32 diesels rated 3,725 bhp each at 750 rpm.
These engines, in pairs, drive two 3,750-mm (12.3-foot) Lips controllable- pitch, stainless steel propellers through two Lohmann & Stolterfohtt dual-input/single-output reduction gearboxes, model GVA 1400 SO, with a ratio of 4.5:1.
Each gearbox incorporates an auxiliary drive for a 1,200-kva alternator.
Several unusual features enhance performance in ice. Among these are a hull form incorporating a forefoot wedge designed to deflect ice from the path of the vessel, and large bossings over the propeller nozzles and rudders to protect them from ice.
Maneuverability is improved by electrically driven thrusters located fore and aft. The bow thruster is a 1,200-hp Omnithruster model JT 1300, and the stern thruster is an 800-hp KaMeWa model 1650 B/AS with controllable- pitch propeller. The Omnithruster has been modified to incorporate an ice/hull lubrication system that ejects an air/water mixture along the forward halflength of the hull, which is coated with an epoxy paint, Inerta 160, to reduce hull/ice friction.
The Ikaluk and Miscaroo have an overall length of 78.85 meters, molded beam of 17.22 meters, molded depth of 9.70 meters, and design draft of 7.50 meters (258.7/ 56.5/31.8/24.6 feet).
A spacious wrap-around wheelhouse provides maximum visibility for both anchor-handling and icebreaking operations. Full ship control consoles are located center forward, in the forward wings, and center aft. Wing controls are located at the wheelhouse aft station and in a separate control room located above the main winch.
Winch and anchor-handling operations are monitored by closed-circuit television.
Deck machinery includes a Burrard Iron Works HLQW quadruple- drum, anchor-handling/towing winch with a line pull of 150 tons; two Hydralift cargo cranes; three Burrard Iron Works CH6 deck capstans; and two Gearmatic 66 tugger winches, each with a line pull of 15 tons.
In addition, there are two Burrard Iron H7V anchor windlasses rated 20 tons at 10 meters per minute, and two Burrard HE hydraulic- driven pennant storage winches.
Ship's service electric power is provided by two Caterpillar 3412T diesel generator sets rated 395 kw at 1,800 rpm; a Cat 3404 diesel generator set rated 100 kw at 1,800 rpm provides harbor service.
Navigation and communications equipment includes: two Decca radars, model TM 1628 with 12-inch slave unit, and model TM 1266C; two Sperry gyrocompasses, MK 37; Wagner MK 4 autopilot; Honeywell Elas LAZ-72 fathometer; Magnavox MX 1105 satellite/ Omega navigator; and a JMC 2215 automatic direction finder.
In addition, there are Marconi CH150S SSB radios, a Spilsbury FMX-95S VHF-FM radio, Wulfsberg WCS-300 VHF-AM radios, Sperry SRD-301B doppler log, Alden Marinefax IV weatherfax, and Simrad RW 105 and Marconi SM100 watch receivers.
Accommodations are provided for a crew of 22 persons, all in private cabins, as well as spacious lounges, recreation areas, and a sauna. Particular attention to reduction of vibration and noise has resulted in noise levels of less than 63 decibels throughout the accommodations while under full power.
KODIAK I Halter Marine The largest, most powerful, diesel- electric, anchor-handling tug/ supply boat ever built in the U.S.
was delivered in 1983 by Halter Marine, Inc. of New Orleans to the Penrod Drilling Corporation of Dallas. The Kodiak I is the first of two 12,280-bhp sister ships that are 225 feet long overall, with a beam of 52 feet, depth of 24 feet, and draft of 20 feet. She is also the first of Halter's new Sea Titan Class vessels that are designed to work just about anywhere in the world from the Arctic to the tropics.
The Sea Titan design not only meets the requirements imposed by harsh, icy environments, but provides 35 tons of air condition- ing to improve habitability in hot climates.
The design of the Kodiak I, which was tested before construction at the Maritime Research Institute in the Netherlands, features a molded hull rather than the traditional chine type. The molded hull is said to pound less and have better seakeeping characteristics. The high, tapered bow also helps to reduce pounding because of its reduced flare, which gives it a smoother entry into the sea without slamming and with a subsequent easy recovery.
The Kodiak I represents an entirely new design, including higher horsepower and kilowattage, increased cargo and pumping capacity, long range, rig anchor chain stowage, higher speed, fire-fighting and rescue capabilities, and excellent sea-keeping ability. All this was achieved while keeping the vessel under 500 gross tons.
Kodiak I's propulsion plant comprises four GM Electro-Motive Division 16-645-E7B diesel engines driving four 2,100-kw EMD generators.
Together they produce 12,280 bhp at 900 rpm, or 8,400 kw. The generators feed ac power into a Ross-Hill silicon controlled rectifier unit, which converts the ac power into dc to power the four Reliance 2,500-hp propulsion motors. The power pool created allows the captain to draw as much power as is put in, and the power can be distributed wherever needed.
As the Kodiak I is designed for long voyage towing, she is fitted with a full complement of Smatco/ Norwich deck machinery, including an electro-hydraulic, double-drum waterfall towing winch with a combined pull of 500 tons; two tugger winches, two double cable storage reels, two electro-hydraulic capstans, and an anchor windlass.
Maneuverability and stationkeeping is enhanced by two bow thrusters and a stern thruster, all provided by Schottel and driven by Reliance electric motors. Kort nozzles surround the two 142-inchdiameter, 5-bladed stainless steel main propellers. A Flume passive stabilization system is installed to improve the vessel's stability.
JUSTIN T. ROGERS St. Louis Ship The river towboat Justin T. Rogers, built by the St. Louis Ship Division of Pott Industries for Midland Affiliated Company of Cincinnati, was delivered in early 1983. She is powered by a pair of M.A.N.-B&W 16U28L 4-stroke, medium-speed diesel engines that are capable of burning heavy blended fuels up to 2,100 seconds Redwood. While burning No. 2 diesel oil, the two engines develop a total of 8,364 bhp at 775 rpm; total output is 7,524 bhp at 750 rpm while burning heavy fuel.
Second of its class built by St.
Louis Ship for Midland, the Rogers, along with sister vessel Jim Ludwig, are said to be the first modern U.S. river towboats built from the keel up to burn heavy fuel. Both vessels feature a stateof- the-art heavy fuel handling and cleaning system designed by Midland in conjunction with M.A.N.- B&W and Marine Consultants & Designers, Inc., naval architects and marine engineers of Cleveland.
The engines are connected through the new Falk MQR configuration 4,086:1 reverse/reduction gears to Coolidge 120- by 130-inch, 5-bladed, stainless steel propellers mounted in Kort nozzles. Engine controls are by Mather, and engine monitoring equipment was supplied by Pan American Systems.
Electric power is supplied by two International Electric 200-kw generators driven by Detroit Diesel 8V92 engines.
An interesting feature of the Rogers is its exhaust waste heat recovery system, used to heat fuel bunkers and crew quarters, designed by the Engineering Controls Division of St. Louis Ship.
The shipyard also supplied the F.A.S.T. sanitation system.
Electronic and other navigation equipment includes two Decca radars, RR1226 and RR1216A, Honeywell Elac depth sounder, Rivertronics swing indicator, Perko navigation lights, R.L. Drake MRT- 55 VHF radio, Northern N55A SSB radio, three Carlisle & Finch searchlights, and Kahlenberg air horn.
Pumps were supplied by Aurora (fire), Gorman-Rupp (bilge), and Viking (FO transfer). Alfa-Laval provided the centrifugal separators, Va-Power the oil-fired boiler, and A. O. Smith the water heaters.
Deck equipment includes a Schoellhorn-Albrecht capstan and four Patterson winches. Air compressors are by Quincy.
The St. Louis Ship "Hydrodyne" hull of the Justin T. Rogers has an overall length of 187 feet, a beam of 47.8 feet, and a depth of 12 feet.
Operating draft is just over 9 feet.
Midland's decision to build heavy-fuel boats was based purely on economics. The price and availability of fuels are two major factors in moving cargo competitively.
Midland operates the Rogers on the lower Mississippi River between Cairo, 111., and New Orleans.
The new vessel is used to transport coal, grain, and other dry bulk commodities.
KALVIK/TERRY FOX Burrard Yarrows Burrard Yarrows Corporation headquartered in North Vancouver, B.C., Canada's biggest West Coast shipbuilder, in 1983 delivered two identical icebreaking, anchor-handling/tug-supply vessels to Gulf Canada Resources Inc.
of Calgary, Alberta. Named Kalvik and Terry Fox, these vessels are reported to be the most powerful of their type in the free world. Kavlik was built at Burrard's Victoria Division on Vancouver Island and the Terry Fox was built at the Vancouver Division in North Vancouver. Design and supervision of construction was carried out by naval architects German & Milne Inc. of Montreal.
The 2,200-dwt vessels have an overall length of 288.7 feet, beam of 57.4 feet, depth of 32.8 feet, and operating draft of 26.25 feet. They carry crews of 18 persons and are designed for optimum performance in both open and ice-covered waters.
Each vessel is powered by twin TM510 Stork Werkspoor diesels with a total output of 23,200 bhp, driving through Lohmann & Stolterfoht single-reduction gearboxes to open, controllable-pitch Lips propellers. A 1,000-kw generator is clutched off each gearbox; in the icebreaking mode, these generators are dedicated to driving the Wartsila air bubbler system. Main engine controls are by ASEA.
Ship's service electric power is provided by two 750-kw ac generators driven by Caterpillar diesels.
A 200-kw emergency generator is also installed.
In addition to the large centerline rudder, steering is assisted by a 500-hp stern thruster supplied by Maritime Industries. The air bubbler system also functions as a bow thruster. A special coating, Inerta 160, covers the hull up to the main deck, protecting the hull and reducing hull-ice friction.
Particular attention has been given to the form of the forward part of the vessels to prevent ice from flowing under the hull and being ingested into the propellers.
In addition, the bow design has been developed to maximize both level ice and ridge ice penetration performance. Special attention has been given to directional stability in the ice-ramming mode.
The hull is of double chine form and incorporates a semi-spoon bow, forward ice plow, and raked transom stern. A double skin arrangement provides both protection and the ability to operate at a constant draft by adjustment of the quantity of ballast in relation to quantites of fuel, cargo, etc. being carried.
To simplify construction, the hull is of fully developable form. This is particularly advantageous as the shell plating and hull support structure are of EH36 modified special quality steel.
A sophisticated towing and anchor- handling system has equipment arranged under cover for protection from Arctic weather.
The towing system includes an 80-ton Van der Giessen towing winch and a friction brake capable of up to 390 tons of holding power.
Anchor handling will be carried out with a double-drum, waterfall type winch, each drum capable of 200 tons pull.
The Kalvik and Terry Fox have been built to the highest class of Lloyd's Register of Shipping and to the Arctic Shipping Pollution Prevention Regulations for an Arctic Class 4 vessel, all to the approval of the Canadian Coast Guard.
NAVASOTA Patti Shipbuilding Patti Shipbuilding of Pensacola, Fla., in early 1983 delivered the 100-foot oceangoing tug Navasota to Brazosport Towing Company of Freeport, Texas. Classed +A1 + AMS Loadline, All Ocean Towing Service by the American Bureau of Shipping, the new vessel brings to 14 boats owned and operated by Brazosport Towing in coastal and international service.
The Navasota is powered by twin Caterpillar D-399 diesels, each with a rated output of 1,125 bhp at 1,225 rpm, driving through Reintjes WAV 1400 4.95:1 reduction gears to Columbian 82- by 84-inch stainless steel propellers installed in Kort nozzles. The vessel recorded an impressive 13 knots on sea trials.
Electric power is supplied by two 55-kw generators driven by Caterpillar diesels. The main electrical panel was provided by Con- Select. Other equipment includes two Ingersoll Rand 242 air compressors with 80-gallon receivers, Racor 75-1000 fuel filters, Custom Hydraulic steering system with Mathers AD 12 air controls and SB 22 shaft brakes, a Gould fuel transfer pump with meter, two Gould bilge pumps, two Peabody Barnes fresh water pump systems, a Walker Electric Service alarm system, SSI Nav/Lite panel, Mc- Elroy anchor winch, and Smatco 46/34 DAW 100 towing winch.
Electronics include one 64-mile Si-Tex radar, a 24-mile Si-Tex radar, Plath Navigator Vlll autopilot, two Horizon 78 VHF radios, Raytheon Ray 350 loudhailer, Si- Tex 757 Loran C, Motorola Triton 40 SSB radio with Necode digital encoder/decoder, Magnavox satellite navigator, and Benmar RDF.
The Navasota's interior outfit has been constructed to a high standard, including mahogany trim in the pilothouse, staterooms, and galley as well as custom-built mahogany tables, desks, and cabinets. General workmanship throughout the vessel reflects this same high quality and attention to detail.
NEWPORT CLIPPER Jeffboat Jeffboat, Incorporated of Jeffersonville, Ind., recently completed the luxury cruise vessel Newport Clipper, first of its type ever built at the Indiana yard. Constructed for Clipper Cruise Line of St. Louis at a cost of about $9 million, the vessel will operate on seven-day cruises in areas along the U.S.
Eastern Seaboard.
The hull of the Newport Clipper is constructed of V2-inch steel plate throughout except for the bow and stern which are 3/8-inch plate.
Gross tonnage is 100 and displacement 1,000 long tons. Overall length is 207 feet, beam amidships is 37 feet, and draft is IV2 feet.
Propulsion power is provided by two GM Detroit Diesel 12V-71 engines, each rated 480 bhp at 2,300 rpm, providing an average cruising speed of 10 mph. The engines drive, through two Twin Disc 4.13:1 reverse/reduction gears, two Columbian four-bladed, stainless steel propellers having a diameter of 48 inches and 39-inch pitch. The console- mounted steering system supplied by SSI has full follow-up control.
An Omnithruster bow thruster is powered by a 200-hp electric motor.
Electric power is supplied by three 225-kw generators driven by Detroit Diesel 12V-71 engines. The sanitation system is an Omnipure model RM812-27 type II. Raw water heat exchangers for engine cooling are mounted on each propulsion and generator unit.
In addition to the usual VHF and SSB communications equipment, the vessel is fitted with two radars, satellite navigator, and Loran C, all manufactured by Furuno.
The Newport Clipper's four passenger decks contain 51 staterooms, all outside and with large windows.
NICOR CUPPER Moss Point Marine The Nicor Clipper, believed to be the largest offshore workboat ever built in the U.S., was delivered in the summer of 1983 by Moss Point Marine of Escatawpa, Miss., to Nicor Marine Inc. of New Orleans. The vessel has an overall length of 254 feet, beam of 44 feet, and depth of 16 feet. A unique stern ramp fabricated by the builder gives her roll-on/roll-off capability for carrying containers.
The vessel is powered by twin GM Electro-Motive Division 12- 567C diesels, each with an output of 1,400 bhp at 835 rpm, linked to Falk reduction gears having a ratio of 2.968:1. Engine controls are by WABCO and engine monitoring by EMI. A Harbormaster BT- 550 bow thruster will provide extra maneuverability around offshore structures. Electric power is provided by a set of 150-kw Delco generators supplied by George Engine Company.
The Clipper's capacities include 242,430 gallons of fuel oil, 24,780 gallons of fresh water, 1,300 barrels of liquid mud, and 6,000 cubic feet of dry bulk mud.
Electronic equipment, supplied and installed by Marine Electronics, include Furuno FR-1011 radars, Stephens SEA 106 and Sailor RT-144 radiotelephones, Texas Instrument TI 9000 Loran C, a Decca 801 satellite navigator, and Sperry gyrocompass and autopilot.
Deck equipment includes two McElroy towing winches and an HBL anchor windlass. Carlisle & Finch supplied the searchlights, Kalhenberg the air horns, and Hubbel the running and navigation lights.
The Nicor Clipper is classed by the American Bureau of Shipping and certified by the U.S. Coast Guard.
NORTH SOUNDER Gladding Hearn The North Sounder, said to be the largest self-propelled oil-spill skimmer in the U.S., was delivered in early 1983 by Gladding Hearn Shipbuilding Corporation of Somerset, Mass. The vessel is owned by Clean Sound, a nonprofit joint venture of 13 oil and oil transportation companies that was founded in 1971 to protect the waters of Puget Sound.
The vessel has an overall length of 73 feet, beam of 20 feet, fullload draft of 6 feet 3 inches, and displacement of 130 long tons. She is powered by twin Caterpillar 3408 DITA diesel engines, each rated 365 bhp at 2,000 rpm, linked to Twin Disc 3:1 reduction gears.
Built at a cost of $1.6 million, the vessel joins a fleet of smaller skimmers, auxiliary boats, and barges that Clean Sound has stationed at ports throughout Puget Sound. The latest addition to the fleet is stationed at Bellingham, Wash.
The North Sounder is designed to recover 90 percent of an oil spill at rates up to 500 gpm. Its onboard recovered oil capacity is 12,000 gallons. When operating in the oil-spill recovery mode, the vessel's bow opens to reveal an escalator- like ramp leading from under the water surface and into the mid-hull area of the boat.
Several design changes developed by the Clean Sound staff have been incorporated into the North Sounder. The most significant is an improved method of recovering oily debris. This system was designed to cope with materials such as logs, branches, kelp, eel grass, and other floating debris.
The North Sounder was designed by JBF Scientific Corporation of Wilmington, Mass. JBF has designed more than 100 oil-skimming vessels, including 50 harbor skimmers for the U.S. Navy. Clean Sound's new skimmer is a JBF model DIP 5001A.
Because of her traditional hull design, the vessel can respond to oil spills at speeds up to 10.6 knots. During normal skimming operations, she runs at 1 to 2 knots in conditions up to Sea State 3. The vessel can work alone or with long containment booms attached to the bow in a "V" configuration to funnel oil slicks to the recovery system.
The recovery system consists of two conveyor units. The debris collection unit is a stainless steel conveyor that leads up to the debris collection equipment. The oilhandling unit is a powered, 37V2- foot-long by 6-foot-wide PVC belt that loads oil into the vessel's cargo tanks. The belt is driven by a Char-Lynn hydraulic motor. The dynamic inclined plane (DIP) conveyor is located in the forward half of the hull, behind the debris conveyor.
PEMEX 652 Matsumoto Shipyards The aluminum-hulled fireboat Pemex 652 was delivered at mid- 1983 by Matsumoto Shipyards of Vancouver, B.C., Canada to Pemex, Mexico's national oil company.
This is the first of two sister ships of a new design ordered by Pemex for use in the extensive Gulf of Mexico oil tracts owned and managed by the company.
These two Pemex fireboats are among the largest in the world.
Each contains about 170 tons of aluminum plate and 30 tons of aluminum extrusions supplied by Alcan Canada Products, Ltd.
The 500-gt Pemex 652 has an overall length of 150 feet, a beam of 32 feet and a height from the deck to the top monitor of 40 feet.
Operating draft is 11.8 feet, cruising range is 250 miles, and top speed is 16 knots.
The vessel is powered by two MTU diesel engines, each with an output of 1,725 bhp at 1,400 rpm.
Two Reintjes reduction gears transmit the power to the two Osborne propellers.
Twin Worthington pumps powered by separate 1,200-bhp MTU diesels are capable of drawing sea water, mixing it with a 3-percent AFFF foam solution, and spraying it onto fires at a rate of up to 25,000 gpm. The three main monitors (nozzles) manufactured by the Swedish Foam Fire Extinguishing Company can each handle 5,200 gpm. Cranes can position two more Stang monitors 75 feet above the water surface to handle 2,600 more gpm. The vessel carries 6,000 gallons of foam concentrate to mix with the water.
The hull of the fireboat is constructed of a special Alcan alloy that includes magnesium and manganese. Pemex specified aluminum because of its light weight and because the high superstructure of the vessel would have been impossible without it. Aluminum is also corrosion-resistant, even in salt water, so maintenance can be kept to a minimum.
In use, the fire-fighting power of the Pemex 652 is controlled from the bridge, which also contains the latest in navigation equipment, radiotelephone, depth sounder, radar, loudhailer, engine controls, and hydraulic steering controls.
Schottel bow and stern thrusters enable the vessel to maneuver with ease. This permits precise station-keeping and allows the firefighting equipment to be positioned quickly and to the best advantage.
ROWAN GORILLA I Marathon LeTourneau The Rowan Gorilla I, largest offshore jackup drilling rig ever built, was delivered in December 1983 by Marathon LeTourneau to Rowan Companies, Inc. of Houston.
Designed by Marathon and built at its Marine Division in Vicksburg, Miss., it is the first of the new Gorilla Class jackup designed for operating in hostile offshore areas.
Because of restrictive bridge clearances, the rig was towed from Vicksburg to Belle Chasse, La., minus its full length of legs and its drilling derrick. After final outfitting the rig left Belle Chasse under tow of the Chignecto Bay and the Mahome Bay (photo), 11,000-bhp vessels that will serve the rig as both tugs and supply vessels.
The Rowan Gorilla I is scheduled to begin its first drilling assignment offshore eastern Canada in mid-January for a consortium of Canada-based oil companies including ATS Exploration Ltd., Bow Valley Industries, Ltd., and Husky Oil Operations Ltd.
Fully outfitted with its three 507-feet-tall legs and 160-feet-tall drilling derrick, a Gorilla rig comprises approximately 16,000 tons of steel. Its triangular hull is 297 feet long, 292 feet wide, and 30 feet deep. The rig's large size provides nearly one acre of deck space for storage of consumables used during drilling. This ample storage capacity along with certain design features make the rig compatable with hostile offshore areas where it can continue to drill even if the flow of supplies from shore were interrupted.
Classed +A1 by the American Bureau of Shipping and built in accordance with Mobile Offshore Drilling Unit Regulations established by the U.S. Coast Guard, Canadian Coast Guard, U.K. Department of Energy, and Netherlands Department of Mines, the Gorilla rig is designed to survive up to 90-foot waves and 82-knot winds while drilling in 328 feet of water.
The rig has power to spare, with seven Caterpillar D399 diesel engines with a total output of 11,080 bhp at 1,225 rpm driving seven generators producing a total of 7,210 kw. Power for the Gorilla's propulsion assist system is provided by eight electric motors with a total output of 6,800 hp connected through gearboxes to two 112-inch propellers in Kort nozzles.
These motors are mounted on the machinery deck on either side of the drilling slot. When using a 10,000-bhp tug, the assist thrusters will increase the towing speed by about two knots.
Living accommodations are provided for 80 persons, as well as a six-bed hospital, dual galley, dining room, and recreation facilities.
The rig's survival system consists of two 50-man and two 34-man Whittaker enclosed capsules, U.S.
Coast Guard approved and fitted with internal communications systems.
A heliport cantilevered out over the bow has a diameter of 83 feet and 52,500-pound impact load.
Two other Gorilla Class rigs are now under construction, one at Marathon's rig yard in Singapore and one at the Vicksburg yard.
SANTA FE RIGS Daewoo Shipbuilding Daewoo Shipbuilding and Heavy Machinery Ltd. in Korea delivered in the last quarter of 1983 a second semi-submersible drilling rig to Santa Fe Drilling Company of Orange, Calif. Both Santa Fe rigs are self-propelled, Friede and Goldman L-907 Pacesetter types, and were constructed at a price of $80 million each. These rigs are capable of 25,000 feet in water depths up to 1,500 feet. Living quarters are provided for 96 persons.
Since opening a little more than two years ago, Daewoo's Okpo Shipyard has delivered eight drilling rigs of two types. In addition to the two built for Santa Fe Drilling, the yard has constructed two semi-submersibles for Reading & Bates Drilling Company of Houston, and one each for Houlder Offshore Drilling Company and Atlantic Drilling Company, both of the U.K.
A semi-submersible rig for Korea Drilling Company is now under construction at the Okpo yard.
With this rig's delivery in the spring of 1984, Korea Drilling will be the first Korean company to own a drilling rig it operates. The rig will be used to explore Korea's continental shelf and other national coastlines.
SEDCO 602 Promet Private Ltd.
A medium-sized, semi-submersible drilling rig, the Sedco 602, was delivered recently by Promet Private Limited shipyard in Singapore.
The rig is owned jointly by Sedco, Inc. of Dallas and Occidental Exploration & Production Company of Bakersfield, Calif., and Houston.
Designed by Earl & Wright, the Sedco 602 can operate in water depths of 25 to 180 feet. The mooring tensioner riser and drill fluid systems have been designed for exploratory and development drilling to 20,000 feet. The design of this semi-submersible makes it particularly useful in parts of the world where drillships are inefficient and the cost of using huge semi-submersibles uneconomical.
The rig's main deck measures 170 by 170 feet. It has living quar- ters for 88 personnel; other accommodations include a hospital and a recreation room with cinema area. Sophisticated equipment on board includes a closed circuit television system and a satellite communications installation. The rig is fitted with two cranes having booms of 100 feet and lifting capacities of 50 tons. A helideck can support the weight of a fully loaded Sikorsky S-61N helicopter.
The Sedco 602 is classed by the American Bureau of Shipping and is built to requirements of the U.S.
Coast Guard and the Intergovernmental Maritime Organization. It began operating in the Philippines and will then go to China. This rig is the third semi-submersible built by Promet; in the first half of 1983 the Singapore yard delivered two similar rigs of the Sedco 600 series.
SEDCO 712/714 Hyundai Heavy Industries Seven semi-submersible drilling rigs were delivered to Sedco Inc. of Dallas between November 1982 and July 1983. Delivery of these new offshore rigs brought the Sedco drilling fleet up to 42 units; the company reported that all rigs were under contract.
Four of the Sedco 700 Class and three of the Sedco 600 Class were delivered by three shipyards in the Far East. The first of the new deliveries, the Sedco 711, was completed in November 1982, just 24 months after the order was placed with Hyundai Heavy Industries of Ulsan, Korea. The Sedco 712 and the Sedco 714 were also built at Hyundai—the first time in Sedco's history that three of its rigs have been under construction at one shipyard at the same time.
Total contract value for the three delivery each of these three rigs began five-year drilling contracts; the Sedco 71*1 is working for British Petroleum.
The Sedco 700 Class rig is designed to withstand the harsh conditions of the upper North Sea where drilling operations continue in 40-foot waves and 50-knot winds.
These self-propelled units can withstand 100-foot waves.
Of the remaining four Sedco semi-submersibles, three were built by Promet (Pte.) Ltd. in Singapore and one at Mitsui Engineering & Shipbuilding Company in Japan.
TRINITY RIVER Eastern Marine Eastern Marine, Inc. of Panama City, Fla., in early 1983 delivered the supply vessel Trinity River to Transportation Resources, Inc. of Houma, La. The vessel is the fourth in a five-vessel contract; the sister vessels are the Leaf River, Pine River, Roaring River, and Tellico River.
The Trinity River has an overall length of 166 feet, beam of 38 feet, depth of 13 feet, and loaded draft of 11 feet. A clear deck cargo area 110 by 28 feet can carry up to 550 long tons of supplies.
The vessel is powered by two GM Detroit Diesel 16V-149 engines delivering a total of 1,800 bhp at 1,800 rpm through Twin Disc reduction gears. She can achieve a speed of more than 12 knots. A Schottel S-152L bow thruster is driven by a GM Detroit Diesel 8V71 engine with an ouput of 230 bhp at 1,800 rpm.
Electric power is provided by two Delco 85-kw generators driven by Detroit Diesel 6V71 engines.
Electronic equipment includes Furuno radar, Stephens SSB radio, Cybernet International VHF radio, Micrologistics Loran C, and Impulse depth indicator.
Eastern Marine is a growing company that has earned a reputation in recent years as a builder of high-quality vessels. The company opened its Panama City yard in 1978. This 13-acre facility has more than 1,300 feet of water frontage, and is used primarily to construct small- to medium-sized boats. In 1981 Eastern Marine opened another yard in Allanton, Fla., 15 miles east of Panama City. This second yard, with 135 acres and 5,200 feet of water frontage, is used to build larger vessels.
In addition to the Transportation Resources vessels, Eastern Marine received a contract from Seahorse Inc. of Morgan City, La., to build eight 192-foot anchor-handling/ tug-supply vessels at the Allanton yard.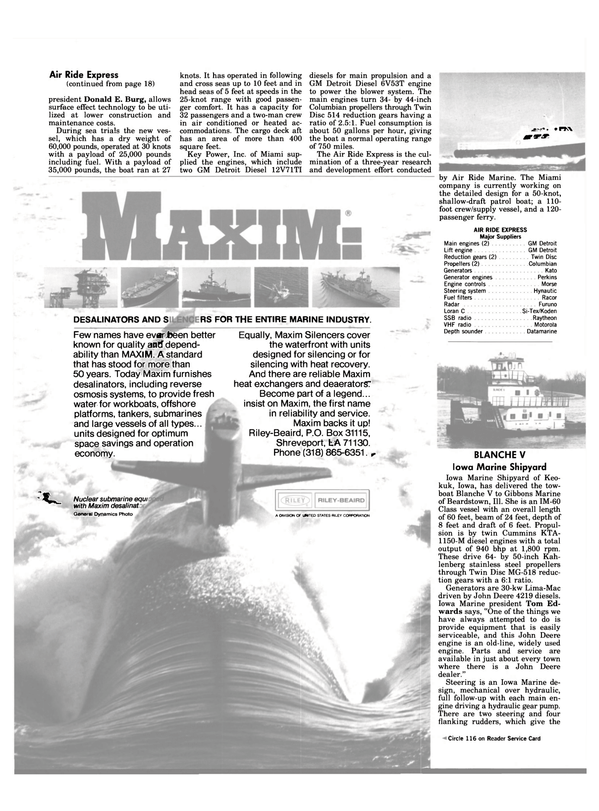 Read OUTSTANDING OFFSHORE/SHALLOW-DRAFT VESSELS OF 1983 in Pdf, Flash or Html5 edition of January 1984 Maritime Reporter
Other stories from January 1984 issue
Content