WEAKENING THE JONES ACT
Joseph A. Farrell, President American Waterways Operators, Inc.
— A Threat To Our Competitive Position — Most of us in the water freight transportation industry do not often think of the Jones Act and related cabotage laws as having much to do with the inland segment of the barge and towing industry, although clearly the protection afforded by the Act is an integral part not only of the coastal but also the inland operations. The American Waterways Operators, Inc. (AWO) represents the interests of both the inland and coastal segments of the barge and towing industry, nationwide. In carrying out the AWO objectives, we have been giving an ever-increasing amount of attention to the effect various recent efforts to dilute the Jones Act will have on the barge and towing industry as a whole. If the Jones Act is breached in the coastal trade, it isn't much of a leap to have foreign vessels plying the rivers.
The sovereign right of every nation to reserve its domestic trade to its own nationals has been recognized for centuries by international custom. The principle of ca- botage, to reserve domestic freight to domestic carriers is not unique to the United States. Nearly every major maritime country adheres to this principle today, recognizing the absolute necessity to national security of a merchant marine built, owned and manned by its own citizens. Two fundamental national interests are served by cabotage laws: first, the necessity of having a merchant marine of the best-equipped and most suitable types of vessels owned and operated by U.S. citizens sufficient to carry the greater portion of its foreign and domestic commerce; and second, the necessity of having a strong merchant fleet, both domestic and international, to serve as an adjunct to national security forces.
The declaration of these purposes was made in the Merchant Marine Act of 1920. The principle of cabotage as we know it today is set forth in Section 27 of that Act.
commonly referred to as the Jones Act, which provides: No merchandise shall be transported by water or by land and water, on penalty of forfeiture thereof, between points in the United States, including Districts, Territories, and possessions thereof embraced within the coastwise laws either directly or via a foreign port, or any part of the transportation, in any other vessel than a vessel built in and documented under the laws of the United States and owned by persons who are citizens of the United States.
The Congressional aim in mandating this section of the Act remains compelling today: to ensure that control of the shipment of American goods lies in American hands for the sake of our national security, and our general welfare.
Due to the recent worldwide recession, however, resulting in hundreds of idle tankers, bulk carriers and dry cargo ships around the world, there has been a great deal of interest on the part of various foreign-owned companies to enter the lucrative U.S. market.
And, in addition, there is some interest on the part of various American factions to allow foreign operators into the domestic trade. It is argued that the short-term benefits of such a change in policy might be able to stimulate certain segments of the shipping industry here. But, the long-term damage that would occur by such weakening of the Jones Act principle would far outweigh the small value received now.
Perhaps the most highly publicized initiative in that direction is the Cunard bill, introduced in the last two Congresses, which would permit foreign-built vessels to enter the domestic passenger trade.
Proponents of the bill argue that the U.S. maritime industry does not now offer and is not capable of offering U.S. cruiseship passenger service. Contrary to this claim, however, two shipping companies . . . Contessa Cruise Lines of Houston and American Flagships of New York . . . are making plans to build in U.S. shipyards large passenger vessels for the coastwise domestic cruise trade, rendering Cunard's argument invalid.
Another breach of the Jones Act is being proposed by Canadian Steamship Lines (CSL), which wants to top off colliers in Delaware Bay and other locations with foreign-built, self-unloading ships.
Under the Jones Act, only vessels that are built in the U.S. can move merchandise from one point or port in the U.S. to another, or to a vessel anchored in U.S. waters.
Waivers for the Jones Act may be granted only on grounds of national security. CSL's first claim was that its topping-off services are important to U.S. security, and its second was that American coal destined ultimately for Europe and Japan cannot be regarded as U.S. domestic trade.
Even a cursory look at the Jones Act reveals that both these points are not valid grounds for exception.
However, along the same lines as Cunard, CSL argues that U.S. shipping companies cannot offer topping-off service, and in the event they could, would not be able to do so as economically as CSL. At least two American shipping companies are currently on their way to providing topping-off services: American Steamship in Buffalo, N.Y., and Energy Terminals in New York. That the American companies may not be able to do so as cheaply as the Canadian line is debatable at this time.
However, it is not the economics, but the principle of cabotage that is being threatened here.
An Administration proposal would allow U.S. subsidy-built tankers to trade coastwise upon subsidy refund. While this is not a direct threat to the Jones Act, it flies in the face of Congressional intent as mandated in the Merchant Marine Act of 1936, which set up subsidy programs for U.S.- built ships in the foreign trade.
The 1936 Act recognizes the economic handicap under which U.S.
ship construction operated in competition with foreign construction.
It offered subsidies only to U.S.- built ships operating in international trade, allowing those ships to compete on an equal basis with the foreign shipping trade. Domestic trade ships were guaranteed no such subsidies on the basis that domestic trade ships already enjoyed fair and thriving competition among themselves. Clearly, to allow subsidy-built ships into the domestic trade would give those subsidy-built ships an unfair competitive edge, one which was not intended by the Act of 1936, and which would disrupt the current environment of fair competition in the Jones Act fleet.
Also under consideration by the Administration is a proposal to export Alaskan oil to Japan in return for Japan's allotment of Mideastern oil. Since the shipment of this oil would be considered foreign trade, it would no longer be under the purview of the Jones Act, and would pave the way for foreign shippers to bid for the business. This of course, is perhaps secondary in importance to the fact that when domestic oil is available readily, it seems capricious to renew our dependence upon foreign oil sources.
Two other bills are currently in the Congressional works as well.
One, the Frenzel bill, proposes to repeal the Jones Act altogether.
Another would exempt Puerto Rico from cabotage restrictions on passenger vessels.
But perhaps the most threatening assault of all on the Jones Act, in what seems like guerilla warfare, is Warren G. Leback's publication of a paper for presentation at the 1983 Annual Meeting of the Society of Naval Architect, which proposed that foreign-built, but U.S.-owned and registered vessels be allowed to carry cargo in the domestic coastwise trade. Mr. Leback is the Deputy Administrator for Maritime Transportation at the Department of Transportation.
Although the Maritime Administration has stated that Mr. Leback's position does not reflect MarAd's views, this opinion coming as it does from the number two man who is charged with promoting our maritime industry is worrisome indeed.
What do all these threats on the Jones Act mean to the barge and towing industry? As long as they remain just threats, they mean relatively little. But any one of the initiatives, if put into being, would not merely alter the course of long-standing maritime policy, but would destroy forever any notion of the U.S. maintaining a competitive position in domestic or world ocean trade. The Jones Act is an essential piece of legislation which both protects and supports our nation's domestic transportation structure. U.S. coastal and inland vessels employ about 150,000 people.
Shipbuilding, terminal operations and other allied industries sustain thousands of additional jobs.
If foreign-flag operators are allowed to participate in U.S. domestic waterborne commerce, American-flag vessels will ultimately be driven out of our own trade. The result would be an unparalleled vulnerability to the political and economic pressure of foreign powers controlling the domestic commerce of the United States. America has a heavy investment in and a dependence upon its merchant marine. We cannot afford to hand over the return on that investment to foreign corporations when by doing so we would sacrifice our ability both to defend our country and to maintain our standard of living.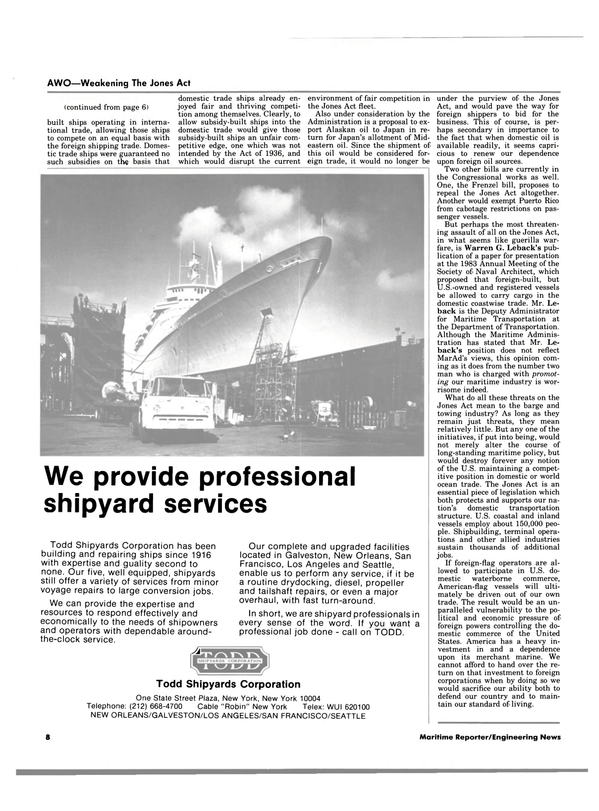 Read WEAKENING THE JONES ACT in Pdf, Flash or Html5 edition of January 1984 Maritime Reporter
Other stories from January 1984 issue
Content