Auxiliary Rescue Salvage Vessel Commissioned At Peterson Shipyard
Several hundred people gathered at the Sturgeon Bay, Wise., shipyard of Peterson Builders, Inc.
(PBI) recently for the commissioning ceremonies of the USS Salvor (ARS-52), one of the most versatile support ships in the U.S. fleet. She is the third of four vessels of this class contracted to PBI by the Navy.
The ship's new commanding officer, Lt. Cdr. Robert A. Reish, USN, assumed command in response to the commissioning directive read by Comdr. John R.
Drucker, USN, Commander of Service Squadron Five. Principal speaker at the ceremony was Vice Adm. Robert L. Walters, USN (Ret.). Other speakers on the occasion were Ellsworth L. Peterson, president of PBI; Rear Adm. Harry K. Fiske, USN, Assistant Deputy Commander for Surface Ships Logistics Management; and Capt.
Thomas J. Kile, USN, Supervisor of Shipbuilding, Conversion and Repair at Sturgeon Bay. Mrs.
Diana Walters, sponsor of the ship at her christening 33 months earlier, was also in attendance.
In addition to being equipped with a recompression chamber to treat diving-related accidents, this new class of salvage ship will replace an older class of rescue vessels with state-of-the-art lift, towing, and diving equipment. The ARS-50 Class has an overall length of 255 feet, beam of 51 feet, draft of 16 feet 7 inches, and displacement of about 3,200 long tons. The Salvor carries a crew of six officers and 85 enlisted personnel; as a non-combatant support vessel, both men and women are eligible to serve in the crew.
Main propulsion is provided by four Caterpillar diesels, each with an output of 1,200 bhp, driving two Bird-Johnson controllable-pitch propellers via GEC reduction gears.
A Brunvoll bow thruster provides enhanced maneuverability. Service speed is 14.5 knots.
The Salvor is equipped with a Raytheon SPS-64 navigational radar fitted with a computerized collision- avoidance system. This unit automatically tracks up to 20 separate surface targets up to a range of 48 miles, giving true course and speed, closest point of approach for each contact, and warns the watch if any ship will pass closer than desired.
Installed on the signal bridge directly below the mast are two 19- inch Xenon searchlights that can be trained and focussed remotely from the pilothouse. Four fire monitors are located fore and aft on the signal bridge, on the forward kingpost, and on the forecastle for off-the-ship firefighting. Each monitor is capable of pumping 1,000 gallons of water or foam per minute. The monitor on the kingpost is remotely controlled from the signal bridge.
Aft of the superstructure is a 40- ton boom that can be operated from a chest harness control unit, allowing the operator to be positioned anywhere from the port or starboard bulwark. This boom provides the capability for loading/offloading, moving onboard equipment, striking below and breaking out salvage equipment, plumbing the hold of a disabled vessel to increase its buoyancy, and launching/recovering boats. A 7V2-ton boom on the forecastle has similar capabilities.
Retractable tow rollers are installed on the fantail to restrain the sweep of the twin 3,000-foot, 2!/4- inch wire towing hawsers when raised. When rotated to the retracted position, the rollers are clear of the hawsers' sweep. This ship is capable of towing alone an aircraft carrier of the Nimitz Class at a speed of five knots.
Ships of the ARS class carry a complement of divers to perform underwater ship's husbandry and salvage operations, as well as underwater search and recovery. The diving equipment is the MK-12, a technologically advanced replacement for the copper MK-5 deepsea diver's equipment, which has recently been retired from service. The advanced diving gear allows divers to descend to a depth of 190 feet.
Built to assist ships in peril on the high seas, the Salvor's mission is fourfold. In addition to assisting disabled vessels, she is designed to fight fires alongside other ships, recover submerged objects, and perform manned diving operations. Her sturdy steel construction combined with speed and endurance make the ARS Class ships well suited for rescue and salvage operations around the world.
For additional information on the facilities and capabilities of Peterson Builders, Circle 64 on Reader Service Card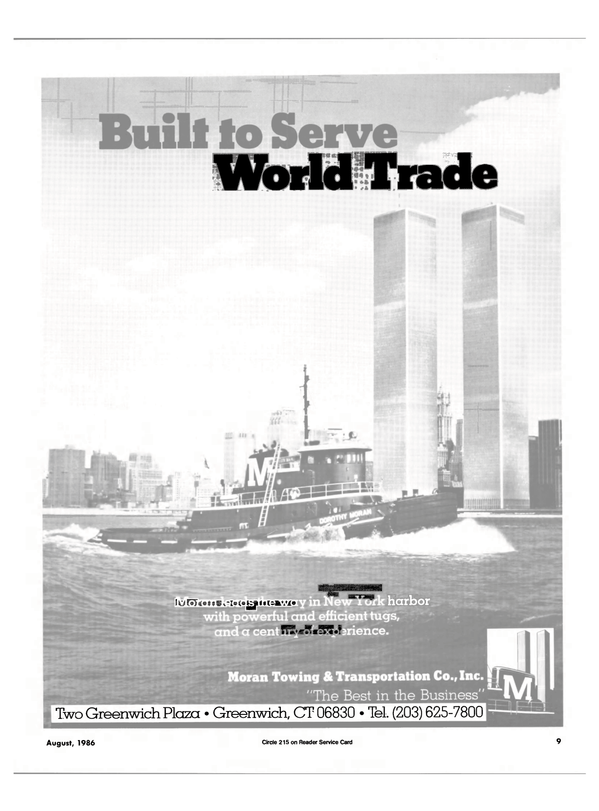 Read Auxiliary Rescue Salvage Vessel Commissioned At Peterson Shipyard in Pdf, Flash or Html5 edition of August 1986 Maritime Reporter
Other stories from August 1986 issue
Content