Newport News Shipbuilding And SNAME Sponsor Ship Production Symposium
August 27 To 29, 1986 Design and production concepts to reduce shipbuilding schedules and costs is the theme for the 1986 Ship Production Symposium to be held at the Williamsburg Lodge, August 27-29, 1986, in Williamsburg, Va. The symposium is under the auspices of the National Shipbuilding Research Program and is being sponsored by Newport News Shipbuilding, and hosted by the Hampton Roads Section of The Society of Naval Architects and Marine Engineers.
The reduction of shipbuilding schedules and costs is a vital necessity recognized by all in the maritime industry. New design and production concepts play a major role in the achievement of this goal. The National Shipbuilding Research Program 1986 Ship Production Symposium includes technical presentations that cover a diversity of topics. This three-day program, developed by the 1986 Ship Production Symposium Steering Committee headed by W. R. (Pat) Phillips Jr., provides a forum for the presentation of the latest developments in design and production concepts, which will affect schedules and costs dramatically over the next decade.
The Technical Program Committee, chaired by R. L. Harrington, has selected 23 stimulating and thought-provoking papers by authors both nationally and internationally that cover the range of subjects being addressed by the Ship Production working groups. The program outline with authors and papers are listed in the Technical Program for the 1986 Ship Production Symposium that follows.
The program has been arranged to take advantage not only of stateof- the-art technical subjects but also the Virginia Peninsula and its wealth of history. Special activities and social events planned include a keynote luncheon address by Vice Adm. J. H. Webber; the presentation of the Kennedy Award by Perry W. Nelson, president of the Society; a bus tour of the construction facilities at Newport News Shipbuilding, followed by a reception on Wednesday. On Thursday, there will be a tour of Carter's Grove Plantation, and high tea at the Williamsburg Lodge. The world-famous Groaning Board Banquet, complete with Colonial entertainment, is scheduled for the afternoon and evening respectively; and on Friday a presentation on the reconstructed Godspeed is planned, with a tour of the ship on Friday afternoon.
1986 SHIP PRODUCTION SYMPOSIUM TECHNICAL PROGRAM Sessions: Wednesday, August 27, 1986 8:30 am—"The Annual Report of the National Shipbuilding Research Program," J. W. Brasher, W. L.
Christensen and V. W. Rinehart.
10:00 am—"Soviet Shipbuilding: Productivity Improvement Efforts," Boris S. Butman.
11:00 am—"An Integrated Procedure for Hull Design and Production," Renzo Di Luca; "Decentralization— The Management Key to Effective Accuracy Control," Tamara S. Upham and W. Mark Crawford.
12:00—Keynote Luncheon—Presentation of Kennedy Award by Perry W. Nelson, president of the Society; Address by Vice Adm. J. H.
Webber, USN, Chief of Naval Engineering, NAVSEA.
2:00 pm—"Technical Collaboration Between Mitsubishi Heavy Industries and Todd Shipyards," Lennart M. Thorell and Toshio Watanabe; "The Streamlining of Navy Procurement Specifications," Charles H. Piersall Jr. and Charles J. Sinche.
3:00 pm—"Comparison of the Construction Planning and Manpower Schedule for Building the PD214 General Mobilization Ship in a U. S. Shipyard and in a Japanese Shipyard," Howard M.
Bunch; "Laser Line Heating," Kevin Scully.
4:30 pm—Bus tour of Newport News Shipbuilding, followed by reception in main office, Building 520, 6th floor; buses will load at the Williamsburg Lodge.
Sessions: Thursday, August 28, 1986 8:30 am—"Planning for Shipyard Surface Preparation and Coating," J. A. Cantor and R. F. Endert; "The Benefits of a Modified-Chemistry, High-Strength, Low-Alloy Steel," John C. West.
10:00 am—"An Analysis of Shipyard Painting Costs," Daryl L.
"George; "Reduced Fillet Weld Sizes for Naval Ships", Ed Gaines.
11:00 am—"Adaption of Japanese Prefabrication Priming Procedure to U. S. Shipbuilding Methodology," K. A. Trimber and W. D.
Corbett; "Investigation of Tubular Electrodes Designed for Submerged Arc Welding Applications," R. A.
Whannell and B. H. Halverson.
2:00 pm—"Engineering for Ship Production," Thomas Lamb; "Automatic Submerged Arc Welding with Metal Powder Additions To Increase Productivity and Maintain Quality," Philip D. Thomas.
3:00 pm—"Unit Work Guide for Zone Outfitting in Repair and Overhaul," Shel Kjerulf; "Generative Process Planning by Expert System," Frank A. Logan.
7:00 pm—Groaning Board Banquet, Virginia Room, Williamsburg Lodge Sessions: Friday, August 29, 1986 8:30 am—"The Establishment of Shipbuilding Construction Tolerances," James D. Butler and Timothy R. Warren; "The Development of an Initial Graphics Exchange Specification (IGES) Capability," Daniel J. Wooley and Martin L. Manix.
10:00 am—"Thermal Spraying in the United States Navy," Stephen Vittori; "The Automatic Cutting, Marking, and Processing of Structural Sections," Gunter C. Wilkens and John M. Kalogerakis.
11:00 am—"The Reproduction of the Godspeed," Duncan Stewart and William Boze. This paper will be followed by a tour of the Godspeed at Jamestown at 2:00 pm.
For additional information and to receive a symposium brochure, contact W. B. Woolard Jr., Registration Chairman, 1986 Ship Production Symposium, P.O. Box 315, Newport News, Va. 23607.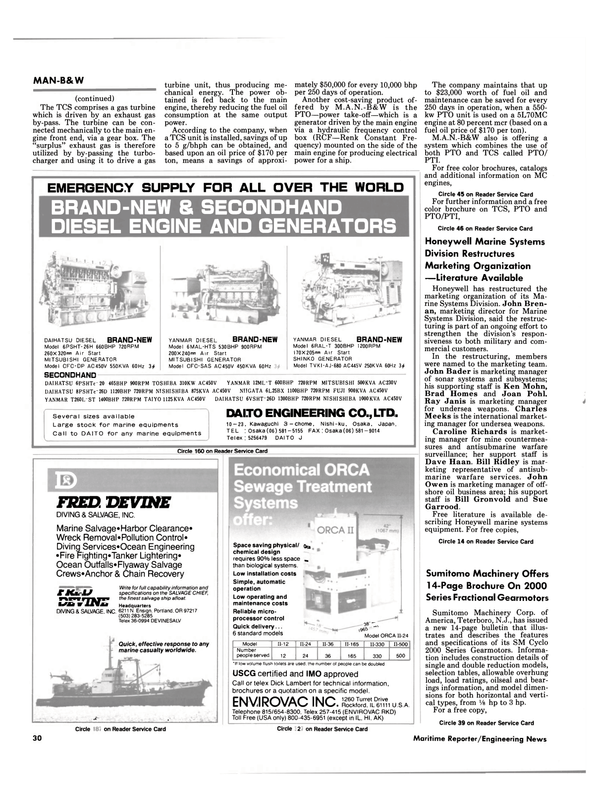 Read Newport News Shipbuilding And SNAME Sponsor Ship Production Symposium in Pdf, Flash or Html5 edition of August 1986 Maritime Reporter
Other stories from August 1986 issue
Content