Furuno Introduces N e w Products
Furuno U.S.A., Inc. of South San Francisco, Calif., recently announced the introduction of several new products.
One is a new digitized daylight bright radar, FR-8030D, that packs a lot of performance features and a full 12-inch diagonal CRT into a cabinet only 13.3 inches wide. While the model number might indicate that this radar is a "little brother" to the FR800D Series unit, it is really more of a "big brother" to the FR-600 Series. The screen is dramatically larger than the 600's and presents the same number of scan lines and high definition as the larger radars, yet is available at a far more cost-effective price.
The FR-8030D uses four levels of quantization to assure a bright, crisp picture for superb target detection.
All operational data is displayed on the screen for maximum user convenience.
Output power is 3 kw, with eight range scales from lA to 48 n.m.
Standard features include Electronic Variable Range Marker, Electronic Bearing Line, Guard Zone, alarms, Furuno's low noise custom microwave integrated circuit receiver design, and a new 4-inch aerodynamic open antenna array.
The FR-8030D operates from a built-in 10.2-40 VDC power supply and requires just 50 W.
For more information and free literature on the FR-8030D, C i r c l e 14 on Reader Service Card Furuno's new high-performance color video plotter, the GD-180, is a 12-inch, eight-color video plotter that presents one of the clearest, sharpest, most comprehensive plot pictures in the industry, with more than 5,000 pixels per square inch. A built-in 3.5-inch floppy disk drive has the capacity to store up to seventy 2,000-point digitized charts, and the system provides free selection of seven plotting colors and full remote control of all functions.
A continuously variable plot area offers scale factors of 1/1,000 (less than one square mile) to 1/9,500,000 (more than 700 square miles), with 10 programmable scales for quick changes. The plot interval can be set either in time (0.00 to 1.00 hours) or distance (0.0 to 99.9 n.m.).
GD-180 users may enter as many as 1,000 distinctive marks, made up of any mix of 10 different standard marks, event marks from external navigation equipment, and marks associated with connecting lines. In addition, two circular or parallelline alarm zones, 100 waypoints, 30 satellite fixes, a destination point, 10 danger points, and two-digit numerical time, temperature, or depth notation may be added along the courseline.
Waypoint entry can be in the user's choice of L/L, TDs, range/ bearing, own ship position, event mark, or from an external nav receiver that provides Furuno CIF or appropriate NMEA 0183 output. A unique feature of the GD-180 is that more than one nav receiver may be connected and, if one fails, it will automatically switch to an alternate in user-selected priority order.
For additional information and free full-color literature on the GD- 180, C i r c l e 15 on Reader Service Card The FCV-552, for starters, is a top-notch 500W (rms), dual frequency, eight-color video sounder with a high resolution 8-inch CRT.
It can provide, with optional sensor, a historical temperature plot covering the range from 23 to 86° F on the lower third of the CRT. Or, it can interface with onboard loran or sat nav receivers functioning as a video plotter complete with present position, track plot, event marks, present and past waypoints, range/ bearing to waypoint, and present time, as well as position, depth, temperature and time data for past waypoints.
In the sounder mode, the FCV- 552 provides 19 basic ranges to 3,000 feet, from which the user can preselect any six frequently used scales.
Additionally, the unit can be phased in 1- or 10-foot steps across the entire range and there are six selectable bottom lock ranges.
Operators may choose from six different display modes that include any combination of high, low, or mixed frequencies and bottom lock.
The FCV-552 uses a single transducer for both the 50 and 200 kHz operating frequencies. It has internal memory to store a full page of data in any mode, alarms for fish, bottom, midlayer, or temperature, it stores up to 16 events, and operates from a universal 11-40 VDC power supply drawing just 50 W.
Furuno's new FCV-552 has the performance features for complete Fishing Database Management.
For free full-color literature containing full details on the FCV-522, C i r c l e 1 6 on Reader Service Card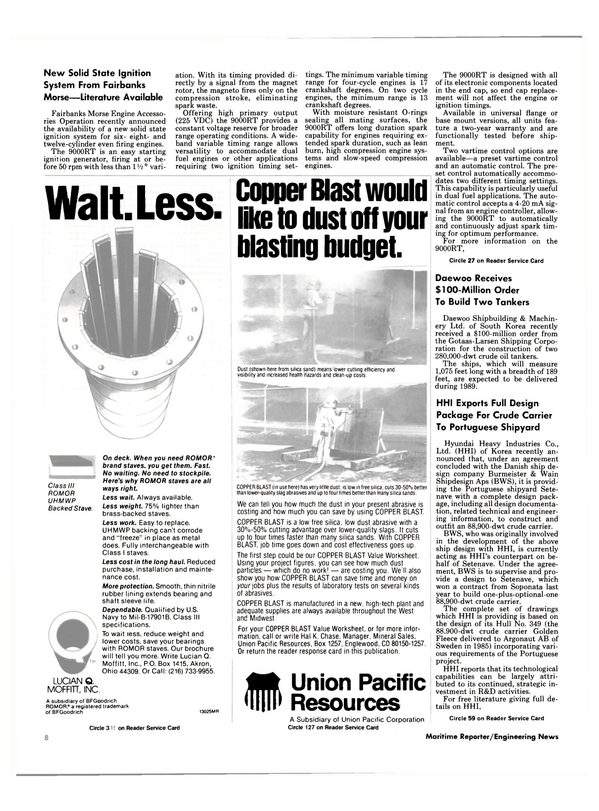 Read Furuno Introduces N e w Products in Pdf, Flash or Html5 edition of December 1987 Maritime Reporter
Other stories from December 1987 issue
Content