Exxon Mobil Appeal Rejected
The U.S. Supreme Court recently rejected an appeal by Exxon Mobil Corp. over the $5 billion punitive damages verdict against it for the 1989 Valdez accident. The justices let stand a U.S. appeals court ruling that the award against the oil giant in a civil lawsuit brought by Alaskan fishermen and other plaintiffs should not be set aside because of irregularities during jury deliberations.
The appeal centered on the misconduct of a court bailiff who escorted the jury during the 1994 trial and the deliberations. A dissenting juror had reportedly become emotionally distraught on the 32nd day of deliberations.
When the jurors returned from the holiday weekend, the bailiff approached another juror and said the jurors were having problems with the distraught juror, the juror later testified at a hearing before the judge.
The bailiff then reportedly pulled out his gun and took out one of its bullets and said something about putting the juror out of her misery, the juror said.
He said he took it as a tasteless joke rather than as a threat or serious suggestion.
The judge and then the appeals court ruled that Exxon Mobil had failed to prove that the jury had been prejudiced by the bailiff's misconduct. In its Supreme Court appeal, Exxon Mobil said, "This case involves the fundamental right to a fair and impartial jury." The Supreme Court denied the company's appeal without any comment or dissent.
The company still has other appeals pending before the California-based appeals court, and that the high court's action was not the final word on whether the damages would have to be paid.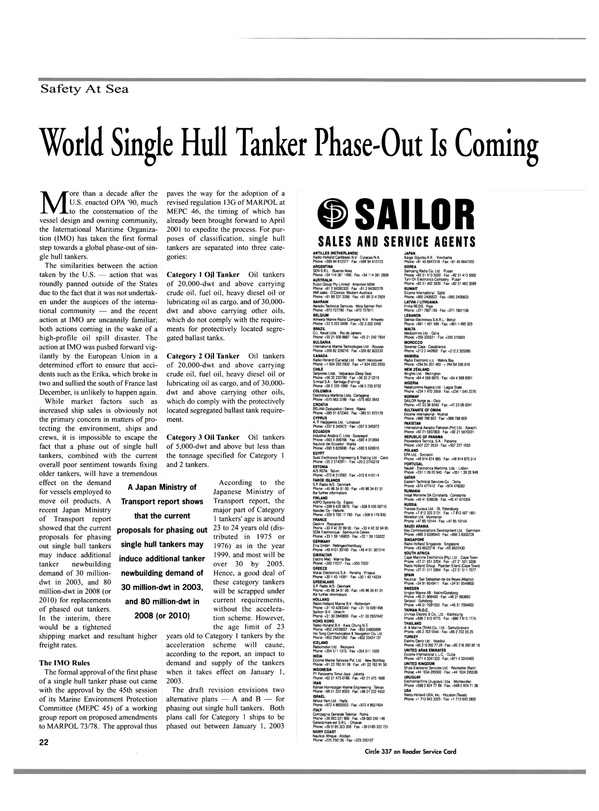 Read Exxon Mobil Appeal Rejected in Pdf, Flash or Html5 edition of November 2000 Maritime Reporter
Other stories from November 2000 issue
Content