ZF Fortifies Product Line, Business Plan
Consolidation of manufacturing and service entities is perhaps the world's worst kept secret. Marine propulsion manufacturers, in particular, have been rapidly consolidating companies, lines and capabilities in order to broaden their organizations to be truly global, while filling any holes in the power range along the way. ZF, a renowned maker of marine transmissions, has done this and more in becoming a single source propulsion supplier.
The expansion of the product line includes a complete propulsion systems was part of ZF Marine's strategic plan established in January 1999. It has now become a reality, with the founding of the Propulsion Systems division, based at ZF Padova.
Stephane Jacquemond was appointed manager of this new department, and brought with him a wide range of marine propulsion experience, having worked for the French subsidiary of RENK, S.E.E. (now ZF Masson), as well as the French supplier of propellers and propulsion systems. France Helices.
ZF Marine has now finalized major agreements with several companies, which will increase the Group's technical expertise, enlarge the product portfolio and enable ZF Marine to enter new markets.
The Joint Venture with FB Design and foundation of ZF-Trimax to market surface-drive systems was | the first step. These drives are well suited to the ZF Marine range of 2-Speed transmissions, and this combination, with the advanced hull design of Fabio Buzzi's company, FB Design, lead to the series production of the 38 ft.
(11.5 m) Sunseeker XS 2000. ZF Marine's program of surface-drives has also been supplemented by a licensing and marketing agreement with France Helices for their SDS range of trimmable surface-drives.
Controllable pitch propellers have now been added to ZF Marine's product line by the founding of ZF Marine Technic S.L., and negotiations are taking place for the addition of a full range of high technology, fixed pitch propellers.
The latest addition to the ZF Marine Group was the acquisition of Mathers Controls Inc. to provide a comprehensive range of state-of-the-art propulsion controls systems for all applications.
ZF Marine Buys Mathers Controls Harold Mathers, President of Mathers Controls, Inc., signed papers on September 18 transferring ownership of the company to the ZF Marine Group.
Mathers Controls, a privately held company with corporate offices in Burlington, Wash., was founded 50 years ago by father and son partners Cliffe and Harold Mathers. The company pioneered the development of single-lever throttle and gear controls in 1953 and later pioneered the development of multi-station electronic controls with the introduction of MicroCommander in 1987. In the early years, Mathers Controls focused on commercial vessels.
Later, with the introduction of Micro- Commander and innovations, which included a hand-held control and the company's MC 2000 series, Mathers took the lead in the pleasure craft market.
"When we looked at what compa- nies are doing in electronic controls, we recognized that Mathers Controls was our ideal choice," said Roland Heil, ZF Marine general manager and CEO. "Of course, we also recognized that the people at the company, and the people connected to the company, were responsible for its success." ZF Expands Line ZF Marine is expanding it's range of heavy duty commercial transmissions with a complete series using modular designed components, which will eventually extend to torque capacities of around 100,000 Nm. This confirms ZF Marine's intention to become a major supplier in the workboat market, as already achieved in the pleasure and fast-craft markets.
The first of this range, the ZF W23100 NR, was displayed at SMM in Hamburg, and three of these transmissions have already been sold for installation in tankers being built in Istanbul, Turkey.
The ZF W23100 series has a maximum torque capacity of approx. 26,000 Nm at ratios up to 3:1 and the ratio range covers 2.5 - 5.85. It is available for non-reversing applications with disengaging clutch (NR) or without clutch (NC). Provision is also made for the attachment of an O/D box for controllable pitch propeller actuation. The robust, cast iron casing is split transversely at the axis of both the input and output shafts to allow easy on-board maintenance. Various PTO options are also available, both live and clutchable and clutch actuation is either electrical or pneumatic.
This gear series was designed at the ZF Marine Group's German plant, ZF Marine GmbH in Friedrichshafen, in conjunction with ZF Masson in France, and is manufactured at the ZF Padova plant in Italy, who this year received QS 9000 certification by Det Norske Veri- tas. ZF Marine's highest capacity transmission, built primarily for the fast ferry market, has now been up-rated to accommodate new engine developments with ratings up to 8,200 kW / 1 . 1 5 0 rpm.
The ZF 53000 NR series (formerly BU 5300) is non-reversing for use with water-jet systems and is available with port or starboard horizontal offset, or vertical offset. The horizontal version includes a patented "ZF Antiflex" mounting system to prevent stresses caused by hull flexing from being transmitted to the gear housing.
The first application of the ZF 53000 NR was in the 449 ft. (137 m) Corsaire 13000 built by Chantiers de l'Atlantique, powered by MTU 20V 1163 Diesels and LM 2500 gas turbines. They have also been installed in two 197 ft.
(60 m) "Jumbo Cats" with Caterpillar 3618 engines built in Norway by Fjellstrand, and further orders are pending.
Circle 50 on Reader Service Card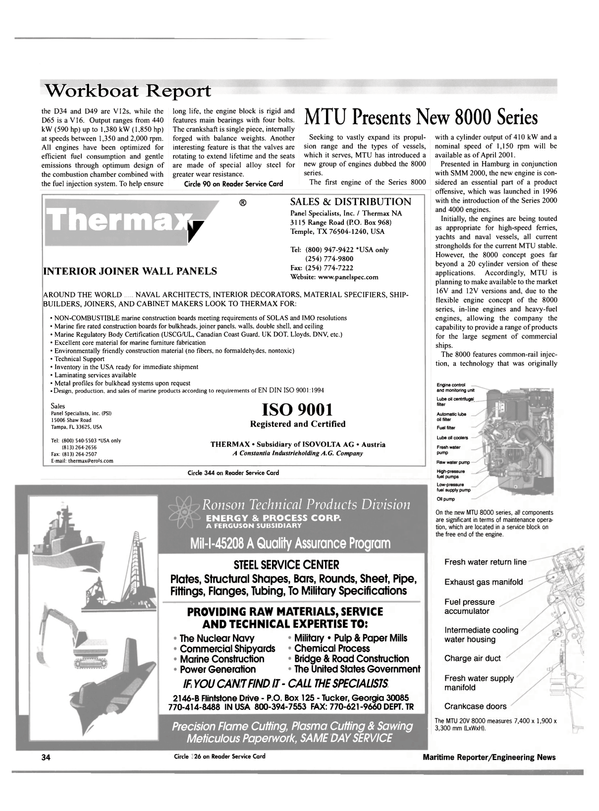 Read ZF Fortifies Product Line, Business Plan in Pdf, Flash or Html5 edition of November 2000 Maritime Reporter
Other stories from November 2000 issue
Content