Olympic Engine Selection Evokes Thoughts Of "Green"
When Olympic Tug & Barge was founded in 1987, owner Harley Franco had environmental responsibility on his mind. Early major oil tanker disasters southeast of Nantucket, Mass., near Galveston, Texas, and off the coasts of England and Mexico were influencing the future of the oil transportation industry. So Franco committed himself to growing his business by assembling a "fleet of the future" built around the most environmentally friendly technology he could afford.
Today, parent company Harley Marine Services oversees a combined fleet of more than 40 vessels.
Olympic Tug & Barge began as a vessel bunkering operation, leasing a tugboat and barge to transport the bunker barges from ship to ship. "It was difficult for a start-up company in such a capital-intensive business to afford the best technology. There was a lot of World War II tonnage out there," says Franco. "But one of the things we did was get a full-time safety and compliance officer to continually inspect, audit and enforce. For a small business, that was a big commitment." Then, in 1989, the single-hull supertanker Exxon Valdez struck a reef in Alaska's Prince William Sound, spilling 11 million gallons of oil. The huge slick eventually spread over 10,000 square miles of Alaska's coastal seas and as far as 600 miles from the reef.
"Exxon Valdez was a shocker and eye-opener, particularly being so close to our base in Seattle," Franco recalls. "It made everybody in our industry jump on the bandwagon to prevent spills resulting from groundings or collisions. But back then, a double-hull ship was a concept that most everyone thought was too expensive and not practical." By 1992, Olympic Tug & Barge expanded its fleet to three barges and four tugs operating in the Puget Sound. In 1994, further growth came with new oil operations on the Colum- bia and Willamette Rivers in Oregon, and dry bulk transportation and deck barge services a year later.
In the aftermath of the major oil disasters, the emerging use of tanker escort services in restricted waters sparked the development of agile, maneuverable tractor tugs that offer greater bollard pull than traditional pusher tugs. Franco saw this opportunity and moved into the ship assist business in 1998 by purchasing Pacific Coast Maritime. As a result, Olympic Tug & Barge acquired its first tractor tug, the Gyrfalcon. It also attained its first double-hull barge. In April of this year, the company took delivery of the new 105-ft. (32 m) trac- tor tug Millennium Falcon, and in Sep- tember launched the Millennium Star, The tugs were built by MARCO Ship- yard in Seattle. Each tug is powered by twin, electronically-controlled Caterpil- lar 3516B diesels delivering 4,400 bhp @ 1,600 rpm, supplied by N C Power Systems Co. in Seattle and financed by Caterpillar Financial Services Corpora- tion through their marine division. The engines turn Ulstein stern Z-drives with 94.5-in. propellers inside Ulstein high- performance nozzles. Franco says he selected electronically controlled engines because they produce more power compared to mechanically con- trolled engines of the same number of cylinders, size and weight. An electron- ic control module (ECM) replaces the traditional mechanical governor with precise, infinitely variable electronic control of injection timing. Fuel con- sumption and exhaust emissions are reduced at all levels of loading, Emissions management was a key fac- tor when parent company Harley Marine Services moved forward with its ship assist program — particularly because it would be operating in California waters.
"That's why we selected Caterpillar engines," says Rod Gullickson, Olympic Tug & Barge vice president and general manager. "The 3516B engine met and exceeded California Air Resources Board regulations better than any of the competitors. It seemed to be the proven product in that horsepower class." "Another reason was that we're trying to standardize," adds Gregg Nelsen, Harley Marine Services' director of maintenance and engineering. "With a uniform fleet, there's economy of scale in parts, service and training. Safety improves, too, because crews know that all the equipment works or can be maintained in a certain way. We see a lot of value in that." After completing sea trials this fall, the Millennium Star will join its sistership Millennium Falcon at the Port of Los Angeles — the busiest port in the U.S. and third largest in the world. Also on duty is the Escort Eagle, a leased 115-ft.(35 m) tractor tug powered by Cat 3512 engines and Aquamaster 1350 drives. Harley Marine Services entered this competitive market two years ago by purchasing the assets of established Links Marine, launching Westoil Marine Services, a Long Beach bunker and petroleum transportation company with three barges. Millennium Marine was formed earlier this year to manage tug operations.
"Entering the L.A. market was a natural," Franco says. "For us, bunker and ship assist go hand-in-hand. Based on volume, we now have 70 percent of the bunkering business there, so it makes sense to push our oil barges around with what we think are the best multipurpose tractor tugs." Although Harley Marine Services continues to expand into new markets, the original Olympic Tug & Barge business plan — to be a service-oriented company sensitive to environmental needs — continues as a key corporate mission. "We have been dedicated to investing in reliable, high-technology that helps protect the environment," Franco says. "Buying a tractor tug marked our 'arrival' in the industry, and now we're the only group on the West Coast building double-hull bunker barges. Our selection of low emission engines is another example — we'll be relying on them for the next 20 years." Circle 100 on Reader Service Card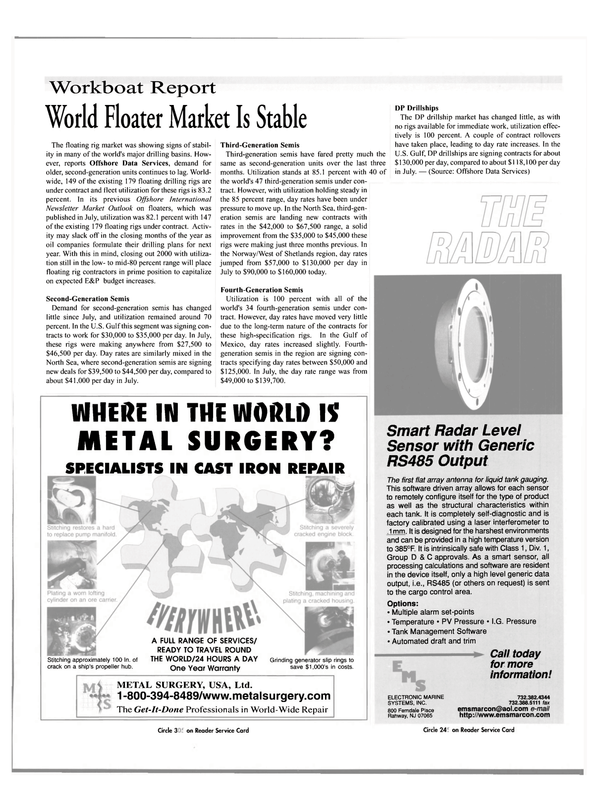 Read Olympic Engine Selection Evokes Thoughts Of "Green" in Pdf, Flash or Html5 edition of November 2000 Maritime Reporter
Other stories from November 2000 issue
Content