Oil Instability, consolidation Muddy Offshore E&P Picture
The cyclical nature of the oil business has blossomed into full bloom during the latter part of 2000, as a host of political power plays have sent oil prices on a virtual rollercoaster, albeit mostly up, helping to send it soaring as high as $37/barrel at the time of this writing.
The business of accurately predicting the direction in which oil pricing will go has seemingly become less of a science and more of a speculative game. While it was the Asian financial crisis which led prices to the cellar in 1997, it is another crisis — the potential advancement of hostilities in the Middle East — which have helped to send the price back up to near decade (read: Gulf War) heights. Combined with uncertainties regarding the severity of the upcoming winter, quickly rising marine freight rates, extremely low oil stocks and concerns about quickly escalating natural gas prices, the market is considered tight and rather fragile Throw in the old standbys of OPEC power playing and election- year politics, and the result is a bevy of market forces pulling oil pricing seemingly in infinite directions.
In comments at a recent industry briefing, Royal Dutch/Shell Group chairman Mark Moody-Stuart said that he expects oil prices to remain strong for the next year, but sees them falling after that as technology jump-starts development of new fields. "The price, we suspect, will be up for a year or so, although it will be coming under downward pressure," Moody-Stuart said in a wide-ranging briefing for investors sponsored by Lehman Brothers. "But in the longer-term, we do feel that technology will tend to drive price down" to $20 a barrel or less, he added.
Crude oil prices presently stand above $30 a barrel, having recovered from $10 a barrel in 1998, and companies including Shell are now looking to funnel some of their newfound cash flow back into capital projects. Shell, for instance, recently said it planned to six new North Sea oil projects that will raise its spending in the area by 20 percent to $ 1.2 billion.
Beyond the North Sea, Shell is also pressing ahead with exploration and production projects in the U.S. Gulf of Mexico, where technology has allowed companies to tap deep into the waters for oil and natural gas. Shell Oil Co., a subsidiary of the group, recently said it made a major find in the U.S. Gulf of Mexico and decided to proceed with the development of another. Together, they are expected to have oil and gas reserves that equal more than 500 million barrels of oil equivalent.
Energy Consolidation Continues Many who depend on a rebound in "Big Oil" E&P spending to revitalize marine operations could be waiting longer than anticipated due to continued consolidation within the energy industries.
Speaking to companies more than a year ago, many predicted a significant business boom by mid this year based on sustained oil pricing. Back then, the thought of a $30 plus per barrel price would have undoubtedly made these projections even brighter. And even though the business of exploring for and recovering oil has strengthened considerably, there remains and underlying reserve on behalf of the oil companies to unleash E&P budgets to former scale.
Mid last month Chevron, the secondlargest U.S. oil company, agreed to buy third-ranked Texaco Inc. in a $35 billion stock deal that will form an energy powerhouse.
The deal will face close scrutiny both in the U.S. and EU, as a wave of blockbuster transactions — led by ExxonMobil and BP Amoco — have effectively helped to redefine the world energy markets. The new company, to be called Chevron Texaco Corp., will also go head-to-head against other industry leaders like Royal Dutch/Shell and TotalFina Elf.
But a deal need not be a mega merger to have significant ramifications. Early in October, for example, Chevron, Shell and Schlumberger announced plans to form a separate corporation dubbed OpenSpirit Corp., designed to develop and market the next-generation of middleware for E&P applications and data integration. Chosen to lead the new company is Neil Buckley, who will serve as the Houston-based company's CEO. Buckley has more than 12 years of software commercialization experience in the energy business. He is a former president of U.S. operations for Merak, a division of GeoQuest. Of the new organization he said: "OpenSpirit represents a significant advancement in our industry's ability to share information and develop innovative collaborative solutions in a distributed environment.
Until now, there has not been a comparable framework capable of integrating data and applications from multiple sources in the E&P industry."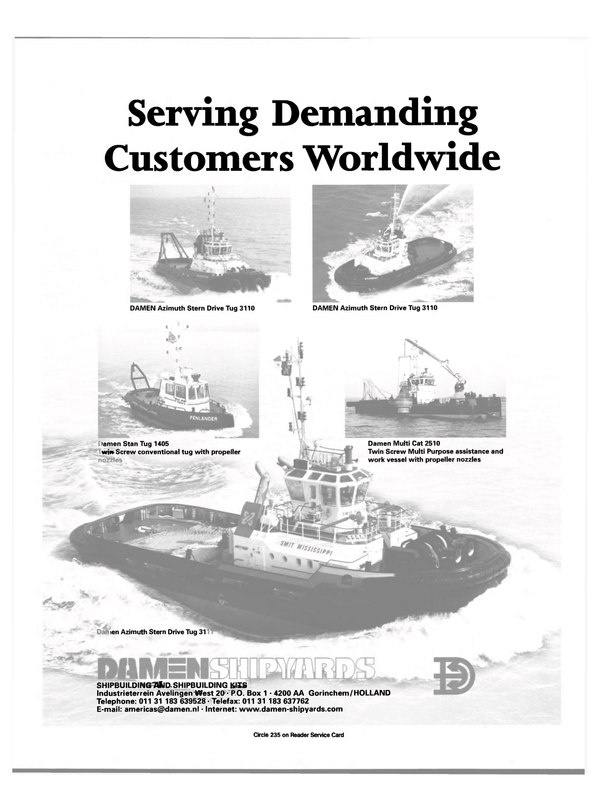 Read Oil Instability, consolidation Muddy Offshore E&P Picture in Pdf, Flash or Html5 edition of November 2000 Maritime Reporter
Other stories from November 2000 issue
Content