New "Ax-Bow" To Increase Ships' Efficiency
Considerable effort, particularly following the oil embargo of the 1970s, has been placed on reducing the fuel oil consumption of ships, a task readily handled by a series of improvements in hull shapes, the fitting of energy savings devices, and improvements to the performance of main engines. A group of engineers from the Tsu Research Laboratories — Koichiro Matsumoto, Ka/uyoshi Hirota and Kenji Takagishi - however, noted that while performance in still water was gaining, other factors, namely wave resistance was taking its toll. Thus a study was launched to develop new ship shapes in order to reduce the resistance increase due to waves, in order to lower sea margin.
NKK Corp. has developed the axshaped bow that allows a reported 20 to 30 percent reduction in ships' sea margin compared with conventional bows. The company will fit the new bow to a 172,000-dwt Capesize bulk carrier that is currently under construction at the yard's Tsu Works, being built for Mitsui OSK Lines. As ship operators increasingly demand more efficient operation, particularly under rough conditions, NKK decided to focus on how to reduce a ship's resistance on the bow above the still water surface. In 1996, teaming with Osaka University marine engineering researchers, the company developed a sharp-edged bow, which proved effective cutting through waves and reducing sea margin.
NKK has continued model tests of the Ax-Bow with partial funding from the Ship & Ocean Foundation, and con- firmed that the Ax-Bow can reduce a ship's sea margin by 20 to 30 percent.
The bulk carrier is to be delivered in June 2001.
The team found that, in order to decrease the diffraction of waves at the bow, it is necessary to reduce the bluntness of the bow shape, especially above the still waterline. To design the opti- R o - C l e a n D e s m i Sets W o r ld R e c o r d For L a r g e s t O il C o n t a i n m e n t B o om Ro-Clean Desmi A/S of Denmark has been officially awarded the Guinness World Record for developing the largest offshore oil containment boom in the world. Known as the R0- BOOM 3500 this boom has an overall height of 11.5 ft. (3.5 m). Traditionally offshore booms have only been around 6.5 ft. (2 m) in height.
This unusually large boom was developed for use in the Norwegian sector of the North Sea in Europe where the sea conditions are especially harsh with waves reaching up to 23 ft. (7 m). RO-BOOM 3500 has an overall deflated width of 3.5 m, an operational freeboard of 4 ft. (1.3 m) and a draft of 5 ft. (1.5 m).
The operational performance of this boom was tested extensively in the North Sea more than three years, and the oil retention abilities were confirmed with underwater cameras.
A typical system comprises of 1,312 ft. (400 m) of R0-B00M 3500 wound onto a specially developed hydraulic reel that can store, deploy and recover this massive boom. The boom is inflated using an ultra high capacity air blower. The system is completed with a specially designed set of towing equipment that includes a transverse bridle for the formation a skimmer pocket.
RO-BOOM 3500 oil containment boom is manufactured from heavy-duty neoprene rubber with a Hypalon external skin. This unique onepiece molded composite construction has complete cross vulcanization of rubber and reinforcing fabrics. The construction has high abrasion resistance, peel resistance and tensile strength. RO-BOOM lies completely flat when deflated allowing for easy cleaning and storage. The individual air chambers provide high integrity. RO-BOOM is fitted with stainless steel fittings and a hot galvanized ballast/tension chain. Stainless steel hinge connectors are fitted as standard.
Circle 3 8 on R e a d e r Service C a rd May, 2 0 01 mum bow shape under various practical restrictions, an estimation method of added resistance due to wave considering hull shape above the waterline is needed.
One solution formulated was the Beak-Bow, so named for its similarity to the appearance of a bird's beak. It entailed a sharp and extended triangular shaped bow above the waterline, which served to effectively reduce wave resistance.
From a practical standpoint, however, it in some cases added too much length to the ship. For example, in the case of a 170,000-dwt bulk carrier, the ship length became 984 ft. (300 m) with the Beak-Bow, which made the ship, by regulation for its size/type, 36 ft. (11 m) too long to enter a European port. The shape was then modified to form the Ax-Bow, a bow shaped modified to shape the waterline as sharp as possible, keeping the profile of the bow as a solid line. It also, by nature of its shorter profile, helps to ensure that ships stay within length regulations.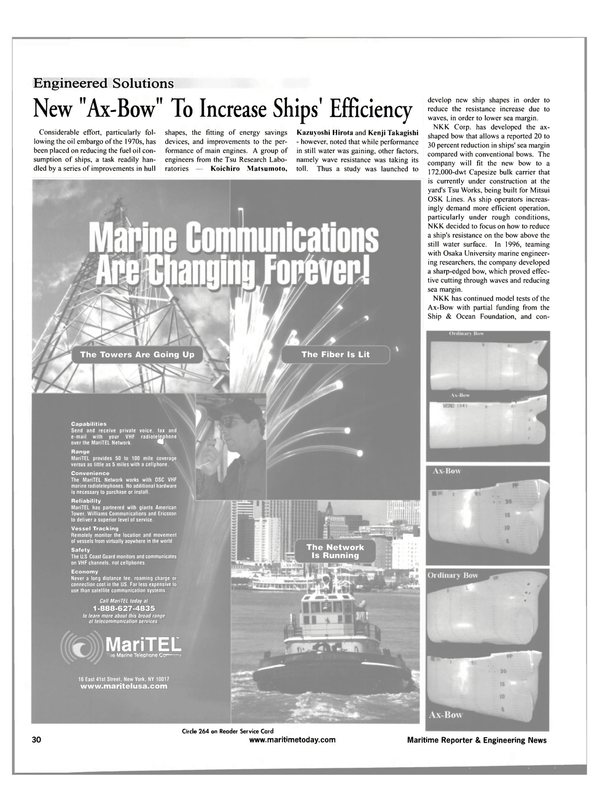 Read New "Ax-Bow" To Increase Ships' Efficiency in Pdf, Flash or Html5 edition of May 2001 Maritime Reporter
Other stories from May 2001 issue
Content