Government Update
1. On and after January 1. 2003 for any vessel built on or after that date: 2. On and after July 1, 2003 for any vessel built before January 1. 2003 that is a passenger vessel required to carry a SOLAS certificate, a tanker, or a towing vessel engaged in moving a tank vessel: and 3. On and after December 31. 2004 for all other vessels built before January 1, 2003.
For ships subject to the SOLAS Convention of 300 gt and upwards engaged on international voyages, and cargo ships of 500 gt and upwards not engaged on international voyages and passenger ships irrespective of size, installation and use of AIS is required in accordance with the following schedule: 1. Ships constructed on or after July 1, 2002; 2. Ships engaged on international voyages constructed before July 1, 2002: a. In the case of passenger ships, not later than 1 July 2003: b. In the case of tankers, not later than the first survey for safety equipment on or after July 1, 2003: c. In the case of ships, other than passenger ships and tankers, of 50,000 gross tonnage and upwards, not later than July 1, 2004; d. In the case of ships, other than passenger ships and tankers, of 300 gt and upwards but less than 50,000 gt, not later than the first safety equipment survey after July 1. 2004 or by December 31. 2004, whichever occurs earlier; 3. Ships not engaged on international voyages constructed before July 1, 2002, not later than July 1, 2008.
Concerns Regarding AIS Problems have been observed with regard to AIS installations to date.
Ship's static data sometimes is loaded incorrectly or not present at all. For instance, ships have reported dimensions via AIS that are obviously incorrect.
Some ships are not transmitting heading information via AIS, possibly because the connection of the ship's gyro compass has not been properly made. On some ships, although the AIS system seems to be connected to the gyro compass, the heading information being reported by AIS is different than the actual heading. Some shipborne AIS equipment does not respond to shore station commands. The cause is probably outdated firmware. These early implementation problems highlight the fact that AIS is a complex piece of equipment that only works properly when it is fully integrated into a sophisticated navigational system.
A note of caution is in order.
Implementation of AIS has been advanced because of the inherent maritime security aspects of the system.
After all, if the authorities ashore can automatically identify ships as they arrive offshore, it makes the j ob of evaluating risks and allocating scare resources that much easier. On the other hand, as noted above, incorrect (or false) data can be accidentally (or intentionally) programmed into the AIS as currently configured. This would defeat the security purpose of AIS, leading to potentially catastrophic consequences.
Further, terrorists, pirates, and others of malicious intent can monitor AIS signals to identify target vessels.
Returning to the original purpose of AIS, maritime safety, all parties should remember the consequences of overreliance on machines that seem to provide all the answers. One need only look back to the grounding of the cruise ship Royal Majesty on June 10, 1995.
The ship was completing a voyage from Bermuda to Boston when it ran aground on the Rose and Crown Shoal about 10 miles east of Nantucket Island, Mass.
The ship was 17 miles off course when the incident occurred. Damage to the ship and lost revenue were estimated at $7 million. Subsequent investigation revealed that the ship's automated navigation system had been programmed to rely on its GPS receiver. However, less than one hour after departing Bermuda, the GPS antenna came loose, disabling the GPS. The integrated navigation system automatically defaulted to its dead reckoning navigation system, which does not compensate for the effects of wind, current, or sea conditions. The audible warning system had been disabled and the warning light was displayed only in the chart room. No one on the bridge during the 34 hours between the loss of the GPS signal and the grounding noticed that the ship was off course. None of the other available navigational tools were utilized. The incident provides a valuable lesson in what can happen when reliance is placed in any one system to the exclusion of other systems, including common sense.
Summary The answer to our original question is that AIS is neither a panacea nor a Pandora's box. It is just another tool in a large and growing tool box made available to masters, deck officers, and others to enhance maritime safety and security. It is only as good as its maintenance and the training provided to its users.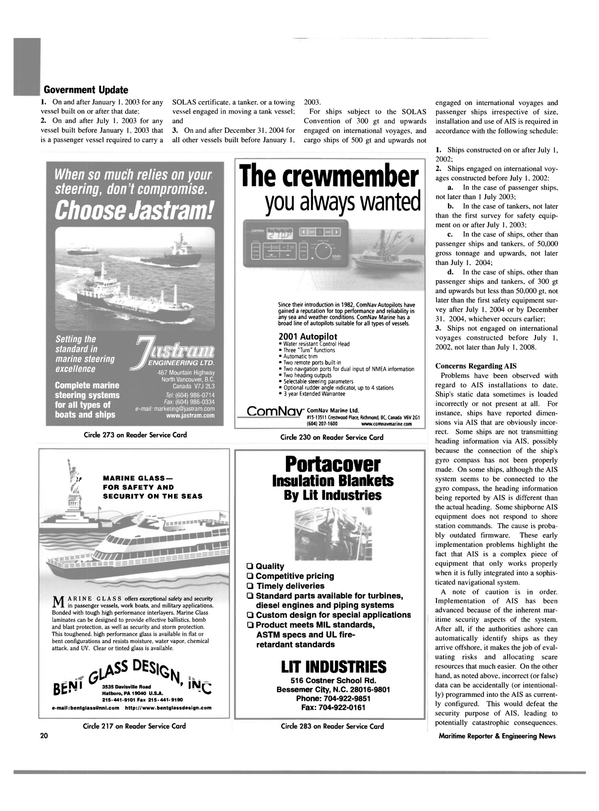 Read Government Update in Pdf, Flash or Html5 edition of June 2003 Maritime Reporter
Other stories from June 2003 issue
Content