SS Norway Boiler Room Explosion Claims Seven Lives
On the morning of Sunday, May 25, 2003, passengers onboard the Norwegian Cruise Lines' (NCL) vessel, S/S Norway awoke to a loud boom, as the vessel returned from seven-day Caribbean cruise to its homeport in Miami, Fla. The noise, which came from the vessel's engine room, is believed to be caused by a steam leak from one of the 41-year-old ship's boilers. The explosion, has, at press time, claimed the lives of seven crewmembers, the most recent being Ramon Villarais, 39, who was employed as an engine room stoker. According to a statement issued by NCL on May 28, 2003, the following six additional crewmembers perished in the tragedy: Ramil Bernal, 28, engine room stoker; Ricardo Rosal, 49, third engineer; Candido Valenzuela, 50, engine room stoker; Rene Villanueva, 28, oiler, engine department; Mari John Bautista, 29, First Asst. Refrigeration Engineer; and Winston Lewis, 53, second steward. Hotel Department.
According to Miami-Dade Fire Rescue, 22 crewmembers were injured, but passengers were disembarked safely following security measures.
The vessel, which was formerly known as the SS France, was constructed in 1961, and has built its own following.
NCL purchased the venerable ship in 1977 for $18M and refurbished it for $120M. The vessel underwent routine maintenance and a refit at Lloyd Werft Shipyard in Bremerhaven, Germany.
The job, which was completed in 1999 included work on the affected boiler.
While, according to a statement, NCL has expressed its concern and sympathy for both the deceased and injured victims and their next of kin, the line, which is owned by Malaysian-based Star Cruises, will undoubtedly find that it will remain in the headlines — not for its recent establishment of its new Homeland Cruising brand — but for a succession of law suits that are expected to be filed by the victims and their families.
According to a statement issued by the line, the first suit was filed on May 28 by Miami attorney William Huggett on behalf of one of the injured crewmembers, Ahdi Comedia, for a reported $1B. In response, NCL issued a followup press statement deeming the suit as "an opportunistic lawsuit,...a self-serving ploy in furtherance of Huggett's own personal interests.
The line furthered that it, "denies the allegation of the lawsuit and regrets that Huggett is more concerned with his lawsuit than with allowing (our) crewmembers the optimal conditions to fight for their lives and to recover from very serious injuries." The statement also questioned Huggett's industry knowledge of ships.
"It is also extraordinary that Huggett, whose lawsuit displays a spectacular ignorance of the technology of ships." When contacted by MR/EN. regarding NCL's reaction to Comedia's lawsuit, Huggett argued that the ship's age was undoubtedly a factor in the cause of the accident. "It's foolish to still be using that type of technology in ship that is so old," Huggett said. "I don't need to be an expert in boiler technology to know that." Huggett is seeking both punitive and compensatory damages on behalf of Comedia.
In response to Huggett's suit, NCL's director of communications, Susan Robison, stands by the statement issued by the line regarding Huggett's technological expertise: "He (Huggett) doesn't understand the technology of how to run a ship and how a boiler works."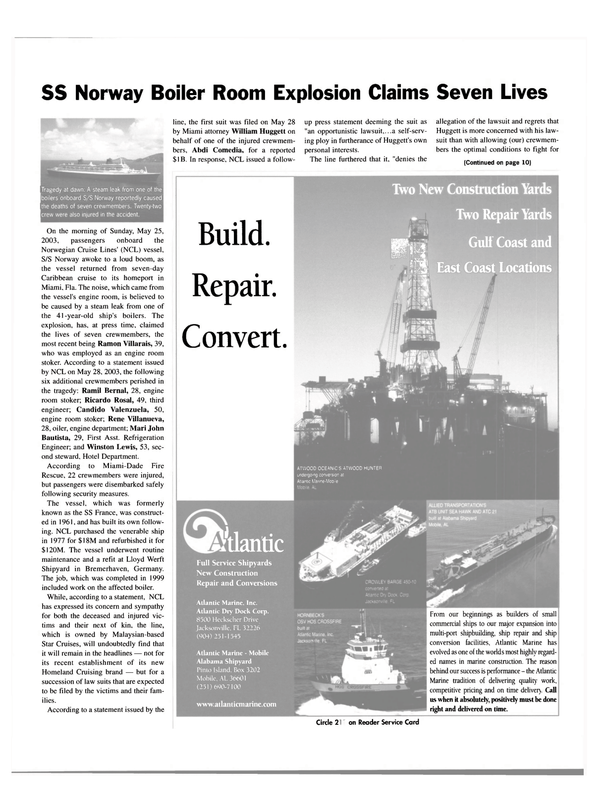 Read SS Norway Boiler Room Explosion Claims Seven Lives in Pdf, Flash or Html5 edition of June 2003 Maritime Reporter
Other stories from June 2003 issue
Content