ShipConstructor 2 0 0 4 used for M/V Cheramie BoTruc 38
To meet the requirements of the BoTruc project. Bollinger's design group chose ShipConstructor2004. the latest version of the 3-D product modeling software developed by Albacore Research Ltd (ARL). Canada. Bollinger has been using ShipConstructor for more than six years. For the near future.
Bollinger plans to integrate the ShipConstructor SQL project database with other related business process databases.
such as enterprise resource planning.
purchasing, and accounting.
Among the design demands of the BoTruc OSVs is the significant increase of cargo capacity. Bollinger's executive vice president of new construction, Danny Irby, noted that while the 180-ft vessels could carry 1,750 barrels of liquid mud and 3,500 cubic feet of dry mud. the new BoTruc 191-ft OSVs will carry 2.500 barrels of liquid mud and 4,800 cubic feet of dry mud. Irby also said that the older boats carried approximately 500 tons of cargo on 4,000 square feet of aft deck space, while the new boats will carry 900 long tons on a 5,000 square foot clear deck cargo area.
Additionally, the new OSVs will more than double the fuel oil gallon capacity, at 125.000 gallons, thus giving the new 191-ft OSV more revenue time serving offshore installations and less time returning to base for fuel.
ShipConstructor2004 Bollinger launched the first hull of the two BoTruc OSVs on February 6, 2004.
To fair the OSV hulls, Bollinger chose ShipCAM, the stand-alone fairing and lofting tool developed by ARL. Eighty percent of the vessels' structural design was then done with ShipConstructor.
and 100 percent of the structural part development was created directly out of the ShipConstructor model. Bollinger's design group generated traditional 2-D design drawings for regulatory body and customer submittals directly from the 3- D model using ShipConstructor's workshop drawing function. This procedure ensures that all changes to the 3-D model are automatically implemented in all submittal drawings. For pre-fab and panel construction Bollinger utilized ShipConstructor's automatic 3-D assembly drawing generation function. The design group generated profile plots for custom endcuts per assembly and nonassembly profiles, and then used ShipConstructor's Pipe and Outfit modules to interface the piping and outfitting components into the 3-D model to avoid potential collisions in the field.
ShipConstructor's interference checking function turned out to be a very helpful quality assurance tool for that particular job. This j ob began with the creation of 2-D orthographic drawings of the piping systems, however after discussions with Bollinger's upper management, engineering was allowed to route pipe 2.5- in. and above. Bollinger's design group then generated spools and arrangements without structural backgrounds.
Bollinger's in-house engineering group then created outfitting parts and machinery arrangement in the model.
This was performed mid-way through the design and included the creation of a 2-D and 3-D model.
After the spools were fabricated in the yard for 2.5-in. and above piping, the yard requested smaller pipe runs and penetrations, indicating high confidence in both the design group and ShipConstructor's capabilities.
This job was the first for which Bollinger used ShipConstructor's Pipe module. The piping drawings were developed in 2-D and 3-D modeling. On their next job. Bollinger plans to develop piping arrangements, spools, machinery arrangements and penetrations in the ShipConstructor model.
See ShipConstructor2005 at OTC Albacore Research Ltd. will be showing ShipConstructor at OTC in Houston at booth 4173. ARL representatives will be on hand to demonstrate the new ShipConstructor2005 version, which is scheduled for release in May 2004.
ShipConstructor2005 will include an improved Bill of Material (BOMs) and the anticipated appearance of the new Hull module. The new smart BOMs are dynamically linked to the backend SQL server database to make updating production drawings much easier. The entire BOM is a smart object that the user can resize, while also changing col- ors, styles, and grid types to conform to company standards. A change in a BOM will automatically update any labels in place, retaining the often-significant effort users have made when placing labels in the best position for production.
The intelligent BOMs will also become part of the assembly drawings, enabling users to include labeled pipe spools, non-spooled pipe items and outfit items based on the build strategy.
With the introduction of the Hull module, ARL will bring much of the functionality of the stand-alone ShipCAM solution into ShipConstructor, thus running inside of AutoCAD. Users will be able to open ShipCAM files, import 3- DM (Rhino), IDF (IMSA) and ICES (most hull design programs) files, and export to IGES. IDF and GHS formats.
Circle 3 6 on Reader Service Card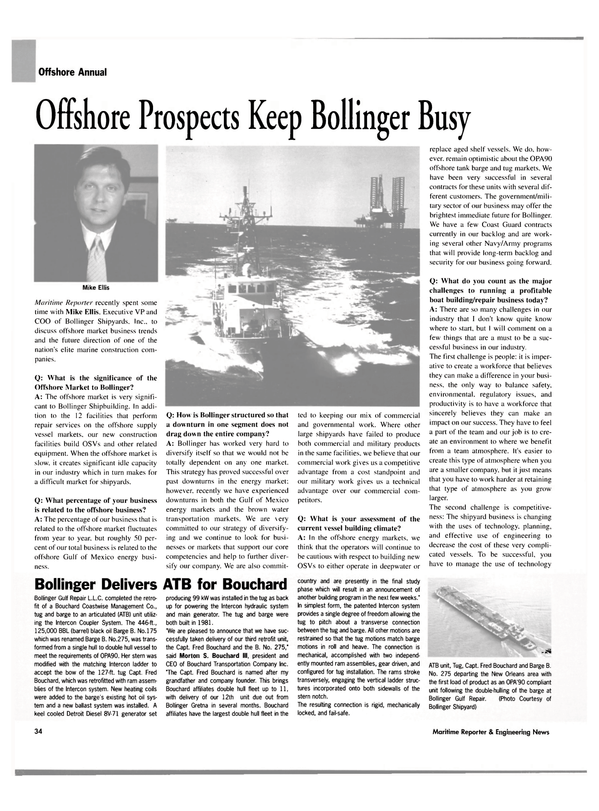 Read ShipConstructor 2 0 0 4 used for M/V Cheramie BoTruc 38 in Pdf, Flash or Html5 edition of April 2004 Maritime Reporter
Other stories from April 2004 issue
Content