Great Ships of 2014: Allseas' Pieter Schelte
Posted by Irina Tabakina
In a word, Pieter Schelte is BIG. Founded in 1985, Swiss-based Allseas Group S.A. is specialized in offshore pipeline installation and subsea construction. The company employs more than 2,500 people worldwide and operates a fleet of specialized, in-house designed and developed pipelay and support vessels. The company is known for its daring and imagination in ship design and technological innovation. Fittingly, its unofficial moto is "No guts, no glory."
The newest Allseas vessel, Pieter Schelte, is a huge ship, composed of two super-tanker hulls connected by a wide central work platform or slot, much like a catamaran. It will be able to remove topsides with one lift and move them to new destinations, meaning a large decommissioning job could be done in a fraction of the time it takes to do the job using traditional methods, a feat unheard of in large decommissioning projects. "Ever since we started designing Pieter Schelte long ago, we always knew there was a league of about 13 very large platforms in the Northern North Sea we could never take out," said Edward Heerema, Allseas' owner and president.
The specifications of the Pieter Schelte, are impressive, at 382m (1,253 ft.) long, 124m (407 ft.) wide, with a slot width of 59m (193.5 ft.) and a total width of 124m (407 ft.), making it almost as long as the Empire State Building is tall and wider than the length of a football field. The ship cost around $3.1 billion to build and is powered by 11.2 MW engines connected to 12 Rolls Royce 5.5 MW thrusters. The large amount of thrusters is vital in allowing the massive ship to turn in a short radius, compared to its large size.
Pieter Schelte, which is arguably the world's biggest ship, left the Daewoo shipyard in South Korea on November 19, and was due to arrive at the Port of Rotterdam in the Netherlands for completion in December. A partnership between Allseas and the Port of Rotterdam, will allow the Pieter Schelte to be taken to the Maasvlakte 2, an extension of the port, where a special pit has been drained to house the vessel for fitting out and completion. In the port of Rotterdam, the 65m (213 ft.) long beams of the topsides lift system will be installed. The lifting beams are being constructed by Cimolai in Italy and will be transported by ship to the Netherlands. After these are installed, the ship will undergo trials due to be completed in 2Q 2015.
The lifting trials will use a test frame, with a 5,000-ton capacity water tank, resting on four section piles, to simulate a platform. SPT Offshore and Volker Staal en Funderingen will build the structure in a joint venture. It will be sited in about 100 ft. (33m) water for lifting tests first in a calm sea and then in increasingly rougher weather, deploying the vessel's dynamic positioning compensation system. After the completion and following lifting and stability tests, the Pieter Schelte will undertake its first decommissioning job, which will be the lifting and transporting to port of Talisman's doomed Yme topsides offshore Norway.
"This will be a difficult test because the platform is wobbly, by the nature of the deficiencies in the design of the structure," said Heerema. The Pieter Schelte will then be prepared for the South Stream pipelay project, which comprises an 888km pipeline from Russia, through the Black Sea to Bulgaria. Allseas has the contracts, and depending on timing of the first Brent platform, which is likely to be Brent Delta, it will use the Pieter Schelte, or its pipelay vessel Solitaire for the Black Sea job. Pieter Schelte can lift topsides, which can weigh up to 48,000 tons, while it will also be able to lift jackets weighing up to 25,000 tons. The ship can then transport both the top and bottom sections of the rig simultaneously and take them to a port, shipyard or even install them in a different location. The ship can even raise and lower itself in the water by 82 ft. (25m) in order to cope with the huge weight demands of moving an oil rig. It can reach speeds of 14 knots (16.1 mph or 25.9 km/h) and has space for a crew of 571. When it enters operation it will also be the world's largest pipelaying ship and will be used to construct infrastructure under the sea. Its awesome pipelay capacity of 2,000 tons is double that of the previous record holder, another Allseas ship called Solitaire.
Pieter Schelte will only hold the title of the world's biggest ship for six years as by 2020 Allseas expects to have an even larger ship in operation to install and move bigger oil rigs, probably with an even greater pipelay capacity. Decommissioning has been infrequent outside of the Gulf of Mexico (where government rules makes it mandatory) and some other shallow-water locations, with the busy offshore Brazil and the North Sea seeing few decommissioning jobs despite a number of platforms being well beyond their design life. There is hope that this will change and the Pieter Schelte could be a financially and operationally sound solution that would help spur operators to remove aging rigs, especially in the North Sea, where 478 rigs may need to be removed before 2045. The vessel has already won a number of contracts for removing three platforms from the Brent field in the North Sea. Along with this, the versatile vessel will be laying 890km (553 miles) of trunkline for the South Stream project. Executives at Allseas are confident its ship's success. The recent Subsea Vessel Report from Douglas-Westwood forecasts that $9.75 billion is to be spent installing pipelines globally between 2015 and 2017, meaning the potential is there for an increased demand from both the decommissioning and deepwater pipelay markets (where the ship's large pipelay capacity will have a greater impact) in coming years. Allseas believes that these facts are positive signs that building the vessel will prove to have been a smart move. "This ship is a challenge for everyone, so it means everybody has to be on their toes. There have been delays, but it is still amazing to get here," said Heerema. Allseas also recognizes that, ultimately, the impact the Pieter Schelte will have on the decommissioning market will depend on operational costs and the ship's efficiency and operational safety. It is known that Shell spent four years studying the ship before awarding the Brent decommissioning contract, and this level of cautiousness can be expected from other players in the oil and gas industry until the Pieter Schelte attains a track record of successful operations.
Allseas executives are so confident that the ship will be successful that they have already made plans for another decommissioning vessel able to lift a staggering 72,000 tons.
Only time will tell if this will become a trend in the decommissioning and pipelay markets and much will depend on the efficiency of the new ship during its first batch of jobs.

Pieter Schelte Main Particulars
Shipyard DSME
Length, o.a. 1,253 ft. (382m)
Width 407 ft. (124m)
Speed 14 knots, max
Accommodation 571

Lift capacity
48,000 tons for topsides using eight sets of horizontal lifting beams, at 6000-tons each, across the slot for removal or installation of topsides. 25,000-tons for jackets, using two tilting lift beams on the stern for lifting and laydown.

Pipelay system
A 2000-ton capacity S-Lay pipelay system, able to handle 12m pipe sections under tension using four 500-ton tensioners, with a 170m-long stinger.
Power: 12 thrusters, powered by eight main diesel generators, providing a total installed 95MW power.


(As published in the December 2014 edition of Maritime Reporter & Engineering News - http://magazines.marinelink.com/Magazines/MaritimeReporter)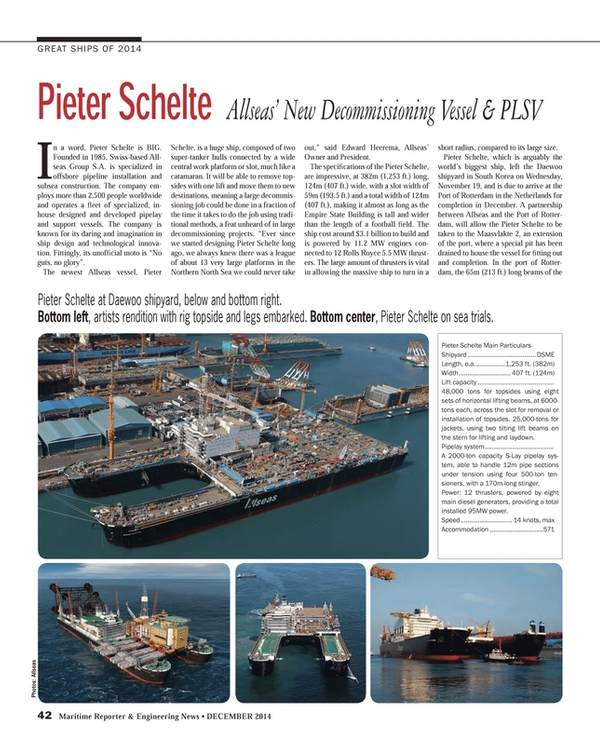 Read Great Ships of 2014: Allseas' Pieter Schelte in Pdf, Flash or Html5 edition of December 2014 Maritime Reporter
Other stories from December 2014 issue
Content