Air Products: Pioneering Gas Processing Solutions
Posted by Irina Tabakina
As the first company to commercialize hollow fiber membranes for air separation onboard ships, Air Products AS, Norway (APAS) is a true pioneer. Managing Director Tom Cantero discusses his company's technology, developments and outlook.
A manufacturer of gas processing systems for offshore, shipboard and land-based use, APAS manages all facets of the membrane process, from basic research, system design, engineering and manufacturing, through installation and service.
Since the first membrane system was introduced by APAS in 1984, more than 1,000 membranes nitrogen systems have been delivered for a variety of shipboard applications in addition to more than 220 systems for offshore and petrochemical processing. According to Cantero, more than 15,000 PRISM membrane separation systems, the key component which generates the nitrogen required to make the systems function, are in operation or under contract globally. Every one of these were designed and built by Air Products AS, in Kristiansand, Norway.
APAS' nitrogen gas production technology delivers high purity nitrogen using less feed air than many competitive systems, enabling customers in various industries and locations around the world to produce an economical on-site nitrogen supply. "Using our own, proprietary design provides unparalleled insight into the details of membrane nitrogen generation and ensures that customers receive an optimized and proven package," Cantero said.
Over the years, the APAS product has been fine-tuned, gaining a reputation for reliability simplicity and low maintenance requirements. "We are committed to delivering standardized marine systems that are purpose-based and cost effective," Cantero said. He explained that employing standardized designs saves time and expense across the organization, starting during the sales process and continuing through the after-sales business. "We can clarify customer queries more efficiently while presenting proven systems without the potential weaknesses of fully custom designs. The project manager saves time by using standard drawings and documents. In the supply chain, we are able to leverage financial benefits from purchasing greater quantities of components from fewer suppliers. Standardization also provides us the opportunity to brand several consumable parts, enhancing our after-sales business. Finally, standardization makes training easier so we can effectively establish and authorize local service agents to help ship owners in remote locations." The formula has proven successful for APAS, as the company has reported double digit growth since 2000. 2014 was a particularly good year for the company which received its single largest order of PRISM Nitrogen systems for Shipboard applications of the last 30 years: in February 2014, APAS won a project from one world's largest energy companies involving replacement of a competitor's nitrogen systems in 25 liquefied natural gas (LNG) vessels with new Air Products PRISM membrane systems.
Also in 2014, APAS delivered the nitrogen generator for Prelude – the world's largest floating LNG plant anchored 200 kilometers off of the coast of Australia. "The scope of this project was huge – larger than any system that had been delivered," Cantero said. "The logistics of the project required us to disassemble much of the structure and then acquire specialized transportation to get the unit from our manufacturing facility, through town, to a port that was equipped to handle large assemblies. This project is something we are very proud of and we are anticipating building another similar system in the near future."
And though APAS also serves markets outside the maritime space, offshore and maritime persist as the company's mainstays. "In addition to offshore and process gas systems, for the Norwegian branch of Air Products, the maritime industry is and always has been the dominating segment," Cantero explained. "Our recent business performance in the marine industry has outpaced other business units in the corporation and has been recognized at the very highest levels of management for outpacing the greater economy. The APAS business unit is anticipating a thriving market in maritime business for the foreseeable future."
"This year has been very positive for the shipbuilding industry as far as contracting of new vessels. The marine industry is recovering from the setbacks related to the financial crisis of 2008, and the resulting economic recession and is fully in a growth cycle," Cantero said. "I see positive growth in several areas of the marine industry with opportunities for APAS to supply gas generation assemblies into new markets." According to Cantero, solid growth in the oil and gas sector is driving near-term expansion across many segments as the need for nitrogen blanketing and inerting is strong in most aspects of petroleum exploration, production, refining and transportation. Cantero said longer term growth is driven largely by several new regulations for inerting cargo holds and requirements for greener ships that drive new business opportunities for APAS products: "Shipbuilders and operators are continually seeking more energy efficient components. The operating costs associated with compression, and the energy demands of ancillary equipment, are becoming key factors in purchase decisions."
Building off of established success and a positive outlook, APAS is presently reorganizing its business with a focus on speed and local accountability. "This new structure is providing each business area autonomy and freedom to react quickly to market conditions. As with many large corporations, working through the layers of management can increase the time it takes to affect change or address market shifts, and we have had to manage these types of demands in the past," Cantero said.
(As published in the December 2014 edition of Maritime Reporter & Engineering News - http://magazines.marinelink.com/Magazines/MaritimeReporter)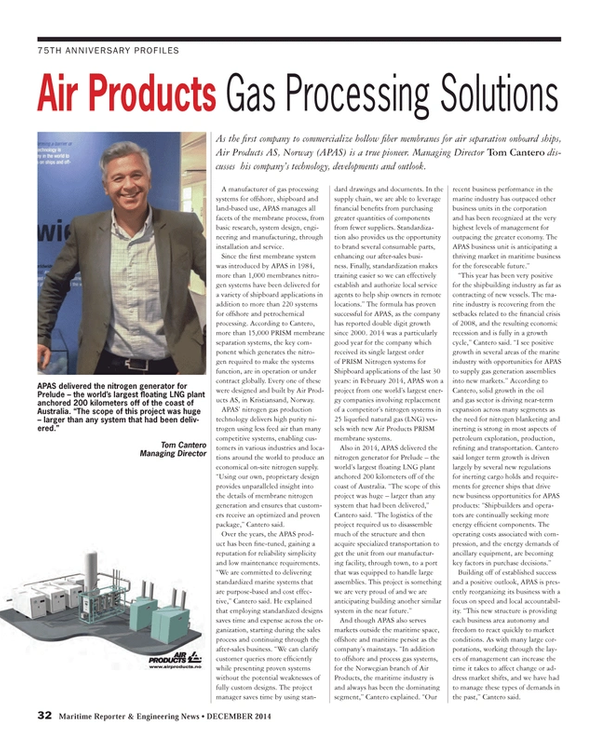 Read Air Products: Pioneering Gas Processing Solutions in Pdf, Flash or Html5 edition of December 2014 Maritime Reporter
Other stories from December 2014 issue
Content