AWO Working Hard for the Domestic Workboat Market
By Jennifer A. Carpenter
The year 2015 has been a busy year for The American Waterways Operators, the national trade association for the tugboat, towboat and barge industry, and for the industry AWO is privileged to represent. It's a dynamic time for a vital industry that constitutes the largest segment of the U.S. domestic fleet, as companies throughout the industry are investing heavily to meet evolving customer needs; the industry stands on the verge of historic regulatory change; and AWO pursues an active public policy agenda to support members' needs for predictable and practicable government policy.

Investing for the Future
The tugboat, towboat and barge industry is a critical part of our nation's transportation system. Each year, the industry's 5,000 tugboats and towboats and 23,000 barges move more than 800 million tons of critical commodities that are the building blocks of the U.S. economy, including petroleum, coal, chemicals, stone, sand, gravel, cement, steel and lumber. The industry employs more than 33,000 Americans as vessel crew members and nearly half a million Americans work in industries that rely upon water transportation.
AWO members are investing heavily to meet the demands of their customers and our country for safe, reliable, cost-effective transportation. In 2014, there were a record 344 new tank barges delivered with a total capacity of 7.74 million barrels. Investment in dry cargo capacity is occurring as well, with 561 inland hopper barges delivered last year, a five percent increase from the 2013 levels. Some 117 new tugboats and towboats were constructed in 2014, and 10 state-of-the-art articulated tug-barge units (ATBs) will be delivered within the next two years.

A New Safety Paradigm: Towing Vessel Inspection
This year, the tugboat, towboat and barge industry is on the verge of an historic regulatory advancement, anticipating the publication of new U.S. Coast Guard regulations that will bring towing vessels under an innovative inspection regime that will improve safety, security and environmental stewardship throughout the industry. Securing the publication of and preparing AWO's members to comply with the new regulations—known as Subchapter M—are AWO's highest advocacy and safety priorities.
For more than a decade, AWO and its members have worked closely with the Coast Guard to develop Subchapter M, which is currently undergoing final review by the Department of Homeland Security. The Coast Guard, with the strong support of AWO, was directed by Congress to establish a towing vessel inspection regime in the Coast Guard and Maritime Transportation Act of 2004. Since that time, the Coast Guard has engaged stakeholders in an inclusive and thoughtful process to develop the rule via the Congressionally authorized Towing Safety Advisory Committee. The result is overwhelming support from the tugboat, towboat and barge industry, the public, and bipartisan members of Congress for finalizing the regulations.
When published, Subchapter M will build on the safeguards that responsible companies have already put in place and ensure that all towing vessels meet a minimum threshold of safety to protect life, the environment, and property. There will be two ways in which companies can comply with Subchapter M. The first is to submit to annual vessel inspections conducted by the Coast Guard. The second is to implement a Towing Safety Management System, or TSMS, that is accepted by the Coast Guard and audited by a Coast Guard-approved third party organization.
Since the start of the regulatory development process, AWO and TSAC have strongly supported making compliance with a safety management system a requirement of the new towing vessel inspection regulations. Safety management systems promote continuous regulatory compliance, provide early warnings of problems or deficiencies that could lead to accidents, and prevent accidents caused by equipment failure by ensuring continuous attention to routine vessel maintenance. Choosing to comply with Subchapter M by implementing a TSMS will also provide towing vessel operators with much greater flexibility, and will be a more efficient utilization of Coast Guard resources than annual Coast Guard inspections.
AWO members are already required to comply with a third-party-audited safety management system as a condition of membership in the association. In 1994, AWO became the first transportation trade association to adopt a code of safe practice and environmental stewardship for its member companies. Today, the AWO Responsible Carrier Program is the most widely used safety management system in the tugboat, towboat and barge industry. AWO members use the RCP to develop company-specific safety and environmental policies and programs tailored to the industry's unique operational environments. The RCP incorporates best industry practices in company management policies, vessel equipment and human factors.
Earlier this year, the U.S. Coast Guard confirmed that it intends to accept the AWO Responsible Carrier Program as a TSMS once the towing vessel inspection regulations are finalized, concluding that the RCP is substantively equivalent to the International Safety Management Code.
AWO has high expectations that Subchapter M will have a transformative effect on industry safety by raising standards of safety and environmental stewardship throughout the tugboat, towboat and barge industry. That will be good for our industry, good for the environment, and good for the American public.

Moving Closer: Uniform Standards for Vessel Discharges
Another of AWO's long-term advocacy priorities is moving closer to reality this year. For the last seven years, AWO and a broad coalition of over 60 national and regional maritime and business organizations have been pushing for legislative reform that would establish a uniform national framework for the regulation of ballast water and other vessel discharges. Through the bipartisan efforts of Sens. Marco Rubio (R-FL), John Thune (R-SD), and Bill Nelson (D-FL) S.373, the Vessel Incidental Discharge Act (VIDA), is poised to make its way to the Senate floor sometime after the August recess. The bill, which currently has 26 bipartisan cosponsors, was attached to the Coast Guard reauthorization bill (S. 1611) that was approved by the Senate Commerce Committee in June.
VIDA would end an untenable situation in which vessel operators must comply with both Coast Guard and Environmental Protection Agency regulations, as well as more than 150 state-specific requirements set by more than two dozen states. As AWO Vice Chairman James Farley, President of Kirby Offshore Marine, explained at a Senate Commerce Committee hearing in February, "The problem is not that vessel discharges are regulated; it is how they are regulated. The current unclear and inconsistent regulatory system makes compliance confusing and investment decisions uncertain." VIDA will ensure the highest standard of protection for the waterways and provide the regulatory certainty vessel owners need to make investments in state-of-the-art ballast water treatment systems.
Companion legislation—H.R. 980—was introduced in the House by Representatives Duncan Hunter (R-CA), Elijah Cummings (D-MD) and Frank LoBiondo (R-NJ) and has 20 bipartisan cosponsors.

Building Support for the Jones Act
The tugboat, towboat and barge industry brings vital commodities to communities throughout the U.S. mainland, Alaska, Hawaii, and Puerto Rico. The industry also provides jobs for American citizens and supports U.S. economic, national and homeland security objectives, serving as the "eyes and ears" for the Coast Guard on the coastal and inland waterways. The statutory foundation of the domestic maritime industry is the Jones Act, which requires that vessels moving goods between U.S. ports be owned, crewed, and built by Americans.
The Jones Act provides a level playing field and a stable investment climate that gives American vessel owners the confidence to make long-term investments in vessels, equipment and shoreside infrastructure. With the Jones Act as its foundation, the domestic maritime industry supports nearly half a million American jobs and drives almost $100 billion in economic benefit to the United States.
Working closely with the American Maritime Partnership, a broad-based coalition of maritime and national defense organizations, AWO continually works o educate policymakers on the benefits the Jones Act provides brings to the country, working families, and communities that depend upon goods delivered safely, securely and efficiently. AWO and AMP also work to combat misinformation about the Jones Act and defeat attempts to weaken the law.
One such attempt arose just after the 114th Congress convened in January, when Sen. John McCain (R-AZ) filed an amendment to the Keystone XL Pipeline bill to repeal the U.S.-build requirement of the Jones Act. AWO joined AMP in an intensive lobbying effort to build opposition to the amendment, which was ultimately not offered during floor debate.
Significantly, senior U.S. military officials spoke out strongly in favor of the Jones Act and in opposition to the McCain amendment.
U.S. Coast Guard Commandant ADM Paul Zukunft questioned the effects of weakening the Jones Act on maritime safety and environmental protection on U.S. waterways, saying, "If we have foreign-flag vessels doing [coastal] trade, what are the safety standards, what are the maritime pollution standards? How are they in compliance with the same standards that we apply to our U.S. fleet?" General Paul Selva, then Commander of the U.S. Transportation Command and now Vice Chairman of the Joint Chiefs of Staff, told the Senate Armed Services Committee that "The Jones Act contributes to a robust domestic maritime industry that helps to maintain the U.S. industrial shipyard base and infrastructure to build, repair, and overhaul U.S. vessels. The Jones Act requirement for U.S.-crewed and built vessels provides additional capacity and trained U.S. merchant mariners that can crew RRF vessels in times of war or national emergency."

Maintaining Waterways Reliability and Invasive Species Management
The introduction of invasive species such as Asian carp into the interdependent inland waterways system has created tension between the dual imperatives of controlling the movement of harmful fish and maintain the uninterrupted flow of commercial navigation. Unfortunately, efforts to control invasive species include proposals that would shut down segments of the waterways system.
This issue is particularly acute in Illinois, where the Chicago Area Waterways System (CAWS) is the sole link between the Mississippi River and the Great Lakes. Every year, barges safely and efficiently carry almost 20 million tons of cargo through the CAWS, including critical commodities such as grain and petroleum. However, initiatives to stop the spread of invasive species, including Asian carp, have the potential to disrupt vital transportation links. AWO is committed to working with government and private sector stakeholders to develop solutions that keep the waterways open for safe and efficient navigation while protecting against the spread of invasive species.

Conclusion
This is a dynamic time for the tugboat, towboat and barge industry, a vital industry pursuing an ambitious public policy agenda aimed at safeguarding and expanding its ability to provide safe, efficient, cost-effective transportation for the benefit of its customers and our country. AWO is committed to leading the industry in securing informed public policy that supports its members in moving vital cargoes, making investments in new vessels and equipment, and leading the transportation industry in safety and environmental stewardship.

The Author

Jennifer A. Carpenter serves as Executive Vice President of the American Waterways Operators (AWO), the national trade association representing the U.S. tugboat, towboat, and barge industry.
Ms. Carpenter joined AWO in August 1990. She served as Government Affairs Assistant, Manager-Regulatory Issues, Director-Government Affairs, Vice President-Government Affairs, Senior Vice President-Government Affairs and Policy Analysis, and Senior Vice President-National Advocacy before assuming her current position in December 2013. From 1994 to 2007, she was a member of the congressionally authorized Towing Safety Advisory Committee (TSAC). Ms. Carpenter has also served on the Committee on Inland Water Transportation of the National Research Council's Transportation Research Board. She has received two Meritorious Public Service Awards and a Public Service Commendation from the U.S. Coast Guard for her contributions to the Towing Safety Advisory Committee and the Coast Guard-AWO Safety Partnership.

(As published in the August 2015 edition of Maritime Reporter & Engineering News - http://magazines.marinelink.com/Magazines/MaritimeReporter)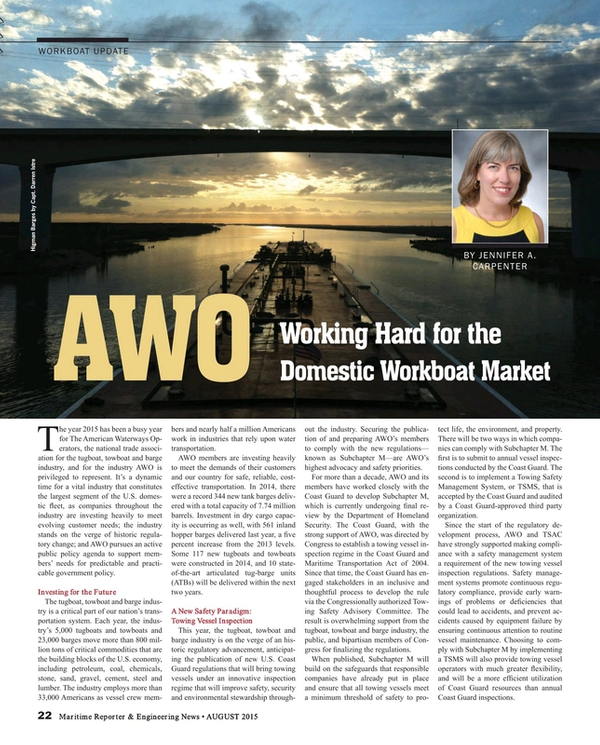 Read AWO Working Hard for the Domestic Workboat Market in Pdf, Flash or Html5 edition of August 2015 Maritime Reporter
Other stories from August 2015 issue
Content