ZF Turns 100
By Greg Trauthwein
ZF Friedrichshafen AG is celebrating its centennial in 2015. Founded in the city of Friedrichshafen at Lake Constance in 1915 as "Zahnradfabrik GmbH," the company developed from an aviation specialist with regional roots to an international technology company active on the global mobility markets, including maritime. MR recently visited with Daniel Härter, Vice President Industrial Technology, Head of Business Unit Marine Propulsion Systems, who took over responsibility for ZF Marine as of September 1, 2014.
ZF is obviously large and diverse across many markets. Please specifically the Marine Propulsion Systems Business Unit, its products & services and its contribution to the maritime industry.
The Business Unit "Marine Propulsion Systems" is a leader in the marine market. Coordinated through its headquarters at the location ZF Padova, Italy, ZF Marine is present worldwide with approximately 1,000 employees and sales of $279 million in 2014. ZF Marine supplies propulsion systems and components for all types of vessels - motor yachts, defense craft, high-speed ferries, workboats and commercial vessels, in a power range from 10 to 14,000 kW - to customers including major shipyards and engine manufacturers worldwide.
The product portfolio includes a range of transmissions (reversing, non-reversing and hybrid), propellers, steering systems and CANbus-compatible, electronic control systems, azimuth thrusters, tunnel thrusters and sail drives.

Looking back, what do you count as your company's biggest introduction to this market?
This is difficult to say in a 100 years history of ZF. Development of products to meet our customer's needs and requirements. Listening to our customers and being responsive to their needs has certainly contributed to our position as the number one supplier of transmissions in certain areas like inboards, sail drives and transmissions for fast craft

Looking back on the past year, looking at the maritime industry as a whole, do you see positive or negative, and why?
The industry itself claims to be very conservative, but I don't believe so. New technologies are introduced in all areas. In the propulsion business hybrid systems, new pollution prevention systems are introduced, diesel electric systems, user-friendly control systems latest materials and state-of-the-art productions systems with its modern processes are implemented. This trend will continue therefore I see it absolutely positive and as an innovative industry which has always been able to balance advances with risks.

Looking ahead to 2016, what do you see as the defining trends that will drive your business forward in the year(s) ahead?
On the one hand we see low oil prices and a weak Euro, which is challenging the whole marine business and as well our business. But still there are a lot of opportunities for ZF Marine to grow and increase market share. Drivers for this growth are our up-to-date products - meeting the customer's expectations in all areas, paired with excellent services from project start all the way through the lifetime of the application.

Briefly describe the overall importance of the maritime industry to the whole of your company.
In terms of sales and employees, ZF Marine is a very small part of the global ZF Group. But ZF Marine plays a major role in the diversification of ZF towards non-automotive products. And we are 1,000 individuals who are working for ZF Marine with enthusiasm and dedication. ZF is a company were every single individual counts, who together make a very strong team.

What is on the calendar in terms of celebration to mark this historic occasion?
There are many ways we will celebrate. Every ZF location worldwide is hosting "family days," allowing families to visit and learn about the company. In addition, every employee will receive a history book on the company, as well as receive a personal greeting card from Dr. Sommer, ZF Group CEO.
In addition, there will be the ZF Group Gala anniversary event on September 9, the same day the company was incorporated in 1915. It is here that the new global headquarters in Friedrichshafen – the "ZF Forum" – will be unveiled. The new headquarters will include a museum that will be open to the public beginning in 2016.

As the business world grows increasingly complex and competitive, what do you count as the primary strengths of your company that make it stand out?
ZF, as a large, multi-faceted entity with 100 years of research and development in driveline technology, has a knowledge base not many companies in the marine industry have. ZF Marine as a division of the ZF group has access to this knowledge base. Our products use the latest materials, technologies, design and research capabilities, production systems and processes. This, paired with a large worldwide sales and services organization, makes ZF Marine a reliable partner and a technology leader in its field. ZF Marine is well prepared to take challenges and turn them into opportunities.
(As published in the August 2015 edition of Maritime Reporter & Engineering News - http://magazines.marinelink.com/Magazines/MaritimeReporter)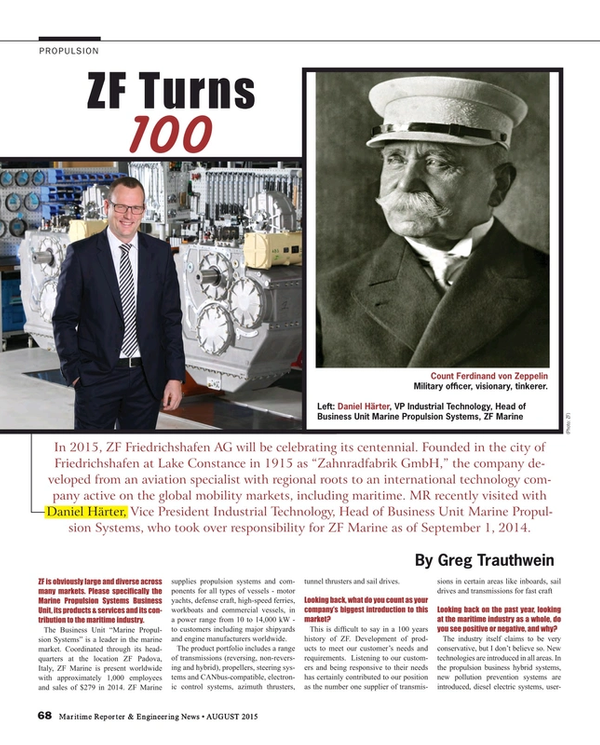 Read ZF Turns 100 in Pdf, Flash or Html5 edition of August 2015 Maritime Reporter
Other stories from August 2015 issue
Content