Twin-Screw Supply Vessel Delivered By Bender Shipbuilding
The r e c e n t l y delivered Lady Debbie (shown above) is the first of two twin-screw, 113-foot supply boats to be built by Bender Shipbuilding & Repair Company of Mobile for Keen Marine Services of Metairie, La. Constructed to a design of Maritime Engineering Services of Biloxi, Miss., the vessel is classed by the American Bureau of Shipping for Full Ocean Service, and meets U.S.
Coast Guard Subchapter I requirements.
Lady Debbie has an overall length of 113 feet 5*4 inches, beam of 26 feet, depth of 11 feet 2 inches, and design draft of 8 feet 6 inches. Her liquid capacities include: fuel oil, 21,400 gallons ; lube oil, 500 gallons; potable water, 1,900 gallons; cargo water, 19,400 gallons; and ballast, 21,000 gallons. She can carry deck cargo of 77.25 long tons; clear deck area aft is 48 feet long by 20.5 feet wide, and forward between the stacks 15 feet long and 13.5 feet wide.
Main propulsion is by two GM D e t r o i t Diesel 16V92 engines, each rated 600 bhp at 1,800 rpm, with Mathers single-lever pneumatic controls. Two 50-kw generators are driven by Detroit Diesel 4-71N engines, producing 1207 208-volt, 3-phase, 60-Hertz power.
A central air-conditioning and heating system by Carrier is installed in the forecastle house; it serves the pilothouse, crew quarters, heads, lounge, galley, and storeroom. Compressed air is provided by two Quincy D310 compressors, each driven by a 2-hp electric motor.
The 300-barrel liquid mud or calcium chloride system consists of two pumps, each driven from the front of the 4-71 generator diesels through Funk 1:1, reversing c l u t c h e d pump drives. A Barnes 5-hp unit pumps effluent from the 430-gallon sewage tank to a valved outlet on the main deck. The main bilge pump is a Barnes 25CCE, 15-hp unit with backup provided by the fire pump of the same model. Cargo water is transferred by a 5-hp Barnes 25CCE pump, with discharge in the forward main deck area. Fresh water service, with a 40-gallon hot water tank, is supplied by a 5-hp Barnes pressure set. The fuel oil transfer system consists of a 15-hp Barnes 25CCE pump that moves fuel from the aft tanks to the day tanks or to a valved deck outlet.
The USCG-approved s t e e r i ng system has two 71/2-gpm hydraulic pumps driven by 5-hp electric motors, one unit operating and one as standby at all times. The helm units are Char-Lynn model 211-1038 Orbitrols, one at the pilothouse console and one at the aft control station. Anchor handling is provided by a Skipper ST-34-E electric winch; the Danforth 500-pound anchor is attached to 7!/2 fathoms of 1-inch stud link chain and 100 fathoms of %-inch galvanized wire rope.
The painting system and materials were supplied by International Paints.
Electronics include a Raytheon model 4200 radar, Raytheon Ray 55 VHF radio, Intec 1500 SSB radio, Raytheon F720D flasher depth sounder, Ray Nav 3000 Loran C, Raytheon 350 Loudhailer, and RLB14ACR, class A emergency radio.
The second boat for Keen Marine Services, the Lady Beth, was delivered in December.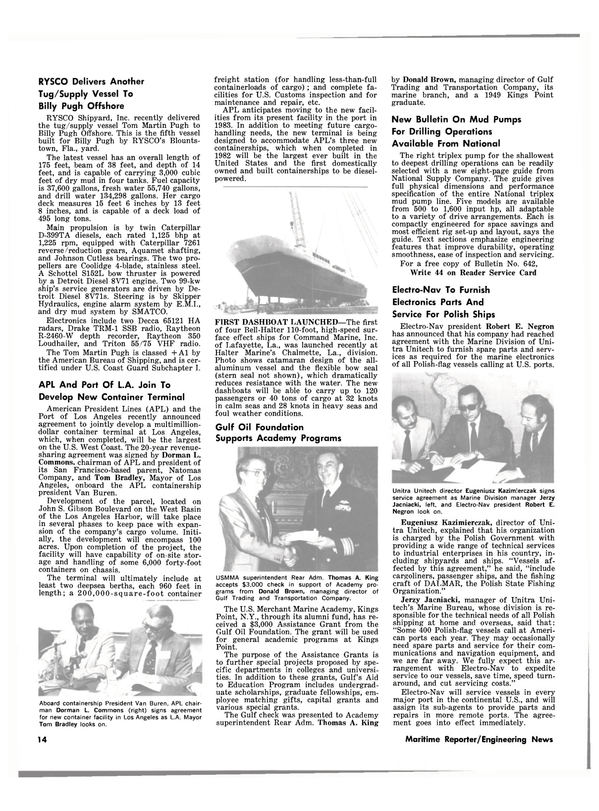 Read Twin-Screw Supply Vessel Delivered By Bender Shipbuilding in Pdf, Flash or Html5 edition of January 15, 1981 Maritime Reporter
Other stories from January 15, 1981 issue
Content