New Simulator Training Complex For U.S. Navy
Literature Available MarineSafety International, a professional maritime training organization, has been awarded a contract to provide shiphandling training services to the U.S. Navy in Newport, R.I. The award calls for simulator training courses at various levels to be provided for up to 1,200 naval officers annually starting early next year.
Currently the training of naval officers to maneuver and dock their ships in harbors has been accomplished "on-the-job" when opportunities presented themselves. The use of full-mission ship simulators permits better training at reduced risk to ships and personnel and savings in vessel operation and fuel costs.
The training complex which will include full mission and part-task trainers, will be installed, operated and maintained by MarineSafety, a subsidiary of FlightSafety International.
Training service will be provided to the Navy on an annual cost per-trainee basis for one year with an option for four additional years.
The training curriculum will be developed in concert with the Navy over the next nine months. Training will begin at the simulator complex in January 1987. Courses will be designed for advanced level surface warfare and aviation officers and for intermediate level surface warfare and reserve officers.
The simulator complex will be housed in a new building on Marine- Safety-owned property in Middletown, R.I. within a 10-minute drive of the Navy Base. The building will be custom designed to accommodate the 15-foot high vertical screens making up the dual visual simulation theaters.
It will house a unique full mission ship simulator which can be conned from the bridge or from a bridge wing. The simulator will permit Navy officers to gain experience in handling any type of combat or support ship in any body of water in the world under a variety of environmental conditions. The officers in training will experience stressful maneuvering or docking situations and control casualties without risk to their ship or other ships.
Training in the full mission bridge simulator will be supplemented by controlled learning experiences in part-task simulator trainers that respond with the same hydrodynamics as the full mission simulator.
They will be used to make time on the full mission simulator more efficient by teaching handling of specific ship types and facilitating decision-making practice on a part-task basis.
The unique approach represented by this program will provide the Navy with low-cost, high quality shiphandling training without requiring a major capital outlay by the Navy for construction or for the purchase of sophisticated simulators.
A professional training organization with over 30 years of experience, FlightSafety International presently owns and operates 26 training complexes, including the marine simulation center at La- Guardia Airport in New York operated by its MarineSafety subsidiary.
Along with training 300-400 merchant officers each year, Marine- Safety has provided ship-handling training to Navy officers since July 1980.
For further information and free literature, Circle 22 on Reader Service Card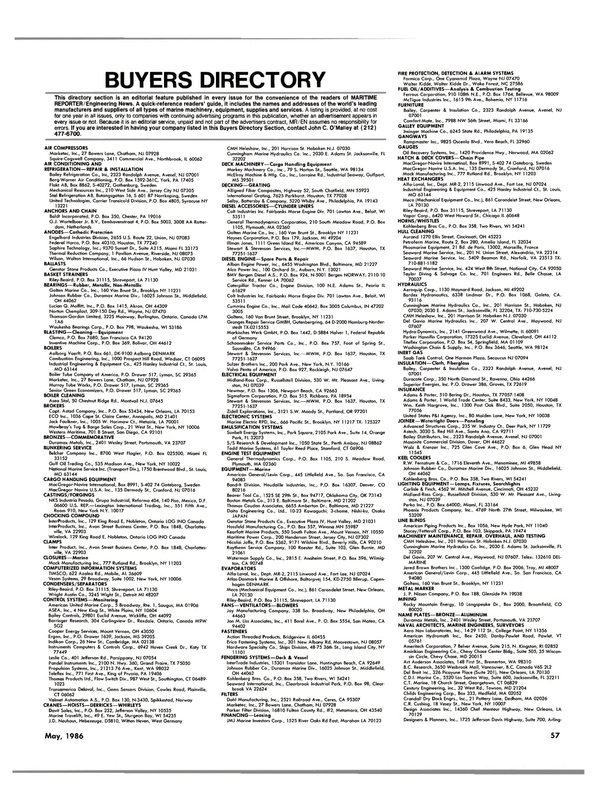 Read New Simulator Training Complex For U.S. Navy in Pdf, Flash or Html5 edition of May 1986 Maritime Reporter
Other stories from May 1986 issue
Content